'Those of you gathered here today are leaders in your society. The future of your great country is in your hands. I hope it can be one in which your children will stay safe from harm, and be free to speak their mind'
International human rights lawyer Amal Clooney on Tuesday, September 15, urged Filipino tycoons and business leaders to protect the press in the country to ensure a functioning democracy.
Clooney, among the international lawyers of Rappler CEO Maria Ressa, was a speaker at the 18th Management Association of the Philippines' International CEO Web Conference.
"Those of you gathered here today are leaders in your society. The future of your great country is in your hands. I hope it can be one in which your children will stay safe from harm, and be free to speak their mind," Clooney said.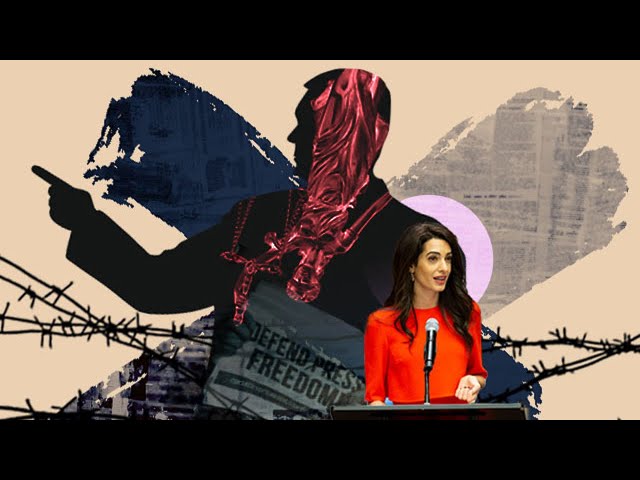 Clooney cited 3 propositions in her speech, all focusing on the need to protect the free press and democracy. (FULL TEXT: Amal Clooney's 3 propositions for a functioning democracy)
"If you want a functioning democracy, protect the press. To protect the press, don't imprison journalists for their work. And do honor international treaties that the Philippines has itself played a part in drafting," Clooney said.
"I believe these propositions are important and far-reaching: because championing free speech in the Philippines also means championing it in Asia, if the Philippines could once again set the example," Clooney said.
Attacks vs Rappler
In her speech, Clooney criticized the Philippine government over the cyber libel conviction of Ressa and former Rappler researcher Rey Santos Jr.
"Defenders of the judgment have claimed that this is just a private dispute between a journalist and the person whose reputation was harmed by the story. But this is not correct. It was a criminal prosecution brought by the Department of Justice. The state advocated for a conviction and a term of imprisonment. It is now defending the judgment and it is expected to oppose the appeal," Clooney said.
"So this is the government's case – their choice, and their legacy. It will be for my colleagues, Maria's Filipino counsel, to make submissions in the appeal. And a panel of appellate judges can still set things right. But Maria faces a barrage of other charges – all equally spurious – that expose her to many decades behind bars. And in the meantime the message to other journalists is clear: be quiet, or you'll be next.," she added.
Clooney also highlighted Presidential Spokesperson Harry Roque's 180-degree turn on the issue of cyber libel. Roque defended the conviction of Ressa and Santos, but in a 2012 Rappler opinion piece he heavily criticized the cybercrime law.
"The President's own spokesman Harry Roque has stated that freedom of speech is a 'cherished right' essential to truth, democracy and the ability to go after 'despotic regimes'. In an op-ed that he penned in 2012 the spokesman argued that the cyber libel law used to convict Maria is 'draconian', 'infringes freedom of expression' and shows that the government is 'insecure and unable to compete in the market place of ideas'. And he concluded in the op-ed that imposing criminal penalties for libel was 'disproportionate' and 'an outright defiance of the UN' ruling….These were Mr Roque's own words before he joined the Duterte administration," she said.
Ressa, Rappler, and some of its directors and staff have faced at least 11 complaints and cases, mostly initiated by the government of President Rodrigo Duterte, following the news agency's critical coverage of Duterte's bloody drug war
Global attacks vs media: ABS-CBN shutdown, Hong Kong crackdown
Clooney said the Ressa's "struggle is one that defines our times," citing the shutdown of broadcast giant ABS-CBN and the crackdown of Hong Kong's free press.
"And this, in turn, threatens every other right. Because if the press is silenced, we don't know about human rights abuses or corruption. When you switch off the news broadcast by the country's largest TV station – as the Philippine government did just weeks before Maria's judgment – you see, as the Washington Post puts it, democracy dying in darkness," Clooney said.
Clooney also criticized "strongmen" leaders, such as US President Donald Trump, for silencing dissent and for their poor leadership during the coronavirus pandemic.
"What we must remember is that a clamp down on critics, a silencing of dissent, is not a sign of strength but the ultimate sign of weakness. It is a sign that you know you cannot win in the 'marketplace of ideas' so you have to have a monopoly over the ideas that are expressed," she said. – Rappler.com