Caskets also feature an edited version of the face of Jose Maria 'Joma' Sison juxtaposed with a skull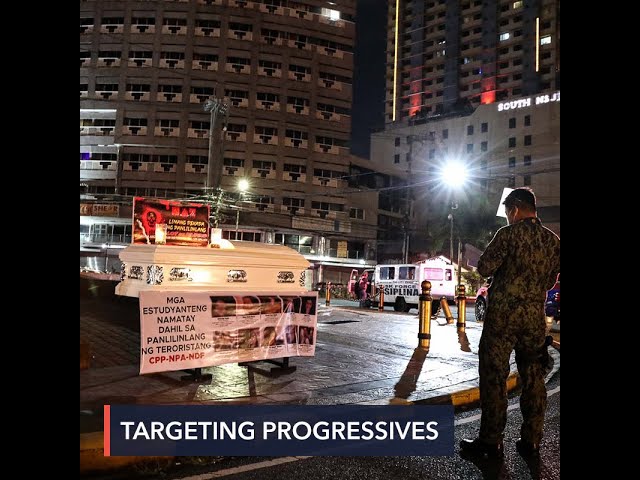 Caskets with anti-communist propaganda were spotted in different parts of Metro Manila on the eve of the 52nd founding anniversary of the New People's Army (NPA).
Coincidentally, March 28 was also the eve of the implementation of the Enhanced Community Quarantine – implemented for the second time this pandemic – in Metro Manila and nearby provinces.
A casket with a tarpaulin containing the names and faces of students who allegedly became part of the NPA and died was placed in the Boy Scout Circle in Quezon City by unknown perpetrators.
Another one was seen on Guadalupe Bridge along Epifanio delos Santos Avenue.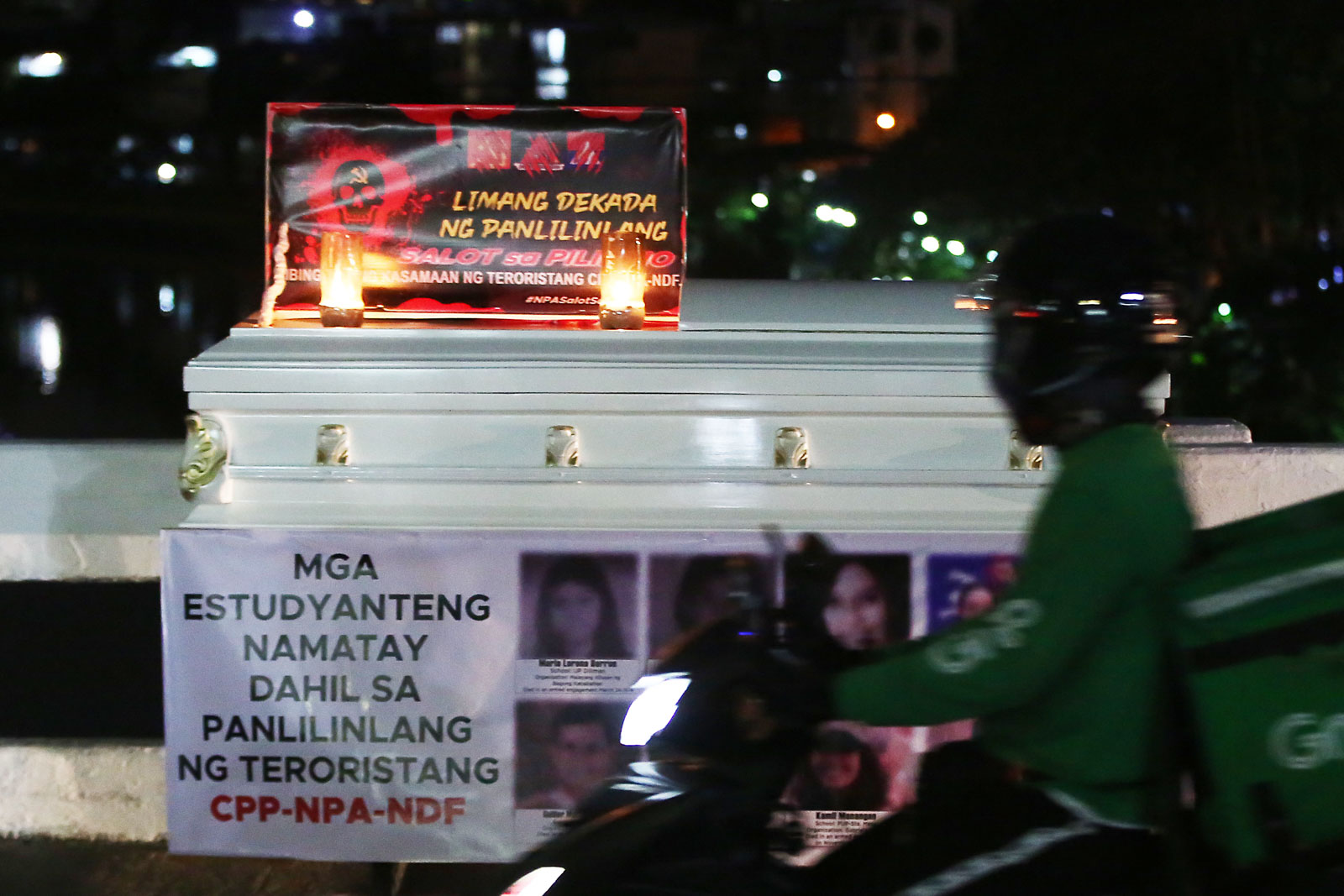 The caskets also featured an edited version of the face of Communist Party of the Philippines' (CPP) founding chairman Jose Maria "Joma" Sison juxtaposed with a skull.
Philippine National Police spokesperson Police Brigadier General Ildebrandi Usana said he is yet to refer the case to the National Capital Region Police Office.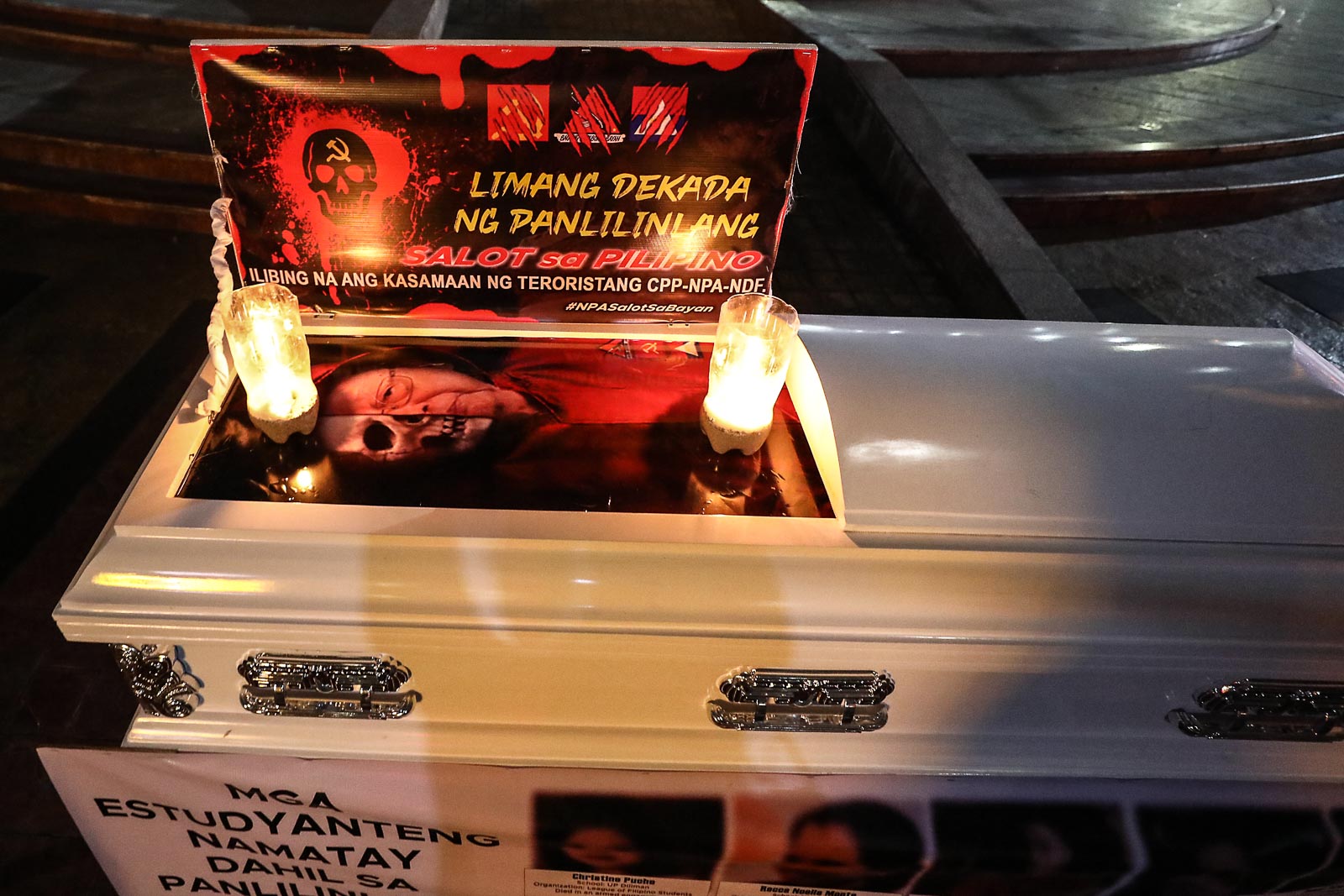 The same night the caskets were spotted, red-tagged labor leader Dandy Miguel was shot dead by unknown assailants while riding his motorcycle in Calamba, Laguna. He was the 10th progressive leader to be killed within the month of March alone.
Unending anti-insurgency war
The caskets tagged the CPP-NPA as terrorists even though the anti-subversion law in the country was repealed by former president Fidel V. Ramos in 1992. Under Ramos' Republic Act 7636, subversion was no longer a crime, while sedition remained illegal.
With its more than 5 decades of existence, the CPP's rebellion is considered the longest-running communist insurgency in the whole Asian region. For half a century, Philippine presidents have been countering the insurgency in the archipelago but none have been fully successful so far, although rebel strength and influence have diminished over time.
In 2018, to fulfill his campaign promise, President Rodrigo Duterte signed Executive Order 70, which ordered a whole-of-nation campaign against insurgency. It created the National Task Force to End Local Communist Armed Conflict (NTF-ELCAC) which became the main machinery against communist rebels.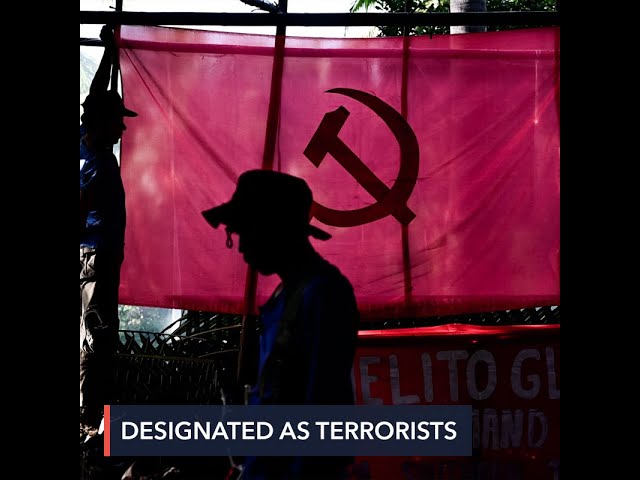 But for years, NTF-ELCAC had faced constant criticism for indiscriminate red-tagging of progressive individuals and even personalities. – Rappler.com.