This is AI generated summarization, which may have errors. For context, always refer to the full article.
The controversial Antonio Parlade Jr. is back in the Duterte administration, this time in a body that advises the President on national security policies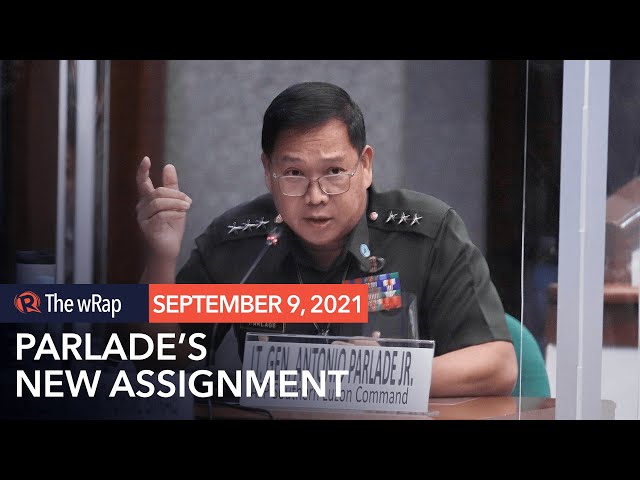 The controversial former spokesman of President Rodrigo Duterte's anti-communist task force has been given an even more critical post – deputy director-general of the National Security Council.
Presidential Spokesman Harry Roque confirmed that Duterte signed Antonio Parlade Jr.'s appointment papers on Wednesday, September 9.
Malacañang cited Parlade's military service as one factor that made him suited for a role in the country's top advisory body on the proper coordination and integration of national security plans and policies.
"We are therefore confident that his length of fruitful service in the military would immensely contribute in the crafting of plans and policies affecting national security," said Roque.
Parlade's new role will make him the right-hand man of National Security Adviser Hermogenes Esperon Jr. who is the director-general of the NSC Secretariat.
Esperon sits as vice chairperson of the Anti-Terrorism Council, the body created by the feared anti-terrorism law with powers to decide by itself which group or individuals to designate as terrorists without hearing their defense, as well as the controversial National Task Force to End Local Communist Armed Conflict (NTF-ELCAC).
Parlade's new post was held by retired general Vicente Agdamag, also a graduate of the Philippine Military Academy like Parlade (Class 1977). As NSC deputy director general, Parlade becomes a member of the NTF-ELCAC.
The Council Proper is a collegial body chaired by Duterte himself, and includes other Cabinet members, lawmakers, and even private citizens tapped by the President.
Controversial
Parlade resigned last June, saying he wanted to spare the Duterte administration of pressure from the Senate which pushed for Parlade's removal as spokesperson of the NTF-ELCAC.
The Senate believes Parlade's appointment into a civilian position is prohibited by the 1987 Constitution because Parlade was an active military officer at the time.
Parlade has also been heavily criticized for red-tagging personalities, progressive leaders, celebrities, and even charity organizers.
Complaints filed before Ombudsman
There were at least two red-tagging complaints filed against Parlade before the Office of the Ombudsman – one invokes the anti-graft law and the other invokes the International Humanitarian Law.
Ombudsman Samuel Martires told one of the complainants, Bayan Muna Representative Carlos Zarate, during the House of Representatives budget hearing on Thursday that the fact-finding inquiry may be completed within September.
"I assure the good congressman that once the fact-finding investigation is terminated, which I hope would be completed within the month, I assure you that if the offense was committed while he was still in office, he is still subject to administrative proceedings, so while we cannot dismiss him anymore from the service, we can impose a fine equivalent of one year salary, and he can still be subjected to criminal sanctions," Martires said. – With reports from Lian Buan/Rappler.com