This is AI generated summarization, which may have errors. For context, always refer to the full article.
The Philippine Star posts and then deletes photos from a party on February 18 at Forbes Park, in Makati, weeks before virus lockdowns were imposed
The viral photos of Philippine National Police (PNP) chief General Archie Gamboa showing him with a group of people without face masks and not following the protocols on physically distancing were actually taken before the imposition of pandemic restrictions.
On Tuesday, August 18, the Philippine Star posted the photos, saying that the images were of Gamboa's controversial Baguio City dinner allegedly held on Saturday, August 15. The publication said the information came from a reliable source. (READ: Police chief Gamboa: No party, just 'dinner' in Baguio)
However, the photos were taken on February 18 at a dinner party in Forbes Park, Makati City, weeks before the coronavirus lockdown and health protocols were enforced.
Screenshots shared to Rappler by Nancy dela Rosa, the wife of police chief-turned-senator Ronald dela Rosa, and one of the guests at the party, showed a Facebook chat box of the party attendees sharing the photos.
The timestamp of the photos indicated these were taken 12:07 am, February 19.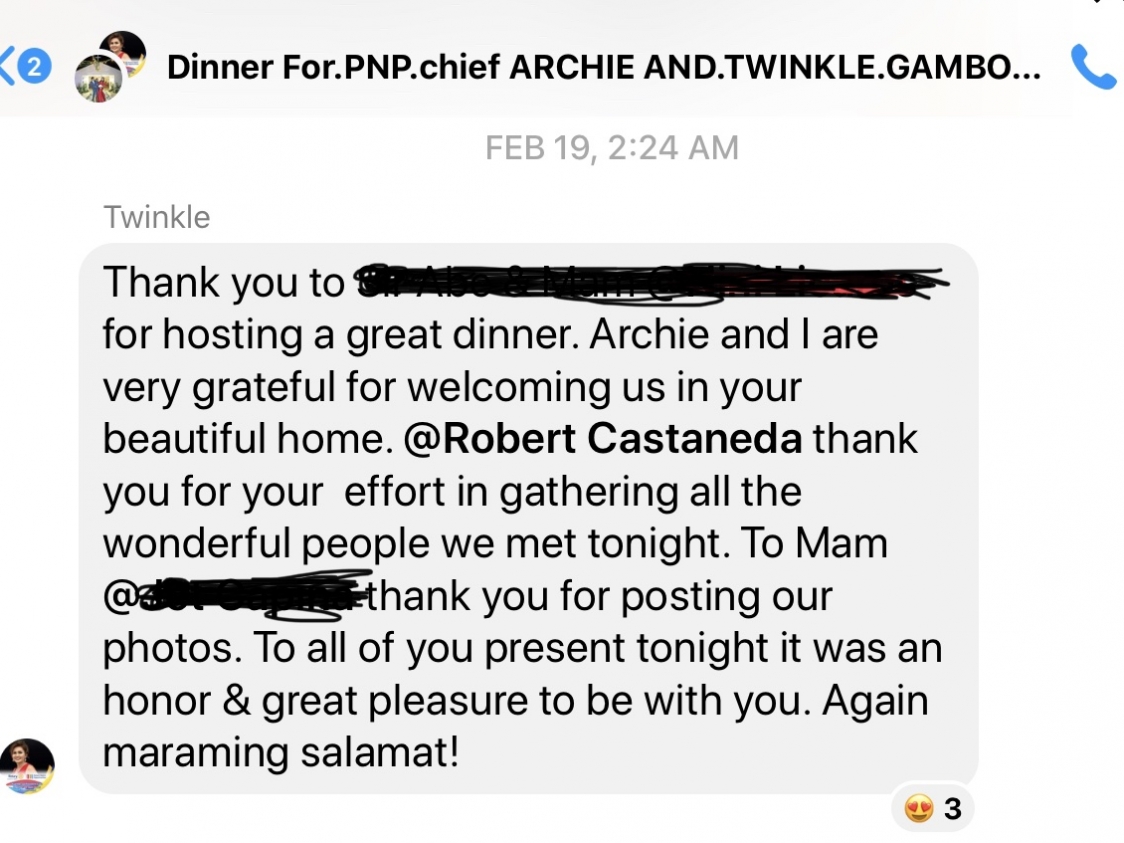 The viral post has since been taken down by the Star, but only after it was shared more than a thousand times on Facebook.
Gamboa is now under fire for hosting a dinner in Baguio City despite the ban on public gatherings across the country. He defended himself, saying that meetings were allowed in Baguio City as long as the venues only had 50% of the regular capacity to ensure compliance of physical distancing rules.
The police chief said they followed all the imposed health protocols. However no photos of the supposed "dinner" have been released to the public to validate his statement.
The Baguio dinner was held to celebrate Gamboa's term as the 3rd PNP chief under President Duterte. He is set to retire from the police service on September 2. – Rappler.com