This is AI generated summarization, which may have errors. For context, always refer to the full article.
City officials and organized rights advocates cry foul against reports of increasing attacks against members of the LGBTQ+ community in Zamboanga City
Officials and organized rights advocates cried foul against what they said were increasing attacks on members of the LGBTQ+ community in Zamboanga City.
The concerns were raised due to a viral video on social media that showed a group of young men attacking a gay man without any provocation on Toribio Street, Barangay Tetuan in Zamboanga City, last Sunday, August 15.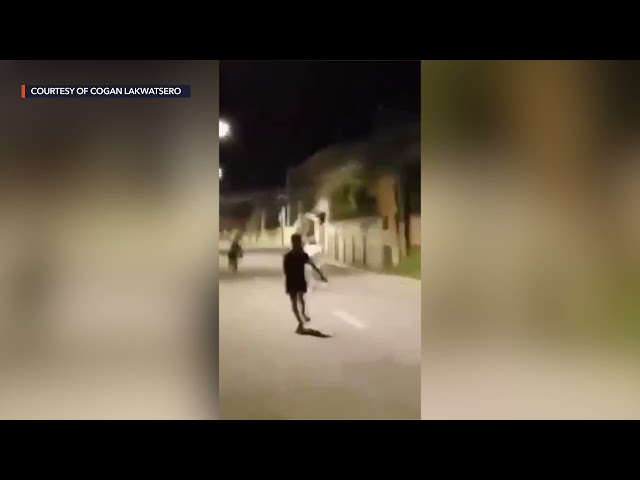 Authorities said the unsuspecting victim was merely walking on a well-lit street at around 5 am when one of eight young men ran toward him, leaped, and delivered a flying kick to the back of his head. The group then sneered and chased the horrified victim.
It was not the first time something like that happened in Zamboanga, according to the Lesbian Gay Bisexuals and Transgenders Federation of Zamboanga (LGBTFZ) that has started documenting likely cases of homophobia resulting in attacks.
The group said it has documented several attacks on transgender women in the city, including one that was allegedly perpetrated by police officers, and another involving a robbery and murder case.
The Commission on Human Rights (CHR) in Region 9 said it has also started an investigation into the murder of an LGBTQ+ member in neighboring Pagadian City, also in the Zamboanga Peninsula region.
On Saturday, August 21, Alvin Toni Fernandez, LGBTFZ president, called for a stop to what he described as violent "homophobic acts" against the LBGTQ+ community in Zamboanga.
Fernandez also called for increased advocacy, public education, and acceptance of members of the LGBTQ+ community.
The Zamboanga city government also condemned the violent act and other assaults against members of the local LGBTQ+ community.
"Violence, at this time of the pandemic, is too much. We cannot afford and do not want to see these inhumane acts" against members of the local LGBTQ+ community, said city hall's focal person for gender and advocacy, Wilfredo Aporongao, on Friday, August 20.
Aporongao added, "Everyone should be treated justly" regardless of their sexual orientation, gender identity or expression, or sex characteristics.
Aporongao said the city government has been at the forefront of raising awareness about the different laws protecting citizens from discrimination, and Zamboanga Mayor Maria Isabelle Climaco "deeply condemns such act of violence."
Fernandez said the gay who was attacked on Toribio Street was merely walking home after the quarantine curfew hours when he was attacked by the approaching group of young men for no reason at all.
The viral video of the attack prompted officials of three Zamboanga villages of Tetuan, Camino Nuevo, and Canelar to identify and locate the assailants. Authorities subsequently rounded them up on Wednesday, August 18.
Authorities said six of the suspects were apprehended in Barangay Camino Nuevo, and another was located in Barangay Tetuan. An eighth suspect, the only one of legal age, was also apprehended.
Police on Thursday, August 19, said the seven minors' ages range from 15 to 17, and they admitted to investigators that they attacked the gay man without any acceptable reason. "Tripping lang," police quoted them as saying.
Aporongao said investigators had to be careful because the majority of the assailants were underaged and the victim comes from a vulnerable group.
"Authorities are looking into the matter with caution," Aporongao said.
Camino Nuevo barangay chairman Norberto Monopolio said on Friday, August 20, the group had previous records with the barangay for gallivanting during the Zamboanga curfew hours, and for making noise in the area during the wee hours.
Monopolio said the parents of the young men were summoned to the barangay hall but were a no-show. Neither did the victim show up to file a complaint within 72 hours, forcing the police station in Tetuan to release them, he said.
Six of the young men, according to Monopolio, were told to do community service under the supervision of barangay officials.
Pattern of violence
Lawyer Judelyn Macapili, CHR director for the Zamboanga Peninsula, told Rappler on Thursday, August 19, the Commission was also monitoring acts of violence committed against LGBTQ+ members in Zamboanga and elsewhere in Region 9.
"Our LGBTQIA community has long been victims of abuse and discrimination," Macapili said. She cited the murder of a member of the LGBTQ+ community in Pagadian City where the CHR started a motu proprio investigation.
Fernandez said his organization was disturbed because of acts of violence against the LGBTQ+ community, which the group has documented in Zamboanga since 2017.
In 2020 alone, according to Fernandez, five transgender women were allegedly attacked in a police station.
Fernandez said the transgender women were apprehended while they were talking to each other in the vicinity of the San Roque Cemetery and then taken to the Santa Maria Police Station. There, alleged Fernandez, policemen on duty hit them with paddles and cut their hair.
He also said another LGBTQ+ member was assaulted without a clear reason in Barangay Putik the same year.
In October 2017, Fernandez said the LGBTQ+ group also documented the shooting death of a transgender who worked as a makeup artist in Barangay Baliwasan. The victim was robbed and then shot dead.
In 2020, the Zamboanga City Council passed the Comprehensive Anti-Discrimination Ordinance, a city law that recognizes the "fundamental rights of every human being regardless of race, color, civil and social status, sex, sexual orientation, gender identity, gender expressions, language, religion, national or social origin, culture and ethnicity, property, birth or age, disability and health status, creed and ideological beliefs, and physical appearance to be free from any form of discrimination."
"Even with the ordinance, there is still a need to conduct values education and religion up to the grassroots. They still look down on us. The gay manicurist becomes the outlet of the homophobic," said Fernandez. – Rappler.com
Frencie Carreon is a Mindanao-based journalist and an awardee of the Aries Rufo Journalism Fellowship.