The Supreme Court and the justice system as a whole had been criticized for failure to protect baby River. Reina Mae Nasino was among 19 political prisoners who petitioned at the onset of the pandemic for humanitarian reliefs.
Chief Justice Diosdado Peralta maintains that the Supreme Court "tried its best" to help jailed activist Reina Mae Nasino, whose 3-month-old daughter River died from pneumonia complications after being separated from her mother.
"Hindi naman kami nagpabaya (We weren't negligent). We tried to help her," Peralta said during a press conference on Friday, October 23.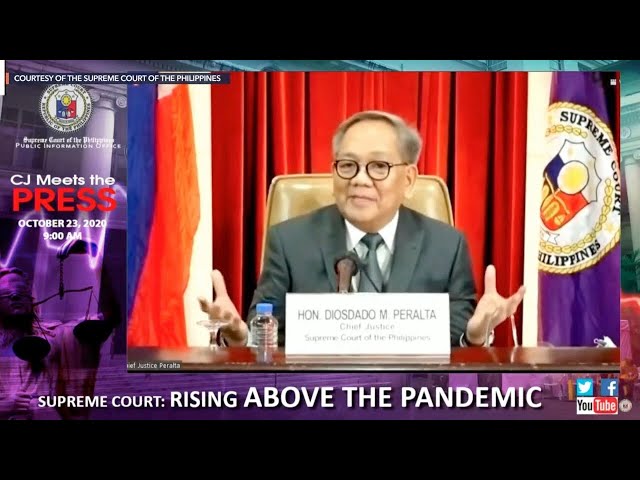 "We tried our best. And I hope Miss Nasino understands the Court and the others. That's what really happened. There was no intention to delay," added the chief justice.
The Supreme Court and the justice system as a whole had been criticized for failure to protect baby River. Nasino was among 19 political prisoners who petitioned the Supreme Court at the onset of the pandemic for humanitarian reliefs.
It took the Supreme Court 5 months to release a decision, which was just to remand each political prisoner's appeal for bail to the respective lower courts. Critics had slammed this as the Court acting too late.
Understanding that the Supreme Court was not a trier of facts, some lawyers believe the least that the Supreme Court could have done was to act earlier. The Supreme Court's decision also revealed some justices thought they had a role to play in filling in the gaps in the law.
One suggestion was from Associate Justice Marvic Leonen to promulgate rules of the Writ of Kalayaan, an extraordinary remedy that prisoners can avail of when proven that there is extreme need for reliefs given jail conditions and other health factors.
But Peralta said Leonen's suggestion remains just that – a suggestion. (PODCAST: Law of Duterte Land: Philippine courts and the death of baby River)
"There is no recommendation from Justice Marvic yet, we have to wait for him, he only indicated it in his separate opinion. But if there will be one, of course we have to study it and then organize a committee to study further the recommendation of Justice Marvic," said the chief justice.
Peralta didn't exactly answer a reporter's question about what delayed the Court's decision. The decision and separate opinions were 301 pages long, rationalizing the anti-climactic move to remand.
The Chief Justice simply said: "You also cannot blame the justices kasi (because) they have the right to write their own (opinions). And they followed the periods to submit their written opinions. And I cannot deprive them of that… Also they spent a lot of time preparing all these opinions. I hope they will understand the Court that's all that I can say."
What happened in lower courts
Peralta also defended himself by saying that he had reached out to the lower court judges who were handling Nasino's non-bailable charge of illegal possession of firearms and explosives.
When Nasino gave birth to River in July, their petition had been pending in the Supreme Court for 3 months, but her lawyers did the simultaneous move of asking the lower court to allow mother and baby to stay together, either inside the jail or inside the hospital.
Manila Judge Marivic Balisi-Umali denied these pleas. Balisi eventually inhibited.
Peralta said that Court Administrator Midas Marquez told Manila's executive judge to use the e-raffle system so it can be reassigned to another judge. But it was raffled to the wife of lawyer Ferdinand Topacio, who had moved against activists in the Supreme Court too. Judge Topacio inhibited also.
By October 9, River was brought to the intensive care unit and her lawyers moved for an immediate furlough for Nasino to go to the hospital. Baby River died that night.
"I wrote a letter to the executive judge through Justice Midas because I know how it feels be a parent. So I instructed the judge to immediately raffle it, e-raffle. It went to Judge (Paulino) Gallegos and he immediately acted on it. And he granted an original period of 3-day furlough, but the girl already died," said Peralta.
"We cannot just – there are procedures to follow. As I said, I understand the plight of Miss Nasino and I extend my condolences to her. I take this opportunity to extend my condolences to her," said Peralta.
Prisoners' rights group Kapatid had called on the Peralta court to be "more active and humane" in finding judicial solutions that are not only effective, but relevant for Filipinos, especially prisoners who are still deemed innocent under the law. – Rappler.com