To ease the situation, Negros Occidental Governor Eugenio Jose Lacson has designated the Valeriano Gatuslao Memorial District Hospital in Himamaylan City as a COVID-19 referral center
Negros Occidental has designated a new COVID-19 hospital and ordered an increase in bed capacity as the province's biggest referral center as well as major Bacolod hospitals announced that they were temporarily halting admissions.
Bacolod City Administrator Em Ang told Rappler that infections among hospital staff could be a reason for the limited hospital capacity. The Negros Occidental provincial government also said many medical workers were confined to the isolation center for state employees at the Mambukal mountain resort.
On Tuesday, September 14, the Corazon Locsin Montelibano Memorial Regional Hospital, a Department of Health facility, closed its doors to all new COVID and non-COVID admissions.
"The emergency room and all hospital wards have reached maximum capacity on the allocated beds," hospital management said a day after it halted emergency room admissions. Over the weekend, the facility announced that its pediatric, orthopedics, and internal medicine wards could no longer accept non-emergency patients.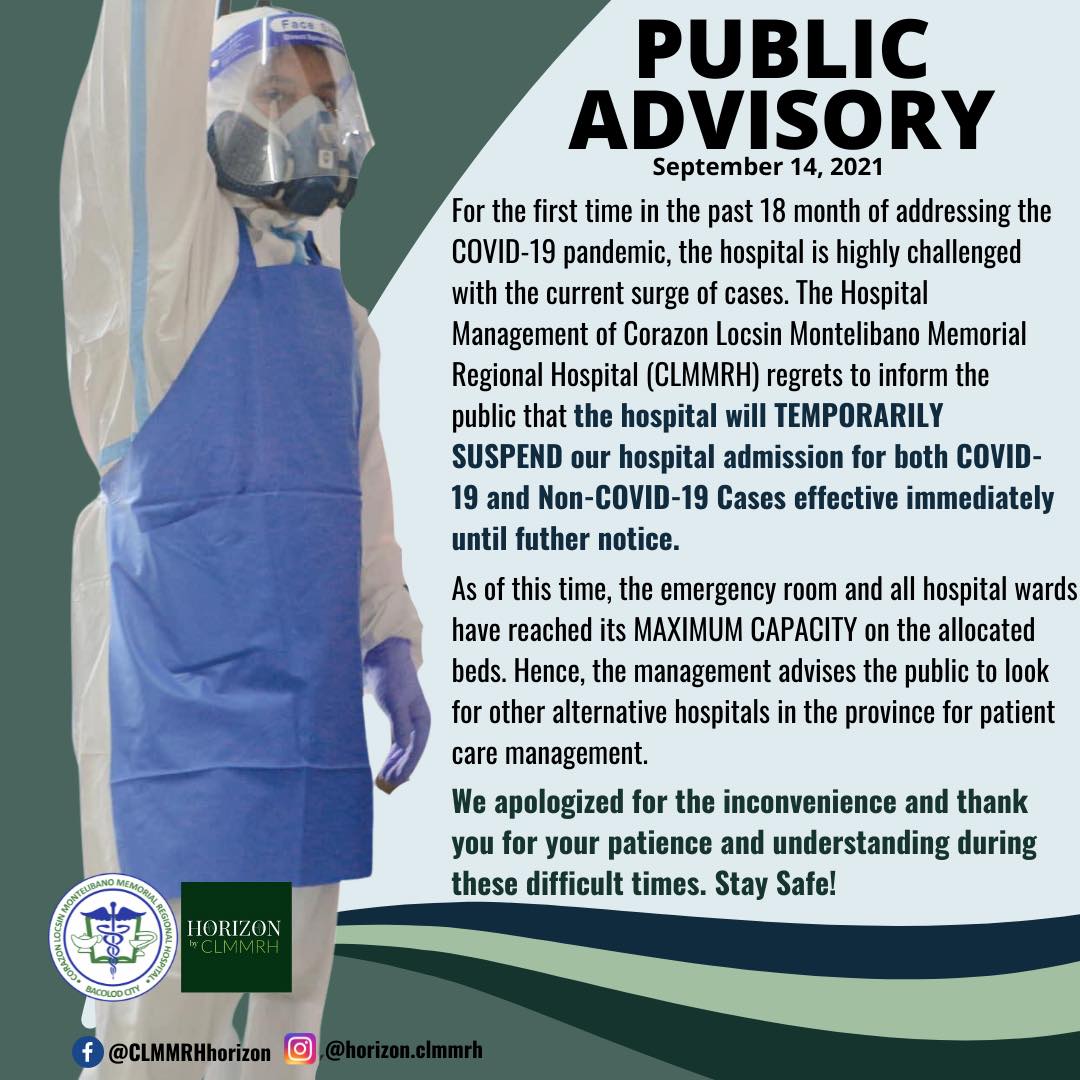 The privately-owned Dr. Pablo O. Torre Memorial Hospital on September 14 also moved from select closure of health services to non-admission of all COVID-19 cases or patients showing symptoms of infection.
"While our hospital has the facility and the equipment to accommodate patients, we still lack the medical personnel to take care of them," the hospital announcement said.
The hospital called out for registered nurse applicants, with a notice that said, "apply and get hired on the same day." The facility also said it was hiring pharmacists and medical technologists.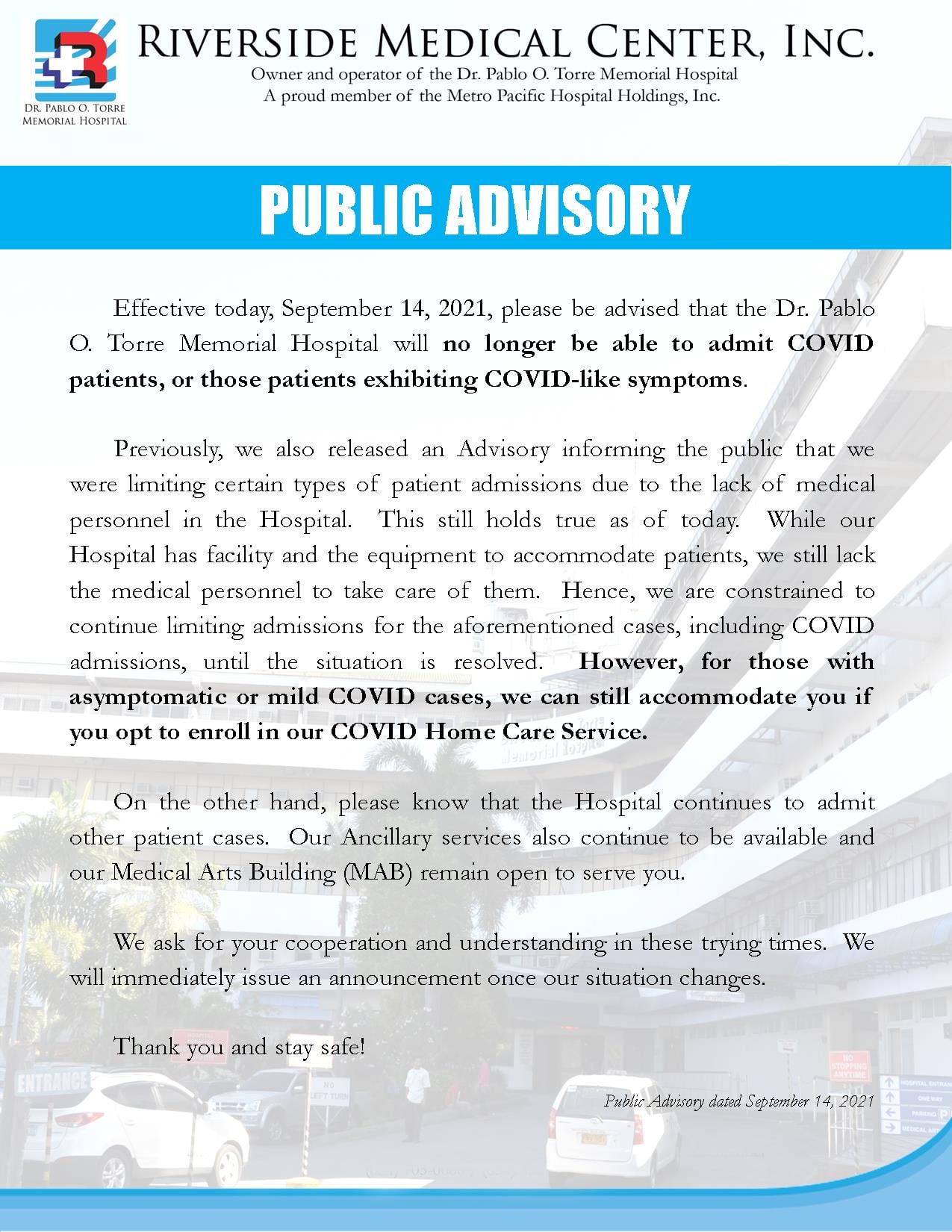 The Bacolod Adventist Medical Center (BAMC) said it has 43 COVID-19 patients on the waiting list and that its COVID ward, holding room, and isolation emergency room were all full. The hospital urged residents to seek advice from the city's One Command Hospital Center before bringing patients to hospitals.
The South Bacolod General Hospital also halted COVID-19 admissions on Monday, September 13, citing full bed capacity, limited manpower, and a dearth in ventilator and medical oxygen supplies.
To ease the crisis in hospitals, Negros Occidental Governor Eugenio Jose Lacson designated the Valeriano Gatuslao Memorial District Hospital in Himamaylan City as a COVID-19 referral center.
This would allow 100 more beds for southern Negros patients, according to Provincial Administrator Rayfrado Diaz. Last week, the province said two other southern Negros district hospitals in Valladolid town and Bago City had reached full capacity. On September 14, Diaz said the Valladolid facility had eight free beds.
In northern Negros, the Cadiz City district hospital, which also reached full capacity over the weekend, reported 11 available COVID-19 beds. Diaz said Lacson has ordered the swift completion of an annex there that would add 100 beds to the facility.
Health workers falling ill
The Bacolod Emergency Operations Center (EOC) reported a 91.51% utilization rate for regular COVID beds in government hospitals and 85.71% for intensive care unit COVID beds on September 14. Private hospitals' utilization rate for regular COVID beds was at 86.81% and 91.6% for ICU COVID beds.
City Administrator Em Ang, who heads the EOC, told Rappler that infection among hospital staff could be a reason for limited hospital capacity.
"We were just discussing it this morning in the EOC because some hospitals do not disclose the number of HCWs that are infected," she said.
"But yes, several nurses, doctors and other health workers have tested positive lately. In one hospital, seven medtechs tested positive," Ang added.
CLMMRH head Dr. Julius Drilon said even workers in non-COVID areas like the pediatric ward had been infected by the watchers of young patients.
Nurses and doctors have also had to isolate because of exposure to COVID-19 positive women admitted for birthing in the obstetrics ward, he added. At least three newborns at the hospital have died since June due to COVID-19.
Bacolod announced 105 new cases and 1,447 active cases on September 13. On the same day, figures from the City Epidemiological and Surveillance Unit (CESU) for the week of September 6 to 12 showed that about one in three people tested for the virus was infected with COVID-19. – Rappler.com