City officials question IATF test exemptions for visiting government personnel
More hospitals in Negros Occidental's center of commerce and governance announced on Tuesday, September 14 temporary halts in health services, citing full COVID-19 wards, infections among staff and problems with critical care supplies, including oxygen.
The same problem was reported in other Western Visayas centers, including Iloilo City and Roxas City.
The Department of Health Western Visayas (Region 6) office reported on September 13 new Delta cases: 12 in Iloilo province, 9 in Bacolod, 8 in Negros Occidental, 7 in Iloilo City, 5 in Aklan, and 3 in Capiz. But most new cases were tested positive for COVID-19 in August. Officials still share reports from the Philippine Genome Center but presume any cluster of cases stems from the more infectious variant.
Bacolod officials met the DOH 6 decision to place Bacolod under Alert Level 4, often called the red zone by medical professionals, by ordering rapid antigen tests for inbound travelers and for residents who report having COVID-19 symptoms.
The city government also urged the COVID-19 task force (IATF) to rescind the policy exempting visiting government personnel from the reverse transcription polymerase chain reaction (RT-PCR) required of other travellers.
"We recommend rapid antigen tests at no cost to the government APORs (authorized personnel outside of residence)," City Administrator Em Ang told Rappler on Tuesday. "We will be submitting our proposal to the Regional IATF."
Some outbreaks, including one that infected ten persons, have been traced to APORs (authorized personnel outside of residence) from the government sector, Vice Mayor El Cid Familiaran, who heads the local IATF, told Rappler on Tuesday, September 14.
Ang, who also heads the city Emergency Operations Center, confirmed Familiaran's statement.
"True. It is ironic that kung sino pa to ang actively naga sagad libot and therefore are most exposed, amo pa ang gina exempt from screening/testing," she told Rappler. (It is ironic that those who keep on traveling, and therefore are most exposed, are the ones exempt from screening/testing.)
Hospital woes
The South Bacolod General Hospital stopped accepting COVID-19 cases Tuesday, saying it had reached the maximum capacity of dedicated beds. It also cited "limited manpower and machines," including ventilators and high flow oxygen.
The Riverside Medical Center Incorporated, which operates the private Dr. Pablo O. Torre Memorial Hospital, stopped accepting critical Obstetrics cases, pre-term (OB) cases and critical pediatric cases on September 11. The corporate statement did not explain the move.
On September 12, the Corazon Locsin Montelibano Memorial Regional Hospital (CLMMRH) stopped accepting new non-COVID pediatric patients, saying it needed a "thorough disinfection" of the regular children's ward.
Dr. Julius Drilon, CLMMRH head, told Rappler some staff had been infected by watchers who had initially tested negative for COVID-19 but later tested positive.
CLMMRH, Negros island's biggest COVID-19 referral center, also temporarily closed its emergency center to new patients, saying it was full of patients waiting for beds.
The Bacolod Adventist Medical Center also announced that its isolation Emergency Room and COVID19 unit had reached full capacity.
The same problems were reported on Panay island, with Iloilo City Mayor Jerry Treñas confirming full hospitals were behind the DOH's decision to also place Western Visayas' regional center under Alert Level 4.
The Iloilo Doctors' Hospital said it temporarily stopped out-patient consultation "due to the infection of our Emergency Room nurses."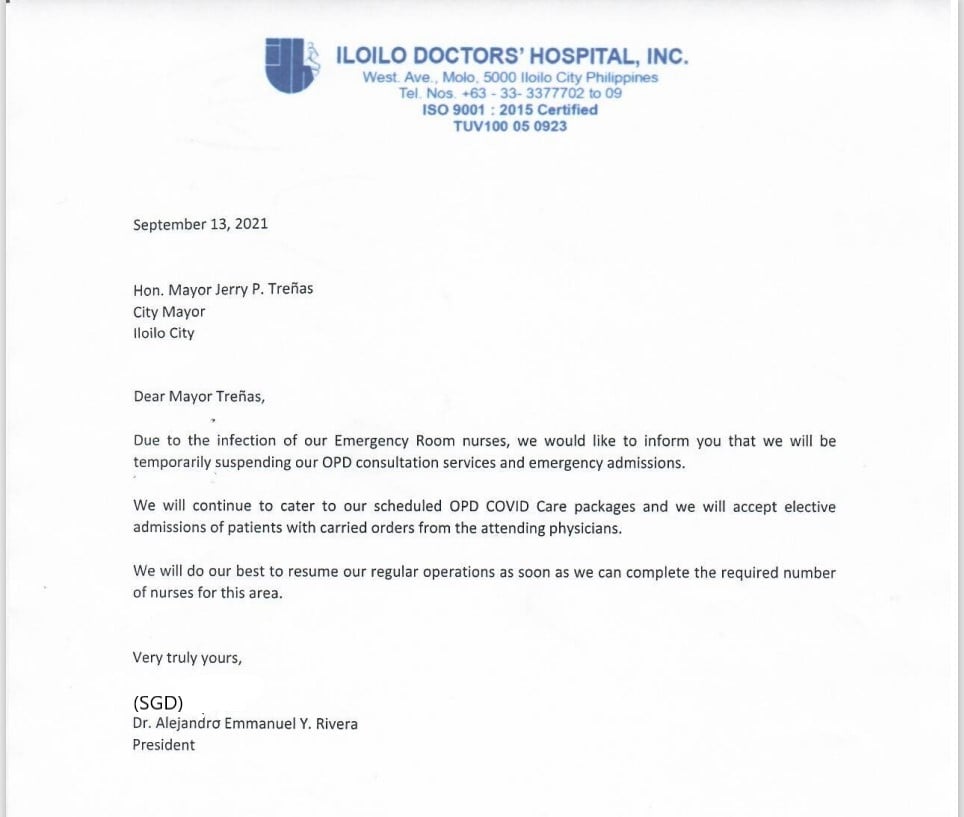 Many patients in the city's hospitals come from Iloilo province, which has more than 6,200 active COVID-19 cases and an average of 300 new cases daily. The city's average hovers in the 150s, double the daily 70s average in August.
The Roxas Memorial Provincial Hospital on September 13 announced that it had reached full capacity, prompting a "time out' to ensure that existing patients get the care they deserve.
"Our supplies of medical oxygen have fallen to critical levels, due to lack of funds to procure more supplies and exacerbated by the nationwide shortage of oxygen supplies," the hospital said in a statement.
The hospital said it uses between 120 to 130 tanks per day for severe and critically ill patients. Its statement also quoted suppliers as saying they may not be able to keep up with the heightened demand in the region, "especially Iloilo City where the need is highest and where most of the medical oxygen supplies have been earmarked."
Iloilo City hosts most of the intensive care units on Panay Island, which has four provinces. The city also accommodates the most severely sick from the island province of Guimaras.
Guarded approval
In Bacolod, the city government move was met with guarded approval by Drilon, whose hospital is the facility of last resort for residents who cannot afford the expense of private hospitalization.
"Antigen is good for screening. We also use it for the watchers," he told Rappler.
Ang said antigen tests are less costly than the RT-PCR tests, and can be processed faster, sometimes within an hour. The cost of the rapid test is around P500, compared to P2,800 and up for the RT-PCR.
"The antigen test is effective in detecting COVID infection especially when done within seven days after symptom onset because this is the time when there is viral shedding," said the city administrator. "Therefore we can use it as an early screening test to easily catch a person who is a carrier and can potentially transmit the virus to others."
Drilon said "antigen tests are useful, especially if you have a high positivity rate. You can easily isolate the positives."
He said an antigen test has a high specificity for symptomatic individuals. But they require RT-PCR confirmation, he stressed, since DOH protocols require the latter for validation.
"If a person is symptomatic, we recommend PCR test, but for contact tracing antigen is ok," the doctor said. – Rappler.com