This is AI generated summarization, which may have errors. For context, always refer to the full article.
(UPDATED) Police confirm one man's death from the earthquake, and while no other reports of casualties are available, search and rescue efforts are still underway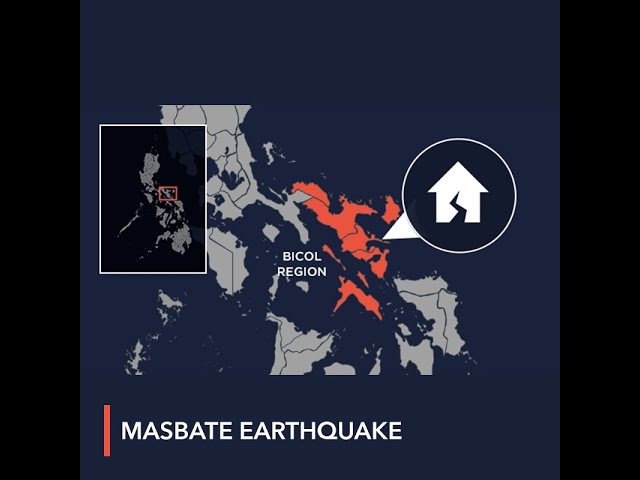 A magnitude 6.6 earthquake rocked the Bicol region on Tuesday morning, August 18.
According to the Philippine Institute of Volcanology and Seismology (Phivolcs), the earthquake struck at 8:03 am, west of Cataingan, Masbate. It was tectonic in origin, at a depth of 1 kilometer.
The Phivolcs bulletin added aftershocks and damage were expected.
"There are a lot of damaged houses," said Staff Sergeant Antonio Clemente in Cataingan, a town on the impoverished Masbate Island several kilometers west of the epicenter in the Samar Sea.
"It was really strong."
Local radio station reporter Christopher Decamon said he saw emergency workers pull the body of a man from the rubble of a 3-story house on the outskirts of Cataingan. The man's wife escaped unharmed.
Police confirmed the man's death. So far there have no other reports of casualties but search and rescue efforts are still underway.
Damaged property
Homes in poor rural areas of the Philippines are often made from lightweight material such as wood.
The quake struck as the archipelago battles surging numbers of coronavirus cases, with restrictions on movement that vary across the country.
In nearby Palanas town, police chief Captain Alvin Guerina told the Agence France-Presse (AFP) that several patients, including a pregnant woman about to go into labor, were evacuated from a hospital as a precaution in case of aftershocks.
Parts of Cataingan Port were left damaged by the earthquake, with operations at the port temporarily disrupted as a result of necessary safety assessments to critical infrastructure.
Port personnel, sailors and fishermen were reported unharmed following the earthquake. The port was later opened for trips at 12 noon.
The earthquake was also felt at the Coast Guard Regional Training Center in Masbate, though there were no reported casualties. Following the earthquake, the Coast Guard Station – Masbate set up a deployable response group to help out at Cataingan port and other nearby areas.
In the city of Iloilo, some 400 kilometers (250 miles) southwest of Masbate in the neighboring Visayas region, residents ran out onto the streets.
"It was strong, dizzying," police Colonel Eric Dampal told AFP.
"Almost everyone inside buildings rushed to the streets. Up to now, they're still outside."
The Philippines is situated on the Pacific "Ring of Fire," an arc of intense seismic activity that stretches from Japan through Southeast Asia and across the Pacific basin.
A 6.8-magnitude quake struck the southern island of Mindanao in December, killing at least 3 people, injuring dozens, and damaging buildings.
It hit as the island was still recovering from a string of deadly quakes in October. – with reports from Rhaydz Barcia/Rappler.com