This is AI generated summarization, which may have errors. For context, always refer to the full article.
Pfizer-made vaccines are considered one of the most effective at preventing COVID-19 infection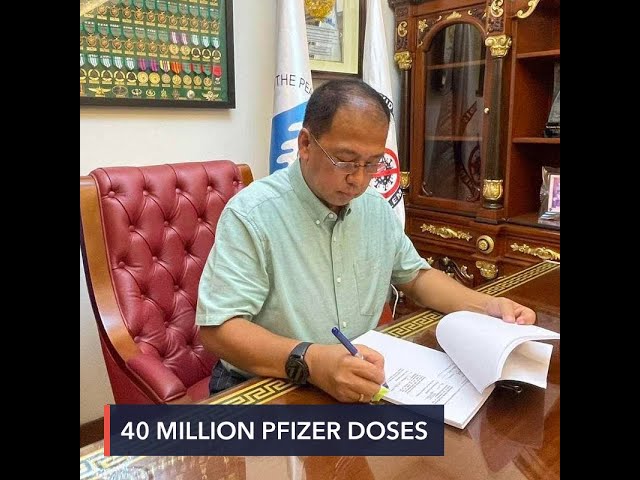 The Philippines signed its biggest supply deal for vaccines in 2021, procuring 40 million doses of the Pfizer-BioNTech vaccine, vaccine czar Carlito Galvez Jr announced on Sunday, June 20.
"Secretary Duque and I signed yesterday the supply agreement for the biggest and most decisive deal we had for 2021," Galvez said in a statement.
Galvez said the Pfizer-BioNTech vaccines are expected to arrive in the Philippines "after eight weeks starting August."
This latest deal raises the total secured vaccines up for delivery to 113 million, which also comprises 26 million Sinovac doses, 20 million Moderna doses, 17 million Astrazeneca doses, and 10 million Sputnik doses.
Galvez also said the Philippines is set to gain 40 million doses from the COVAX global vaccine-sharing pact.
Why does this matter?
Pfizer-made vaccines are one of the most preferred by Filipinos, according to an April to May 2021 survey by Social Weather Stations.
It is also considered one of the most effective at preventing COVID-19 infection. Phase 3 trial data reported in late 2020 showed Pfizer's vaccine demonstrated an efficacy of 95% against symptomatic COVID-19 seven days after the second dose was completed.
The massive procurement positions the Philippines closer to reaching widespread immunity. The government targets achieving herd immunity, or vaccinating 70 million Filipinos, by the end of 2021.
In his statement, Galvez said local governments must gear up to increase vaccination rates and to prevent any spoilage. The Pfizer vaccine requires storage temperatures between -80 to -60 degrees Celsius. – Rappler.com