Emergency contraceptive pills are a popular search, but there are no registered, dedicated ECPs in the country yet
As couples and families in the Philippines remain indoors for more than a year due to the coronavirus pandemic, there's a growing interest in searching the internet about birth control methods, a new study found.
According to a study by meta-search website iPrice.ph, the Philippines' Google searches on contraceptives – birth control pills, condoms, emergency contraceptives, and vasectomy – grew by 96% in the first trimester of 2021, compared to the same period in 2019.
Since 2020, such searches have been on a steady rise.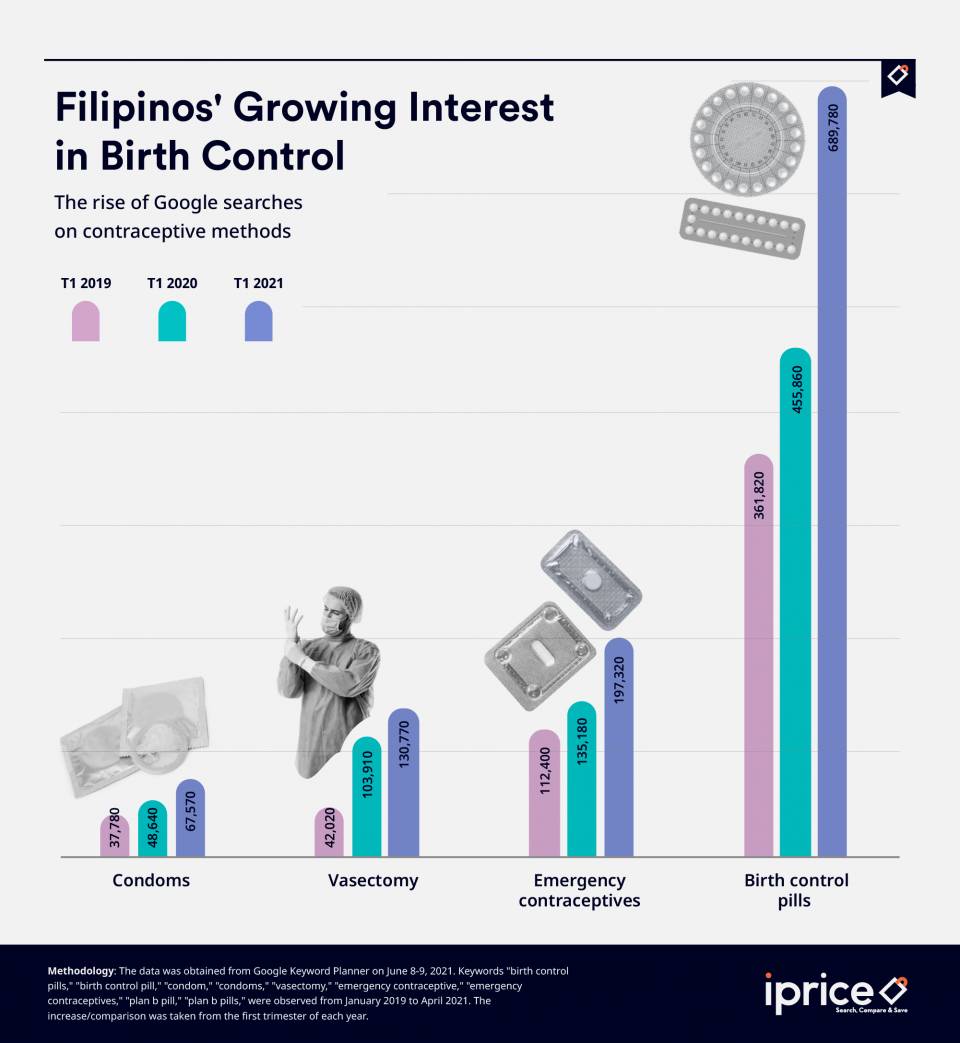 Of the four contraceptive methods, "birth control pills" were the most popular Google search. "Pills" reached an all-time high in March 2021, with more than 180,000 searches. Compared to 2019, this was a 91% increase.
Meanwhile, interest in "condoms" rose by 79%, while "emergency contraceptives" saw a 76% increase. Emergency contraceptives, also known as "morning after pills," are taken after sexual intercourse to prevent pregnancy.
Searches on "vasectomies," or surgical procedures on males that prevent sperm from being released, rose by 211%.
iPrice.ph also found that surges in birth control searches were most notable around the "-ber months" of the pandemic's first year, or from September to December 2020.
Access to birth control in the PH
Emergency contraceptives were found to be highly searched in the Philippines, but these are not easily accessible in the country. The Reproductive Health (RH) Act of 2012 specifically prohibits national hospitals from purchasing emergency contraceptive pills (ECPs).
No pharmaceutical company has registered a dedicated ECP, owing to what the companies say was a "lack of demand" in the past, said EnGendeRights executive director and lawyer Claire Padilla.
But Padilla said the pharmacy law does not prevent the Philippine Food and Drug Administration and the Department of Health from having ECPs registered with the FDA. This means the government can initiate the registration of ECPs, even if pharmaceutical companies don't apply.
Instead, combined oral contraceptives are used as ECPs in local government-run and private hospitals.
Teenage pregnancy also remains a rampant problem in the Philippines, but the RH law prohibits minors from accessing birth control without their parents' permission.
In 2019, the Philippines registered 1,673,923 live births, according to the Philippine Statistics Authority. There was a decreasing trend in live births from 2013 to 2018. – Rappler.com