(2nd UPDATE) Caloocan Bishop Pablo Virgilio David, incoming president of the CBCP, is expected to give the Catholic Church a more formidable voice ahead of the May 2022 elections that will elect President Rodrigo Duterte's successor
Caloocan Bishop Pablo Virgilio David, one of the leading voices against President Rodrigo Duterte's bloody anti-drug campaign, was elected president of the Catholic Bishops' Conference of the Philippines (CBCP) on Thursday, July 8.
The election of David, outgoing vice president of the CBCP, came on the first day of the CBCP's two-day plenary assembly on Thursday. David is set to begin his two-year term on December 1, 2021.
Known by his nickname Ambo, the 62-year-old David is set to take over from Davao Archbishop Romulo Valles, who took a more mellow approach toward Duterte compared to his predecessor, Lingayen-Dagupan Archbishop Socrates Villegas.
That David would become CBCP president was expected, because he had served as CBCP vice president for two successive two-year terms since 2017. By tradition, though there have been exceptions, CBCP vice presidents eventually become presidents of the bishops' conference.
Still, the election of David gives the Catholic Church a more formidable voice as the Philippines approaches the May 2022 presidential election, which will elect Duterte's successor.
David – alongside Villegas and outgoing Manila Auxiliary Bishop Broderick Pabillo – is one of the leading figures opposing Duterte's war on drugs. He has earned Duterte's ire for his statements, with the President even accusing him of involvement in the drug trade.
David had also received death threats for opposing Duterte's anti-drug campaign.
A priest since 1983 and a bishop since 2006, David is an intellectual heavyweight – one of the country's leading Bible scholars – who holds a doctorate in theology from the Catholic University of Louvain, Belgium.
He is a product of San Jose Seminary, a Jesuit-run institution that has produced at least three Filipino cardinals. One of them, former Manila archbishop Luis Antonio Cardinal Tagle, was also David's schoolmate in Ateneo de Manila University, one of the leading schools in the Philippines.
The former auxiliary or assistant bishop of San Fernando, Pampanga, David was plucked from relative obscurity when Pope Francis moved him to the Diocese of Caloocan, where he has been bishop since January 2016.
Months after his installation as Caloocan bishop, following Duterte's assumption as Philippine president in June 2016, David found himself having to speak out against the killings in Duterte's drug campaign.
His diocese, which covers southern Caloocan, Malabon, and Navotas, has seen the worst killings under Duterte. The first high-profile case in his diocese, which grabbed headlines across the Philippines, was the killing of 17-year-old Kian Loyd delos Santos in 2017, which David condemned. (READ: Caloocan Bishop Pablo David: Shepherd of his slaughtered sheep)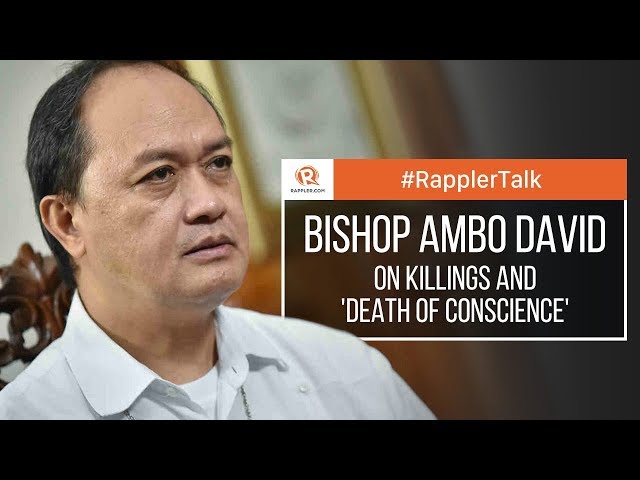 Born in Betis, Guagua, Pampanga, the incoming CBCP president is the brother of prominent sociologist Randy David and uncle of GMA-7 broadcast journalist Kara David. David is the 10th of 13 children of Pedro David and Bienvenida Songco, his brother Randy wrote.
Senators: 'Much-needed human rights advocacy'
Opposition Senator Risa Hontiveros lauded David's election as CBCP president, citing his "courage and compassion for the marginalized and oppressed" including slain teenager Kian delos Santos and other victims of extrajudicial killings under the Duterte administration. (READ: Caloocan bishop: 'Stop the killings, for heaven's sake!')
"His strong advocacy for human rights, peace and the well-being of Filipinos is much-needed in these troubled times," Hontiveros said in a statement on Friday, July 9.
"I pray that Bishop Ambo will be able to use his new position to lead his courageous brother bishops and guide the Filipino faithful towards building a better nation and stopping the killings, the corruption, the abuses, and the injustices in our society today," she added.
Senator Francis Pangilinan said that with David's election as CBCP head "expands his compassionate service to all Filipino Catholics and devotees."
"But knowing Bishop Ambo, he will give succor to everyone, especially the poor, the sick, and the dying — as he has done all his life, and especially in dark times," Pangilinan added. – Rappler.com