'There was not any evidence that Cambe somehow, is shown to have given something or deposited something to the Senator, and again that's not our problem,' says Senator Bong Revilla's lawyer Ramon Esguerra
Ombudsman prosecutors "fell short" of piecing together bank deposit evidence to paint a complete picture of Senator Bong Revilla's supposed kickbacks from the pork barrel scam, said the lawmaker's lawyer Ramon Esguerra.
"Will those amounts in the report of AMLC (Anti-Money Laundering Council) correspond to the SALN (Statements of Assets, Liabilities and Net Worth) that had been filed by the senator and even by the wife? That's the issue, and they did not do so. What I'm saying is they fell short of really closing that particular issue of fact," Esguerra said in an interview over ANC's Rundown on Tuesday, July 6.
The anti-graft court Sandiganbayan junked 16 counts of graft against Revilla, effectively clearing the senator of all criminal cases related to the pork barrel scam, a big fish prosecution of the Benigno Aquino III government and its Daang Matuwid (Straight Path) anti-corruption campaign.
The loss in the Revilla case is another narrative of government investigators supposedly stumbling on challenging corruption cases.
The court's special first division voted 3-2 to acquit Revilla of graft, saying that the Ombudsman prosecutors did not show proof that the senator and his wife Lani Mercado could not have acquired the wealth from any other legal means.
AMLC found that by 2010, the Revilla bank accounts accumulated a total of P170.9 million when he only declared P81.16 million in cash and investments in his SALN for that year.
"The prosecution failed to establish that Revilla's wife, Jesusa Victoria Bautista aka Lani, did not have her own independent source of income. The prosecution, too, did not present evidence that Revilla did not have any other source of income from the years 2006-2009 aside from his work," said the ruling.
The AMLC report also showed that from 2007 to 2010, a total of P87 million was deposited to Revilla accounts, with each deposit made within 30 days of when star witness Benhur Luy gave the kickbacks to former Revilla staff Richard Cambe.
Cambe was convicted of plunder in 2018 with Janet Lim Napoles, while Revilla was acquitted on the same reasoning. Cambe is cleared of graft on account of his death while Napoles will continue to trial.
'Just conjecture'
"They made a 1 + 1, okay this is it, this is the product of their conspiracy, but they could have gone more, where is the SALN?" Esguerra said on ANC's Rundown, calling it the prosecution's "conjecture."
The majority ruling, penned by Associate Justice Geraldine Faith Econg with concurrences from Associate Justices Edgardo Caldona and Rafael Lagos, also asked the same.
"Neither did the prosecution present any proof that Revilla is charged of violation of the SALN law, perjury, or forfeiture or ill-gotten wealth," said the ruling.
Esguerra said the prosecution "should have put in additional evidence to show that this income, deposits made in the banks, could not have been sourced from their ordinary or regular sources of income, their salaries, or allowances from their being public officials or from their businesses."
"It was to me neglect on the part of the prosecution to close that particular piece of evidence. There is no other conclusion that you can derive from it other than there were deposits found or made but what are they? Are they the very kickbacks that Mr. Revilla, or the Senator, received from Napoles? Walang dikit (They did not close the loop)," said Esguerra.
Two of the main elements of plunder is that there should be proof of ill-gotten wealth, as in the money was acquired, amassed, or "pocketed" by the official, and that the amount involved should be at least P50 million.
In the Revilla case, the plunder decision said Cambe and Napoles amassed P124.5 million, which the court had ordered to be returned. The execution of that order still hangs, as the conviction is on appeal.
The dissenters in both the plunder and graft decisions said it was impossible for Cambe to execute such a crafty plan for years without Revilla's knowledge, "much less consent."
"The good senator is not feigning ignorance of the supposedly, of what Cambe has been doing. Again, where the prosecution fell short was there was not any evidence that Cambe somehow is shown to have given something or deposited something to the Senator, and again that's not our problem. The problem is with the prosecution," said Esguerra.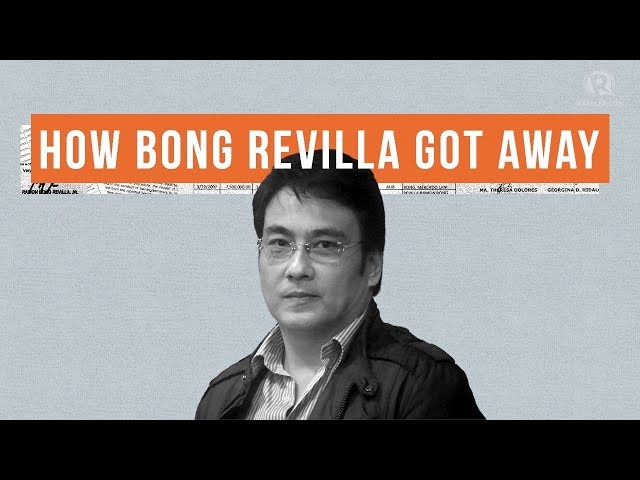 But is kickback integral to graft?
Faulting the prosecution in corruption cases is not only a sentiment of defendants and their lawyers, but have been cited in several cases – even those that reach the Supreme Court, particulary when it comes to Marcos loot.
Ill-gotten wealth is particularly a challenging element to prove, because not only should transactions be anomalous or irregular, there must be clear proof that the person "pocketed" the amount.
"It's not just a matter of P50 million being overpriced. If you want to prosecute plunder, you have to prove that P50 million went to the pocket of the respondent," said former justice undersecretary Jose Justiniano over Rappler podcast Law of Duterte Land.
But is pocketing kickback integral to graft? Dissenting justice Efren Dela Cruz does not think so.
"The receipt of kickbacks is not an integral element of violation of Section 3(e) of RA 3019 (anti-graft law)," said Dela Cruz.
Dela Cruz pointed out that the elements of graft, which Revilla was charged with, was "causing undue injury to any party, including the govermment, or giving any private party unwarranted benefits."
In the graft case, the offense was that Revilla endorsed, and effectively gave unwarranted benefits, to the bogus NGOs linked to Napoles.
But the majority of three Sandiganbayan justices gave merit to Revilla's argument that his signatures on the endorsement letters were forged. Even if they were not, the justices said Revilla's endorsements were recommendatory in nature because it was still the implementing agencies which gave the approval.
This reasoning, Dela Cruz and fellow dissenting justice Bayani Jacinto said, "was a stretch of logic."
Like the plunder acquittal, Revilla's graft acquittal was also narrowly decided, 3-2.
"That is the beauty of dispensing justice in a collegial body like this: They have their own minds and they spoke. It's just that one group prevailed over the other," said Esguerra.
– Rappler.com