Mavic Hilario and her partner requested admission to a hospital with their young son but only got a call that they could be accommodated 11 days later
When Mavic Hilario, her partner, and their three-year-old son got infected with COVID-19 in August, they experienced what many other Filipinos had to endure in a country with an overwhelmed public health system and a government that's still doing catch-up in its pandemic response efforts.
"Sariling sikap gyud (We had to be self-reliant)," the 43-year-old Hilario said, summing up how they got by for nearly two weeks on their own in their home in Malaybalay, Bukidnon, without much help from the government.
Hilario, Raul Bendit, and their son completed their home quarantine on Tuesday, August 31, but based on the new protocol, they have to remain in isolation for another week.
The ordeal
Hilario suspected that Bendit, 44, got the virus while doing errands outdoors for two days. He started coughing, complained of body malaise, and had fever on August 15 after he was exposed to a person who was coughing outdoors.
Three days later, Hilario started feeling malaise, had a sore throat and a headache. Their son began coughing, had colds and fever, and was vomiting.
On August 19, Hilario and her son went to the enhanced screening area of Malaybalay to get antigen tests, which turned out to be positive.
"It was terrible, and I wanted to cry because it was as if we were in a war zone. We weren't feeling well at all. I feared for my son because it was a closed space, and he was exposed to unwanted risks. We spent four hours there," she said. 
An RT-PCR test later confirmed that they had COVID-19.
The family experienced COVID-19 symptoms and wanted to be admitted to a Bukidnon hospital – their son had several chronic health issues, and required special food preparations – but there was no space left for them.
They were waitlisted with numbers 100, 90, and 40, at a COVID-19 referral hospital on August 20.  Hilario said they went home by themselves, and that their house was not cordoned off despite the test results.
As days passed, the family began to lose their appetite, sense of taste, and sense of smell.  The couple said they were constantly tired and had sleeping problems. Worse, their son's breathing became shallow. 
The couple said their doctor friends checked on them online regularly, and suggested what they should do.
During their home quarantine, their son, who has Down syndrome, needed urgent medical care. Hilario said barangay health workers merely checked on them from time to time, and then the local government sent an ambulance to bring the ailing child to the Bethel Baptist Hospital triage in Malaybalay.
"When my son was dehydrated and there was no room for us in a hospital, Bethel triage accommodated him for a few hours where he was on dextrose. He also got a shot of antibiotics. After that, he slowly recovered," Hilario said.
Support from family, friends
The family finally got a call from the One Hospital Command Center in Bukidnon that they could already be admitted, but it was already August 31 or 11 days since they made the request. By then, they no longer needed to be hospitalized – they had seen the worst of COVID-19 and felt they had already recovered.
Thoughout their ordeal, the family received aid and support from their families and friends who got in touch with them online, and doctors they knew who gave them medical advice. 
Hilario said that they were expecting quarantine certificates from their barangay, and it didn't look like they would be tested again.
"I don't want to go back to that triage again, and to get tested at the Red Cross is expensive," Hilario said.
For the family, any help from the local government was just a bonus – they received a few kilos of rice and canned goods – and they are just one of the many families in Bukidnon and elsewhere who had to go through the ordeal practically alone because of the poor state of the country's public health system.
One consolation, she said, was that her family has become prioritized for vaccination, something they had long looked forward to.
Ramped-up testing
Lawyer Oliver Owen Garcia, co-chairman of the Bukidnon COVID-19 interagency task force, told Rappler that COVID-19 testing would be ramped up in the province.
He said the molecular laboratory building at the Bukidnon Provincial Medical Center (BPMC) in Malaybalay has been completed and equipped with medical apparatuses for testing. 
"We target to operate sometime in September after our personnel undergo their training in Cebu. The calibration of the medical equipment could happen anytime this week. We also hired three medical technologists," Garcia said.
Once fully operational, Garcia said, the current daily 500 RT-PCR tests would be doubled, and the operations would be conducted 24 hours a day, seven days a week.
Bukidnon is among the provinces in Northern Mindanao with the most documented COVID-19 cases.
The region also topped the list of Mindanao areas with the highest number of Delta variant cases at 48, based on the latest results released by the Philippine Genome Center. It ranked fourth in the country. 
Bukidnon has logged 11 new Delta variant cases: three in Malaybalay, two in Valencia City, two in Baungon, two in  Manolo Fortich, and one each in Quezon and Don Carlos. Valencia City also recorded an Alpha variant case and a Beta variant case.
In July, Talakag town recorded the first Delta variant in Bukidnon, then another one in Malaybalay, in August.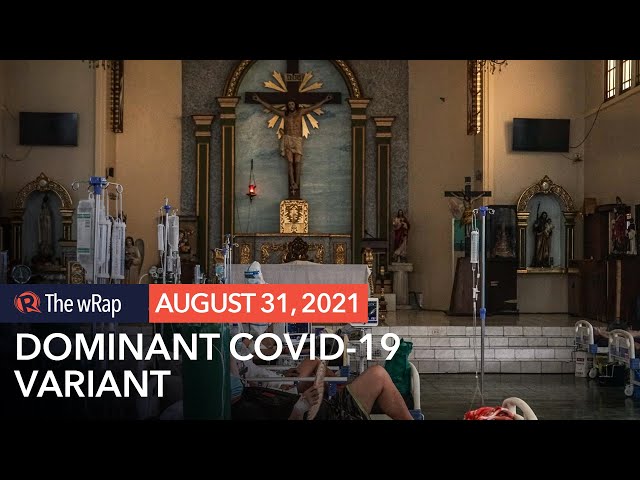 – Rappler.com
Grace Cantal-Albasin is a Mindanao-based journalist and an awardee of the Aries Rufo Journalism Fellowship.