The Philippines has the highest number of students exposed to bullying in school, according to an international survey of 79 countries
MANILA, Philippines – Senator Sherwin Gatchalian, chairperson of the committee on basic education, flagged the alleged underreporting of bullying cases in the Philippines during a hearing on Monday morning, February 13.

The committee convened to review how the government is implementing the Anti-Bullying Act of 2013 (Republic Act No. 10627) amid the record-high instances of bullying reported across the Philippines. 

Department of Education Assistant Secretary Dexter Galban reported their data on the official bullying cases to the committee since the law was implemented:
2013 to 2014: 1,309 cases
2014 to 2015: 5,624 cases 
2015 to 2016: 7,221 cases
2016 to 2017: 8,750 cases 
2017 to 2018: 15,866 cases
2018 to 2019: 21,521 cases 
2019 to 2020: 11,637 cases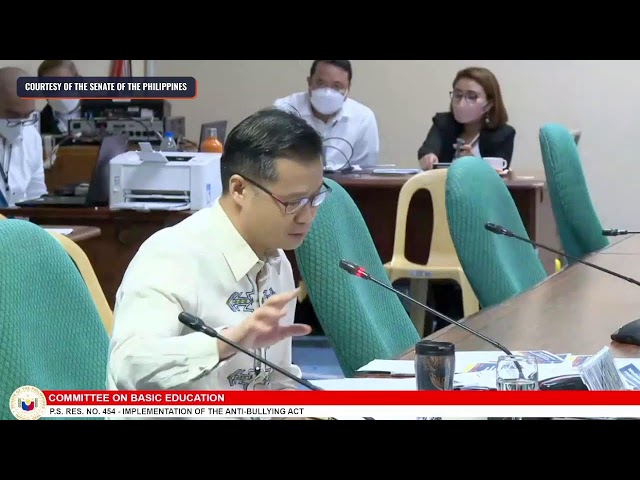 Gatchalian said the 11,000 cases (reported in 2019 to 2020) are not anywhere near the 40 to 60% of the student population. "So there is underreporting," the committee chairperson said. 
"If you're converting that to the student population, we're talking about 10 million to 12 million students as opposed to 11,000," he added.

As of 2023, there are 28 million students enrolled in Philippine public schools.

The types of bullying from 2013 to 2020, with their corresponding percentages, are the following.
Physical bullying: 56.79%
Social bullying: 25.43%
Gender-based/biased: 5.92%
Cyberbullying: 6.03%
Retaliation: 5.83%
Senator Robin Padilla highlighted a possible reason why students would be discouraged from reporting bullying to their schools. 
"'Pag nagre-report, magiging eskandalo. Magpapatawag ng magulang [ng biktima], mga magulang ng bully (When they report, it becomes a scandal. The parents of the victim, the parents of the bully, get called)," Padilla said.

He added that there should be a more discreet process to reporting bullying.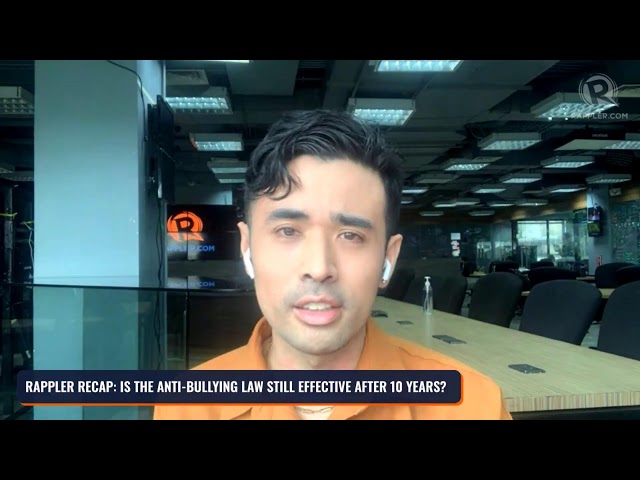 "Dapat magkaroon ng proseso na lihim din. 'Wag 'yung normal 'yung proseso. Ipapatawag, paghaharapin doon. Eh hindi po nakakatulong yon. Sa akin pong palagay, dapat baguhin 'yong ganoong klaseng proseso," Padilla added. 
(There should be a more discreet process too. Don't do the normal process. They'll call you to face each other there. That's not helpful. I think they should change that kind of process.)

Gatchalian said another reason he believes there is underreporting is because students would be more likely to tell the truth to a survey than report it to their school. 
"There is fear na baka malaman ng nabu-bully kung sino sila (There is a fear that the bullies will find out who reported them). So my analysis is [that] there is a huge issue of cases being unreported, and that is a problem because if it is unreported, then how do we solve the problem? How do we help them?" Gatchalian said.
Filipino students most exposed to bullying
Part of what prompted the review of the decade-old law was the Philippines' placement in bullying surveys.

A Program for International Student Assessment (PISA) 2019 study showed that Filipino students are most exposed to bullying compared to 79 other countries. 
The poll showed that 65% of Filipino high school students experience bullying at least a few times a month. This was way above the 23% average among the 79 countries that were surveyed.

Another study by the Trends in International Mathematics and Science Study showed direct correlation between bullying and academic performance.

"For cyberbullying and gender bullying, we have online and phone and chat reporting systems," Galban said of the department's effort to improve the reporting of bullying cases. The digital reporting systems began last November 2022.
"In public, 'cancel culture,' bullying, can be easily seen online," Galban told the Senate committee.

"It's 24/7 sometimes outside of the time of classrooms. There needs to be way for the learners to report them directly on our platforms," he added.
A related – and worrying – statistic showed that suicides are on the rise in public schools with 404 cases reported, while 2,147 other learners attempted to take their lives during the 2021 to 2022 school year.
"We do not have specifics as to the reasons as to the cases of suicide as these can be multifactorial in nature," he said. "They can be a combination of stress, bullying, socioeconomic," Galban added. 
Bullying a mental health issue
The Philippines' top mental health experts joined the panel to discuss bullying prevention, inside and outside of the classroom. All of the experts agreed that bullying was a mental health issue.

Addressing bullying, they said, includes educating parents as well.

The speakers include psychologists Honey Carandang, Bernadette Madrid of the Child Rights network, Lolina Bajin, Shake Gueverra Hocson, and psychiatrist Cornelio Banaag, among others.

"Bullying and social exclusion is already linked to depression, suicidal ideation," Carandang said.

Gatchalian agreed with the expert panel. "Bullying is a part of mental health," he said.

The senator also said it was also important to improve parent engagement through the law via Republic Act No. (RA 11908) or the Parent Effectiveness Service Program, which aims to strengthen parent engagement in child development.

When it comes to encouraging students to report bullying, "make sure hotline avenues to government are pronounced," Gatchalian said. – Rappler.com