State auditors also found that in 2020, BuCor paid P176 million to the catering contractors of the Davao Prison and Penal Farm and the Sablayan Prison Penal Farm in Occidental Mindoro but 'without complete documentation'
In 2020, during a pandemic and when fatal riots rocked the New Bilibid Prison (NBP), the Bureau of Corrections (BuCor) could not hire enough staff so that by the end of the year, it still had P259 million or over 85% of its allotted budget for filling in vacant positions.
By the end of 2020, there was only one corrections officer (CO) per 20 inmates, and one corrections technical officer (CTO) per 173 inmates in Bilibid, according to BuCor's 2020 audit report.
CTOs are in charge of reformation – their work involve direct contact with inmates, and they include evangelists, physicians, sociologists, and lawyers, among other professionals.
In 2020, there were two successive riots in Bilibid, which killed 13. In June 2021, another riot killed one inmate, all traced to gangs.
Based on its last job posting in June 2021, BuCor is still hiring 21 CTOs and 1,000 correction officers.
"The additional CO1 positions created in CY 2020 were not fully filled up because of low turnout of applicants and some applicants are not equipped with the required qualifications," said the audit report.
Failure to maximize funds for personnel "indicates poor cash programing and expenditure planning; thus, may affect performance and accomplishments of its mandate," said auditors.
Auditors commended BuCor for timely procurement of drugs and medicines worth P165 million to respond to COVID-19, saying the purchase was compliant with procedures and guidelines.
There were many high-profile deaths in 2020, some of them convicts who died of COVID-19 within days of each other in a special facility. Rappler also found in earlier investigations that dozens of prisoners died without ever being tested for the coronavirus.
Prisoners' rights group Kapatid is still calling on the government to include inmates in the government's priority vaccination groups.
"After five months, not a single political prisoner was inoculated against COVID-19 and only a small fraction of the over 215,000 persons deprived of liberty (PDLs) received a dose mainly due to LGU efforts in their localities," said Kapatid spokesperson Fides Lim.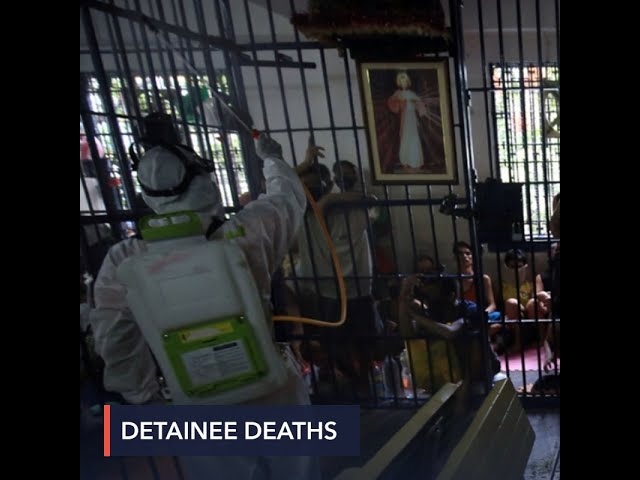 Catering payment in Davao colony not fully documented
Auditors also found that BuCor paid P176 million to catering contractors of the Davao Prison Penal Farm (DPPF) and the Sablayan Prison Penal Farm (SPPF) in Occidental Mindoro "without complete documentation…thus the propriety and validity of these transactions were doubtful."
According to BuCor's accountants, the procurement of DPPF was handled by the BuCor's headquarters in Manila, and documents were just forwarded to the DPPF to support payment of claims.
"We recommended and Management agreed to require the Accounting Section and the Bids and Awards Committee (BAC) of DPPF to ensure completeness of supporting documents prior to the processing of claim for catering services," said auditors.
In Sablayan, P1.9 million worth of disbursement vouchers for travel, salaries, supplies, maintenance, electricity, and petty cash expenses had no complete documentation.
"The lack of signatures, dates, places and other information as may be required by the nature of the transactions and absence of the required documents to support the payment of aforementioned expenses were contrary to Section 4(6) of PD No. 1445 and COA Circular No. 2012-001.  It also indicates lapses in administrative controls; thus, casting doubts on the validity, regularity and propriety of disbursements," said state auditors.
– Rappler.com