The challenge is how to reach out to as many people as possible, and spread a message of hope, says city psychologist Jaymee Leonen
The local government of Cagayan de Oro stepped up its campaign for mental health awareness due to the rise in deaths by suicide in the city that was blamed on "COVID stress."
The challenge is how to reach out to as many people as possible, and spread a message of hope given the current distancing and other public health protocols, said city psychologist Jaymee Leonen.
Mayor Oscar Moreno ordered the city hall's psychosocial division to intensify the campaign by making use of online platforms, and to tell people that "there is hope, and we are all in this together."
Moreno also directed the city's Mental Health Board to spearhead efforts to address the problem of increasing cases of suicide deaths in the city. He created the board in 2020 when the pandemic broke out.
He attributed the increase to "the economic slowdown, jobs loss, business closures, physical movement restrictions, closure of schools, and many other limitations that have changed people's lives drastically."
Leonen said the local social welfare office intensified its awareness and education campaign through its Facebook page "CSWD CDO Psychosocial" where people with mental health concerns can seek help.
The City Social Welfare Department's Psychosocial Division also provided the hotline 0975-8403-585 for those in need of experts' advice.
'We will be there'
She said mental health awareness and acknowledgment of the problem is the first step in addressing it.
"If we hear anyone vulnerable, we will seek and go to that person. If anyone seeks help through any of our platforms, we will be there and assure them that they're not alone, and there is hope," Leonen said.
She said people who require mental health care often have sleeping disorders, lack or excessive appetite, and have become withdrawn. They also repeatedly express their frustrations, entertain suicidal thoughts, and threaten self-harm.
Both city hall and the police noted increases in the number of suicide cases in the city, alarming local officials who are already engrossed in efforts to keep the deadly virus from spreading and in trying to cushion the pandemic's impact on Cagayan de Oro's economy.
This week alone, two young men took their own lives, adding to the growing list of suicide deaths that increased four times since 2018, based on police records. City hall's data showed a rise by over 100% from 2019 to 2020.
Authorities said the man who took his life in Barangay Tablon on Monday, May 10, failed to find work since he lost his job in 2020, was indebted, and had thought killing himself was a solution. He was only 23.
Colonel Henry Dampal, city police director, said he was disturbed over the police data on the loss of lives that he urged health and social welfare officials to take the problem more seriously.
City hall's psychosocial division records differed from that of the police. Its data, however, show the same trend: the number of cases more than doubled from 2019 to 2020. Its data also show that Cagayan de Oro is now just three cases short – excluding the two deaths on May 10 and May 11 – before the city breaks its 2020 record.
Gender disparity
Leonen and Colonel Dampal noted a gender disparity in their data: the suicides were mostly male.
Of the 49 suicides in 2020, 38 were male. From January to April 2021, 21 of the 24 suicides were also male, Dampal said.
Leonen, for her part, said city hall's 2019-2020 data show that more women harmed themselves, but more men completed it.
She said their findings suggest that it was because the "women were concerned with appearance."
Leonen said the cases increased in 2020 due to "COVID stress" that aggravated existing anxiety and depression issues among residents.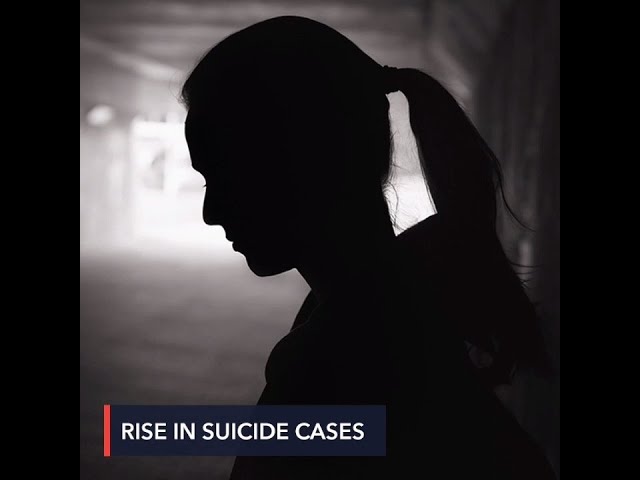 Leonen also noted that there was an increase in the cases involving young people with ages ranging from 14 to 23 years, and adults in their thirties and forties, "even from the middle and upper classes" of Cagayan de Oro.
"COVID took away many things from people. Levels of unpredictability, uncertainty, and hopelessness are high. There are changes in temperament in many homes because parents are financially stressed, and their children are socially deprived," Leonen told Rappler.
For starters, she said, families need to sit down and discuss their situation to find out how the pandemic is affecting their members' mental health, and so appropriate interventions could be made.
Councilor Maria Lourdes Gaane, a physician, said the city council is deliberating on a draft mental health code for Cagayan de Oro "to synthesize all our energies and support institutions into one united front against this intractable health condition."
"As a parent and as a doctor, I find this equally disturbing and distressing. Everybody under mental stress deserves all the support society and government could provide," she said. – Rappler.com
The Department of Health, through the National Center for Mental Health, has a national crisis hotline to assist people with mental health concerns. The hotline can be reached at 1553, which is a Luzon-wide, toll-freelandline number, 0917-899-8727 and 0966-351-4518 for Globe and TM subscribers, and 0908-639-2672 for Smart and Sun subscribers.