This is AI generated summarization, which may have errors. For context, always refer to the full article.
(6th UPDATE) Gunmen kill Mayor Ronald Aquino and two of his bodyguards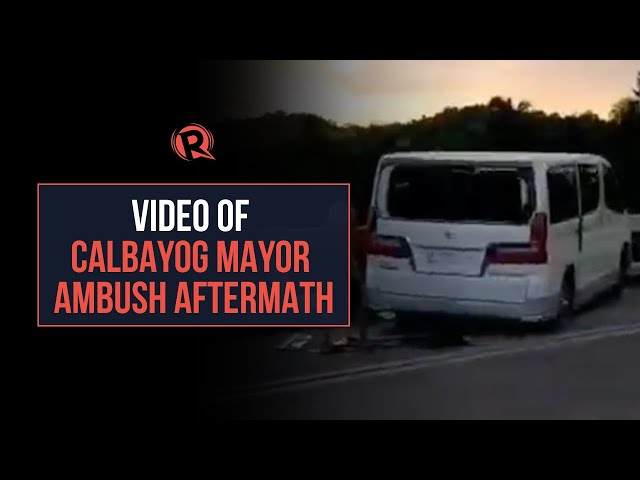 Calbayog City Mayor Ronaldo Aquino died in an ambush at around 5 pm on Monday, March 8, according to reports. He was 58.
Eastern Visayas police spokesperson Lieutenant Colonel Bella Rentuaya confirmed this in an interview with newspaper Superbalita Cebu.
The Calbayog City Public Information Office's official Facebook page also confirmed Aquino's death in a post past 8 pm on Monday, with the caption "Requiescat in pace (Rest in peace) Mayor Ronaldo Aquino."
According to a Philippine Star report, Aquino was with his three bodyguards inside his van in Barangay Lonoy in Calbayog during the ambush.
Initial reports said assailants were riding motorcycles when they shot Aquino and two of his bodyguards dead.

However, police clarified later that the gunmen were aboard another vehicle.
During the 2019 midterm election, at least 4 of Aquino's supporters were also killed in an ambush in Calbayog.
Aquino is the second mayor of Calbayog City to be murdered while in office in the span of a decade. Reynaldo Uy was also murdered in 2011 during his term as mayor.
Calbayog has earned the moniker "killbayog" for being a city that constantly grapples with violence, especially during election season.
Aquino had also tried to tackle political violence throughout his term.
According to a SunStar report, Aquino formed a task force with the police and military to dismantle the number of private armies in his locality.
During Aquino's first term in 2013, all police officers in Calbayog were relieved due to a series of killings that year.
Samar 1st District Representative Edgar Sarmiento condemned the incident.
"As the duly elected pepresentative of the First District of Samar, upon the demise of Mayor Aquino, I want to assure my constituents that I will do everything possible that justice be served for Mayor Onald Aquino," Sarmiento said in Facebook past midnight on Tuesday.
"As I have repeatedly stated in the past, our city doesn't deserve this kind of violence," Sarmiento said in a statement posted on . "Each time a shooting incident occurs in our district, I always have to ponder why such things have to happen. Why the need for violence?" he said.
Sarmiento called on President Rodrigo Duterte, the Department of Justice, and the National Bureau of Investigation to probe the mayor's killing.
The Galing Pook Foundation also mourned the death the mayor, and called for an end to senseless killings.
"Mayor Aquino led his team in participating in our Adaptive and Innovative
Leadership Program last year. Despite his busy schedule as local chief executive, he provided guidance and leadership to his team as they find adaptive and innovative ways to address the COVID-19 pandemic and prepare the city for the future," Galing Pook said in a statement on Tuesday. – Ryan Macasero/Rappler.com