(UPDATED) Pope Francis names the first cardinal from Capiz, Jose Advincula, as the 33rd archbishop of Manila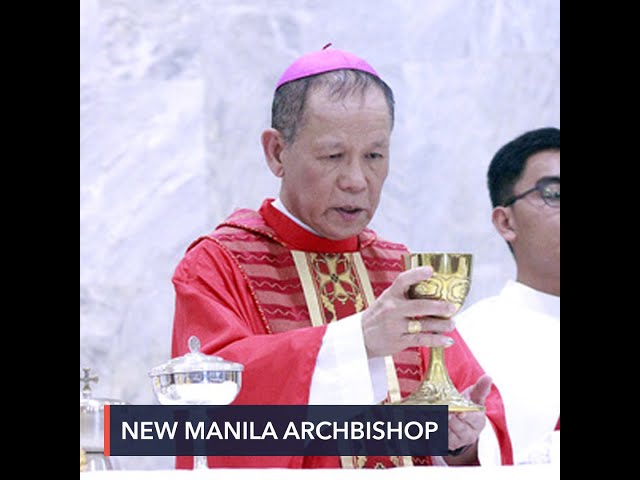 Pope Francis on Thursday, March 25, named Cardinal Jose Advincula of Capiz as the 33rd archbishop of Manila, ending a yearlong wait for the new head of the most powerful diocese in the Philippines.
The Vatican made this announcement at around 7 pm (Manila time) on Thursday.
Advincula, 68, succeeds Cardinal Luis Antonio Tagle, who is now the prefect of the Congregation for the Evangelization of Peoples in the Vatican.
On November 28, 2020, Advincula became the first cardinal from Capiz, and the 9th Filipino cardinal in history. Church watchers have dubbed him the "cardinal from the peripheries."
"We wish the archbishop-elect God's abundant blessing in his new mission and offer him our continued prayers and support," said Davao Archbishop Romulo Valles, president of the Catholic Bishops' Conference of the Philippines in a statement Thursday evening.
Born on March 30, 1952 in Dumalag, Capiz, Advincula studied at Saint Pius X Seminary in Roxas City, and later took theology courses at the University of Santo Tomas in Manila.
He was ordained a priest on April 14, 1976.
He became bishop of San Carlos on July 25, 2001, and on November 9, 2011, was transferred to Capiz as its archbishop.
Advincula, who studied psychology at De La Salle University and canon law at the University of Santo Tomas, holds a licentiate in canon law from the Pontifical University of Saint Thomas Aquinas-Angelicum in Rome.
Advincula is a low-profile bishop whose appointment as cardinal in late 2020 surprised predominantly Catholic Philippines, which expected the Pope to name a more prominent prelate as prince of the Catholic Church.
Experts told Rappler, however, that the Pope wanted a cardinal from the "peripheries," in line with his goal to make the Catholic Church closer to the poor and neglected.
'I will listen'
The key to understanding Advincula, according to his associates, is in his motto as bishop: 'audiam' – a Latin word that means 'I will listen.' A low-key figure more focused on the grassroots than on national politics, Advincula earned praise in Capiz for always consulting his flock and building makeshift churches in far-flung communities.
In an earlier tribute to Advincula, Monsignor Regie Pamposa recalled that upon taking office as Capiz archbishop, his first announcement was to create mission stations – small churches in far-flung and even mountainous communities – across the province of Capiz.
Under Advincula's watch, Pamposa said Capiz has built 29 mission station churches over the past 8 years. The archbishop, too, has almost doubled the number of parishes in Capiz, from 35 to 64. According to Capiz priest Father Brylle Clinton Deocampo, the number of adult baptisms in Capiz also increased when Advincula was its archbishop.
Pamposa said in his tribute to Advincula: "His episcopal motto, 'Audiam' (I will listen), explains everything that Archbishop Joe does – a bishop who loves to listen, truly a discerning leader in times of crises and trials. He never gets tired of listening to his priests, seminarians, religious, and lay people in their moments of difficulties."
Advincula, according to his priests, is not a know-it-all. Deocampo said when it comes to mission stations, for example, Advincula acknowledges he was assigned to a parish only once, and for a short period of time, so he needs the counsel of priests who have more experience. "You know that better than me, that's why I'm consulting," Advincula would tell his priests.
Deocampo explained to Rappler in an interview in late 2020: "I think we've always thought of the Church as the teaching Church – the Church teaching this and that. But for me as someone who has worked closely with Archbishop Joe, with Cardinal Joe, he has shown to me, personally, that the Church is also a listening Church."
"Sometimes, I feel like we are stuck in the idea that the Church always has something to say about this and that," Deocampo said. "In the virtue of listening which I have personally witnessed in Cardinal Joe, we realize and see this aspect of a God who doesn't only speak, but also listens and comes to be with his people." – Rappler.com