The retired justices say Parlade is committing 'terrorism' by endangering the lives of anti-terror law petitioners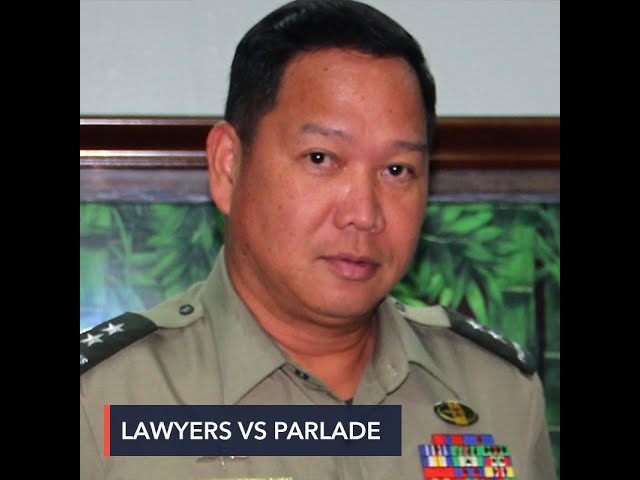 The Duterte government must explain for Lieutenant General Antonio Parlade Jr.
Retired Supreme Court justices Antonio Carpio and Conchita Carpio-Morales and University of the Philippines law professors have asked the Supreme Court to compel Solicitor General Jose Calida to explain a social media post of Parlade slamming the petitioners against the anti-terror law.
The post is a clear threat to them, said the lawyers, who are petitioners against the anti-terror law.
The motion was filed on Friday, January 22, more than a week before the scheduled February 2 oral arguments on the anti-terror law before the High Tribunal.
In their 5-page motion, the lawyers said that Calida must be made to confirm whether Parlade's post was an official communication of the government or an official, and explain the "details regarding the source, circumstances behind, and intent of the post."
What Parlade said
"Let's be watchful of these individuals, groups, and organizations opposing a law that will protect our citizens from terrorists. What's their agenda?…The Day of Judgment is upon you and the Filipino people, who have suffered enough from the malignant hands of the CPP NPA NDF of which you are part of, sit in judgment," Parlade said in his Facebook post.
Parlade added: "Very soon, blood debts will be settled. The long arm of the law will catch up on you, and your supporters."
Parlade is at the forefront of the military's red-tagging operations. He is the commanding general of the military's Southern Luzon Command and spokesman of the National Task Force to End Local Communist Armed Conflict (NTF-ELCAC)
He has been using his social media accounts to red-tag activists, lawmakers, students, and even actors, as part of the administration's crackdown on dissenters.
Why does Calida need to explain?
The petitioners gave 4 reasons:
Parlade's post was a "clear threat" to them;
Parlade's post threatens their right to seek judicial relief;
Parlade's post "amounts to interference" in the SC's power to administer justice;
Parlade commits terrorism by endangering their lives and creating an atmosphere of fear.
The petitioners pointed out that the terrorism committed by Parlade is precisely covered by the law which they are questioning. (READ: EXPLAINER: Comparing dangers in old law and anti-terror bill)
The petitioners requested the High Court to require Calida to explain ahead of the anti-terror law oral arguments on February 2. – Rappler.com