This is AI generated summarization, which may have errors. For context, always refer to the full article.
Retired Supreme Court justice Antonio Carpio says President Rodrigo Duterte must lead in defending Filipino's rights in the West Philippine Sea as failing to do so sends 'mixed signals' to China
Retired Supreme Court justice Antonio Carpio called out President Rodrigo Duterte's "disturbing" silence on the latest swarming of Chinese vessels in the West Philippine Sea, warning it could send "mixed signals" to Beijing. 
In an episode of Rappler's Southeast Asia Speaks, Carpio told Rappler editor at large Marites Vitug that it was imperative Duterte made a stand on the West Philippine Sea, apart from efforts made by diplomats and defense officials to speak out on the issue.
"That (silence) is very disturbing, because he has to lead in this battle, in this fight to preserve, to defend our island territories in the West Philippine Sea and our exclusive economic zone," Carpio said.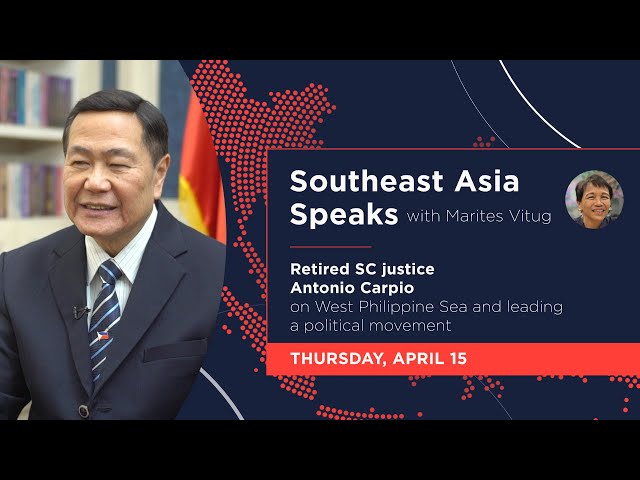 Since late March, tensions have flared in the West Philippine Sea after the government's task force put the spotlight on over hundreds of Chinese maritime militia ships swarming Philippine waters despite repeated demands from the government to withdraw from the area. 
The continued presence of the ships had prompted a renewed push by the Philippines to publicly call out China's aggressive behavior in the seascape.
Such efforts have been led by Defense Secretary Delfin Lorenzana who had made several public statements blasting the presence of China's vessels, and Foreign Secretary Teodoro Locsin Jr, under whom the Department of Foreign Affairs vowed to file daily protests against China so long as its vessels remained in Philippine waters.
Duterte, meanwhile, has made no public remarks on the issue during his weekly televised addresses aired in recent weeks.
Carpio warned the lack of Duterte's defense of Filipinos' rights in the West Philippine Sea could send "mixed signals" to Beijing on the country's stand over the issue.
"So he's sending mixed signals to China, he's allowing his subordinates to do the talking, but he's very quiet. So China is saying, well, the boss is quiet. The boss is not objecting, so we can continue doing this and that's very bad, because it's sending mixed signals," Carpio said. 
"Of course, China will say well, we know that Duterte cannot do anything against us. So we will go on," he added.
Under Duterte, the Philippines has adopted a friendlier stance toward China which has since provided loans and donations, and, recently, vaccines to Filipinos. Throughout his presidency, Duterte had also downplayed the decades-long sea dispute, often saying that if the country asserted its rights in the West Philippine Sea, it would lead to "war" with China.
It's a position that has been debunked by several experts on the West Philippine Sea, including Carpio, who had earlier called Duterte's war claim a "hollow attempt to scare our people into submission to China."
Among the last major public statements Duterte made on the issue was when he raised the Philippines' legal victory against China over the South China Sea in a speech before world leaders at the 75th United Nations General Assembly.
"The (2016 Arbitral) Award is now part of international law, beyond compromise and beyond the reach of passing governments to dilute, diminish, or abandon," Duterte declared at the time, adding the Philippines "firmly rejects attempts to undermine it." 
Carpio, however, said Duterte must continue to make a public stand against China's actions in the West Philippine Sea.
"The President has to make a stand, make a public stand, make a personal statement. He cannot hide behind his alter egos because China will not listen to this alter egos, will probably only look at him for the correct signals. And right now, the President is not sending the right signals," he said. – Rappler.com