This is AI generated summarization, which may have errors. For context, always refer to the full article.
Around 15,000 families in the island province are adversely affected by the super typhoon, and are in urgent need of food and water, says Catanduanes Governor Joseph Cua
The island province of Catanduanes on Monday, November 2, appealed for aid and restoration of power and communication lines, as it remained isolated a day after the onslaught of Super Typhoon Rolly (Goni).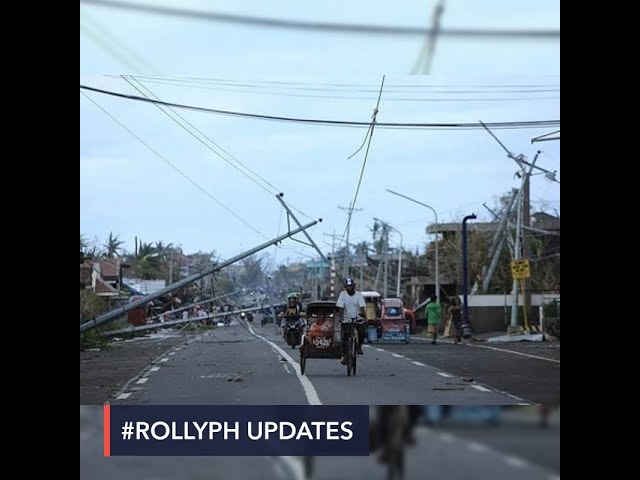 Located east of mainland Bicol, Catanduanes saw Rolly at its peak strength early Sunday morning, November 1, before the tropical cyclone weakened into a typhoon as it moved inland, west of the province, later on.
Around 65% of houses made of light materials were damaged or destroyed, along with 20% of larger homes, Catanduanes Governor Joseph Cua said during a virtual briefing with Presidential Spokesperson Harry Roque on Monday afternoon.
Some 10,000 small houses were "totally washed out along the coastline" while around 3,000 larger houses were damaged, said Catanduanes Representative Hector Sanchez. He sat beside Cua and other provincial officials speaking to Roque through a single camera.
Roque said the briefing was the "first contact" made with the province after it was isolated in the immediate aftermath of the super typhoon. The national government had sent satellite equipment to the island where all regular communication and power lines are currently down.
Cua said 80% of the province's electricity infrastructure was damaged or destroyed. Felled power lines are also preventing ferries from leaving or docking on the island, worsening its isolation.
A communication link to Catanduanes was reestablished at around 11:30 am on Monday, with the arrival of the Office of Civil Defense (OCD) Rapid Emergency Telecommunications Team on the island, according to the National Disaster Risk Reduction and Management Council (NDRRMC).
Cua estimated that some 15,000 families in Catanduanes were adversely affected by Rolly, which he said was stronger than two previous typhoons that hit the island: Rosing (Angela) in 1995, and Nina (Nock-ten) in 2016.
Among the worst-hit areas on the island is Bato municipality, the governor said. A total of 11 municipalities are currently impassable due to debris and other damage, making it difficult to deliver aid, he added.
Throughout Catanduanes, people are in urgent need of drinking water, as they are left with only deep wells, Cua said.
Some 2,000 relief packs prepositioned by the social welfare department in Catanduanes are "kulang na kulang" (severely lacking), Cua told Roque and other national officials.
Besides food and water, the province also needs GI sheets for the repair of damaged homes, the local OCD official said.
The provincial government estimates damage to Catanduanes' main product, abaca, at P400 million. Damage to other crops on the island is pegged at P200 million, Cua said.
The OCD Region V earlier reported at least 6 deaths in Catanduanes due to Rolly. Cua said some of the fatalities drowned while trying to cross a river.
Brigadier General Adonis Bajao, commander of the local military unit, said his 60 to 80 troops were "thinly spread" all over the province. He appealed for an additional company or troops from surrounding provinces to help with aid distribution and reconstruction of houses.
The local military camp was destroyed, and the unit has set up a makeshift camp at the provincial airport to prepare for the arrival of responders and aid, added Bajao.
Cua appealed to national officials to have power and communication infrastructure on the island province repaired as soon as possible, and to clear the damaged power lines blocking ferry routes.
Energy Undersecretary Wimpy Fuentebella said telcos Globe and Smart, and local power cooperatives have begun working to restore electricity and telecommunications in Catanduanes.
NDRRMC Executive Director Ricardo Jalad said a military C-130 plane will fly to the island on Tuesday, November 3, to bring relief goods and drinking water.
Roque reassured Cua and the other Catanduanes officials that "assistance will be on its way." A virtual meeting with President Rodrigo Duterte would be arranged for them later on Monday afternoon, Roque said. – Rappler.com