Despite meeting with the President, Cayetano and Velasco still disagree on a date for the turnover of the speakership
The birthdays of Speaker Alan Peter Cayetano and his rival Marinduque Representative Lord Allan Velasco apparently played a part when their "15-21" term-sharing deal was forged last year.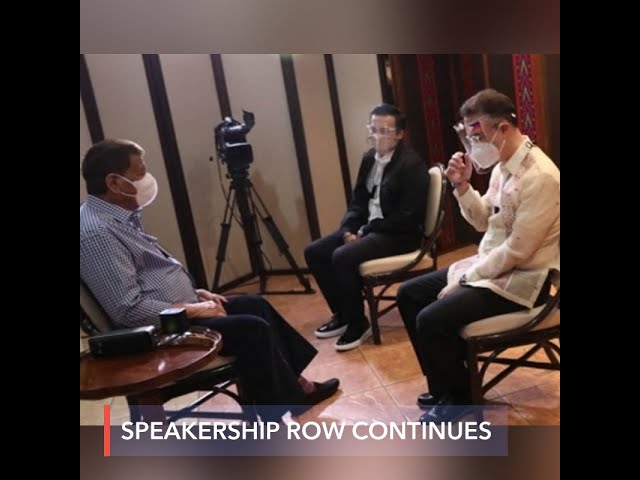 They both aspired to carry the title "Speaker of the House of Representatives" when they celebrate their respective birthdays.
Cayetano himself admitted this contentious detail in his privilege speech on Wednesday, September 30, a day after he and Velasco met with President Rodrigo Duterte to finally settle the question over the term-sharing deal that the chief executive himself brokered.
The Taguig City-Pateros lawmaker offered to resign as Speaker at the end of this speech, but 184 of his colleagues rejected it.
According to Cayetano, Duterte repeatedly asked Velasco during their meeting in Malacañang to let Cayetano stay as Speaker until December of this year to avoid delays in the passage of the proposed P4.5-trillion budget in 2021.
When Velasco refused, Cayetano pointed out why they had initially agreed to set the division of the speakership term into 15 months for Cayetano then 21 months for Velasco.
"When we made the '15-21,' at sabi ko nandiyan si Senator Bong Go, very, very clear 'yung usapan: I have two budgets na ipapasa and magbi-birhtday ako na ako ang Speaker," said Cayetano, who is turning 50 on October 28.
(When we made the "15-21" agreement, and I said Senator Bong Go was there to vouch for it, the deal was very, very clear: I have two budgets to be passed under my term and I would celebrate my birthday as Speaker.)
But this was a problem for Velasco because he too wanted to become Speaker by November 9, the day he turns 43.
"Sabi nya, 'birthday ko rin eh!' Sabi ko, '50th birthday ko. Sentimental ako.' Sabi 'nya, 'Ang babaw mo naman.' 'Ang babaw ko talaga!" Cayetano said.
(He said, "But it's also my birthday!" I told him, "It's my 50th birthday. I'm sentimental." He told me, "You're so shallow!" "I really am shallow!")
Cayetano claimed the President asked Velasco to compromise "3 or 4 times" during the meeting, but the Marinduque congressman still did not want to budge.
It was clear to both camps, however, that Duterte at least wanted the gentleman's agreement honored.
The President also agreed that Cayetano would be the one to announce Duterte's decision on the term-sharing deal.
Cayetano insisted that no exact date for the leadership change was finalized that evening.
However, even as the incumbent Speaker said that the handover date was unresolved, lawmakers among Velasco camp's claimed that the chosen date was October 14.
The leak came out in complete disregard of what the Speaker was supposed to announce.
"But as usual, hindi marunong tumupad si Congressman Velasco (Congressman Velasco doesn't keep his word)," Cayetano said.
Regardless of the outcome of the meeting in Malacañang, the House ultimately voted on Wednesday to retain Cayetano as Speaker.
Roughly two hours later, Duterte said he would now "stay out" of the internal affairs of the House and would no longer intervene to save his ally Velasco.
Velasco has so far kept a tight lip on Cayetano's remaining as Speaker.
His allies in the ruling PDP-Laban, of which the President is party chairman, have also yet to issue a statement on the matter. – Rappler.com