The complaint against 7 Lumad school members is filed in Davao del Norte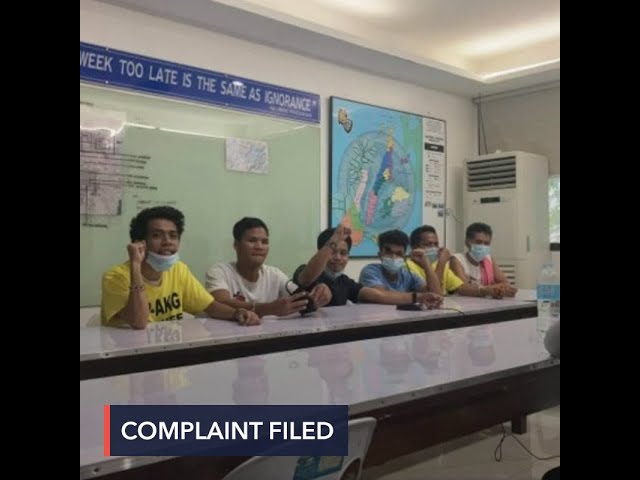 The 7 adults arrested in a raid in a Cebu City Lumad school were sued in Davao del Norte for serious illegal detention and kidnapping on Wednesday afternoon, February 17.
King Anthony Perez, spokesperson of National Union of People's Lawyers (NUPL) Cebu Chapter, confirmed the complaint and told reporters earlier on Wednesday that the complaint was filed in Davao del Norte.
Two of them are teachers, two are datus or community elders, and 3 are adult students all from the Lumad school within the University of San Carlos-Talamban campus (USC) in Cebu City, according to the NUPL.

Rappler has been unable to get a response from the Cebu police if the complaints were filed by the parents or other individuals from the province, where most of the Lumad school members came from.

The 7 individuals facing the complaint are the following:
Chad Booc
Roshelle Mae C. Porcadilla
Benito Bay-ao
Segundo Milong
Jomar Benag
Esmelito Oribawan
Moddie Mansimuy-at
Booc and Porcadilla are volunteer teachers at the Lumad school.
Serious illegal detention is a non-bailable offense.
There were originally 26 taken into custody during the raid on Monday, February 15. Among them were 19 minors who were released to Cebu City's social welfare department for debriefing and reunification with their parents.

The inquest happened after the maximum 36-hour prescribed period to charge suspects arrested without warrants.
However, the accused decided to waive Article 125 of the Revised Penal Code, to request a full preliminary investigation be conducted.

If preliminary investigation is granted, the accused can remain free until a charge is filed in court and a judge orders their arrest. They can still apply for bail afterwards.
Police said the Lumad minors who were taken from USC traveled to Cebu City without permission from their parents.

USC and the Save Our Schools Network – the organization who helps run the Lumad school – deny the students were being held against their will. – Rappler.com