Only one of 3 charges from the complaint filed in April were dismissed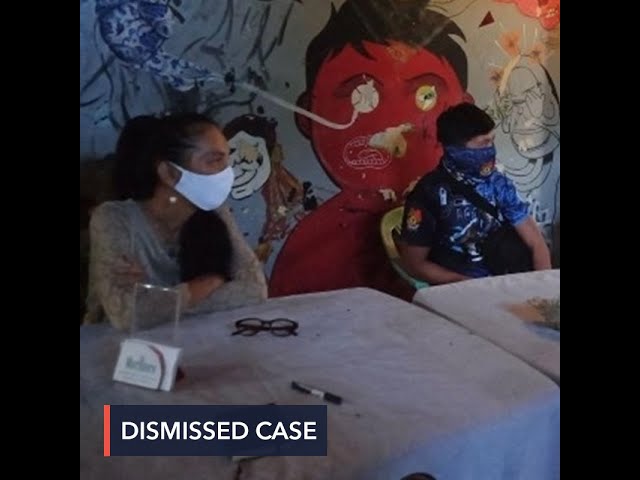 The Cebu Municipal Trial Court Branch 3 dismissed the cyber libel charge against Cebu artist Bambi Beltran for lack of jurisdiction.
The joint order by Judge Yvonne Cabaron Artiaga was released on Monday, August 17.
The cyber libel was only one of 3 charges filed by Cebu City prosecutor Liceria Lofranco-Rabillas against Beltran in April over a sarcastic post she made on Facebook. Because of that Facebook post, Mayor Edgar Labella threatened to have Beltran arrested.
Beltran was first arrested on April 19 over that complaint. However she said that she was taken without a warrant that day and claimed that her rights were violated while she was detained for over 72 hours.
Aside from cyber libel, she was also charged with violating Republic Act 11469 or the Bayanihan to Heal as One law; and Republic Act 1132, or the violation of mandatory reporting of certain diseases.
The Cebu artist would be tried for those charges also in Artiaga's court. The court ordered the police to refund the P36,000 she paid for her release in April.
What does this mean?
This means the police could refile the cyber libel complaint and Beltran would have to go through the preliminary investigation process, including being arrested, and charged again.
A separate cyber libel complaint was filed against Beltran by a private individual, a certain April Dequito, over a 2019 Facebook post that has since been deleted.
While in her first case, the Beltran camp raised how she was arrested was without a warrant, in the latest cyber libel case a regional trial court judge issued an arrest warrant for her.
Beltran said however there was no preliminary investigation for the latest case.
Rappler reached out to Brigadier General Albert Ferro, the Central Visayas police chief, to ask if they would refile in the RTC Labella's cyber libel complaint. Ferro but has not responded.
Beltran's lawyer Benjamin Militar said they were ready to file their counter-affidavit should the complainants involved in the original case choose to refile.
On June 20, Beltran filed complaints against the police and Labella for alleged rights violations committed during her initial arrest.
Beltran was appointed by Labella to the Cebuano Cinema Council before her arrest. The longtime Cebu City resident is an artist known for her Visayan poetry, short stories, and roles in Visayan independent films.
Beltran's arraignment on the first complaint is scheduled for Monday, September 21. – Rappler.com