CHED Chairman Prospero de Vera III says the slashed funds will be used to implement laws passed by Congress, such as the Doktor Para sa Bayan Act
The Commission on Higher Education (CHED) on Tuesday, August 10, asked lawmakers to help restore some P9.7 billion in funds that the Department of Budget and Management (DBM) slashed from the commission's 2022 budget proposal of P62.3 billion.
"We need the support of Congress to put back some of the items we requested from the National Expenditures Program (NEP) as it was submitted to the Congress," CHED chairman Prospero de Vera III told lawmakers during the House committee briefing on the 2022 budget for higher and technical education.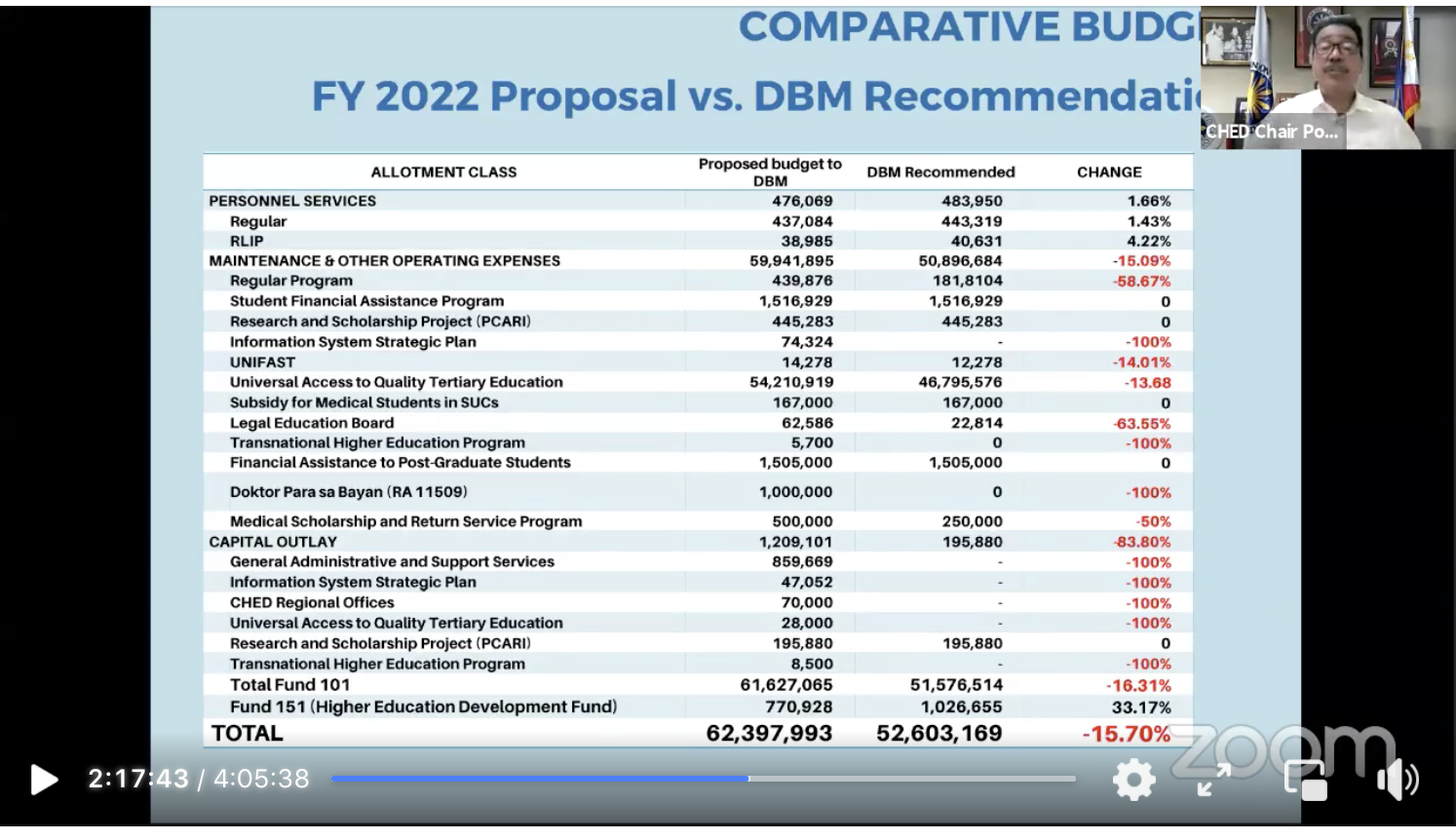 The commission submitted a proposal worth P62,397,993,000 for its 2022 budget to the DBM, but the budget agency only recommended P52,603,169 for the NEP.
CHED's plea, however, does not mean that its 2022 funds have already been approved. President Rodrigo Duterte through the DBM needs to submit the NEP to Congress on August 25.
The NEP is meant to assist Congress in the "review and deliberation of the proposed national budget for the legislation of the annual appropriations measures for the next fiscal year. It contains the details of the government's proposed programs."
The budget will then undergo deliberation by the House and the Senate sometime in September.
'We need funds to implement laws'
De Vera said that CHED needs the slashed funds in order to implement laws passed by Congress, such as the Doktor Para sa Bayan Act.
"We're asking [for] money so we [can] produce quality medical programs. We need facilities, equipment, and faculty items. We want to make sure that the desire of the Congress to produce more medical graduates is to produce very good medical graduates, not just medical graduates. We want to produce very good doctors," De Vera said.
Aside from this, the funds will also be used to support new scholars of the Tulong Dunong Scholarship program. The program is for Filipino students who do not have enough resources to continue their undergraduate degrees in college. It provides all the financial assistance needed by the student beneficiaries.
"These are Congress-initiated programs. We need the budget, especially for the Doctor Para sa Bayan Act. P1 billion is a minimum requirement [for its implementation]," De Vera said.
Philippine schools had stopped face-to-face classes for over a year due to the COVID-19 pandemic. Classes were done via remote learning, and this distance education strategy will be implemented again next school year. (READ: FAST FACTS: CHED's flexible learning)
Malacañang allowed limited physical classes for medical schools and other allied health science programs to ensure that the country has enough doctors as it continues to grapple with the pandemic. CHED said that it will expand limited in-person classes to engineering, information technology, and maritime programs if the President grants them permission. – Rappler.com