This is AI generated summarization, which may have errors. For context, always refer to the full article.
(UPDATED) China defends the presence of over 200 Chinese fishing vessels near Julian Felipe Reef as 'normal practice' due to 'rough sea conditions'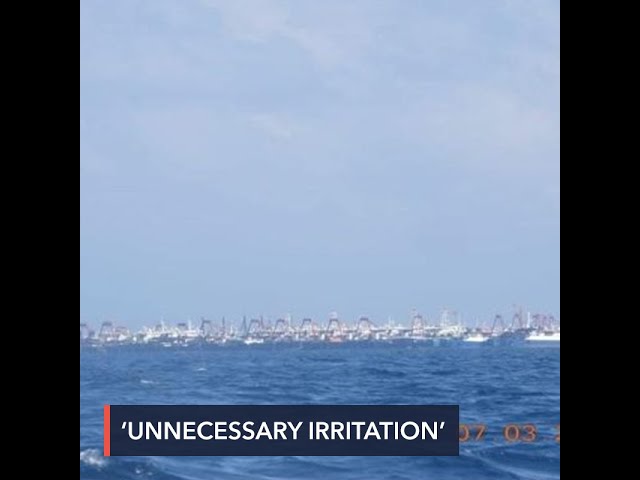 China denied allegations that maritime militia manned over 200 Chinese fishing vessels spotted near a reef in the West Philippine Sea, as it denounced the claim as an "unnecessary irritation."
In an official statement released Monday, March 22, the Chinese embassy in Manila said it took note of statements made by the Philippines on the matter, but described the massing of 220 ships near Julian Felipe Reef (Whitsun reef) as a "normal practice" of fishing vessels.
"There is no Chinese maritime militia as alleged," a spokesperson of the embassy said on Monday.
In its statement, China referred to Julian Felipe Reef (Whitsun reef) by its Chinese name, Niu'e Jiao, and insisted it was part of its "Nansha" administrative district in the South China Sea. China's establishment of so-called "administrative districts" had been earlier protested by the Philippines in April 2020 as an illegal act.
China then defended the presence of 220 Chinese vessels moored in line formation near Julian Felipe reef, saying it was a "normal practice for Chinese fishing vessels" to take shelter due to "rough sea conditions."
"Recently, some Chinese fishing vessels take shelter near Niu'e Jiao due to rough sea conditions. It has been a normal practice for Chinese fishing vessels to take shelter under such circumstances," it said.
China's description of events contradicts a verified report from the Philippine Coast Guard, which said that the 220 Chinese ships appeared to show no signs of "actual fishing activities," and had been spotted with lights turned on at night despite clear weather.
The National Task Force for the West Philippine Sea (NTF-WPS) had noted the presence of the ships "were believed to be manned by maritime militia personnel" and was a cause for concern "due to the possible overfishing and destruction of the marine environment, as well as risks to safety of navigation."
The report prompted NTF-WPS chief Hermogenes Esperon Jr to recommend the filing of a diplomatic protest, which had been done by Philippine Foreign Secretary Teodoro Locsin Jr on Sunday night, March 21.
Apart from Esperon and Locsin, Defense Secretary Delfin Lorenzana slammed the presence of the militia ships, describing it "a clear provocative action of militarizing the area."
China rejected this and instead called for "rationality."
"Any speculation in such helps nothing but causes unnecessary irritation. It is hoped that the situation could be handled in an objective and rational manner," it said.
Armed Forces of the Philippines (AFP) chief of staff Lieutenant General Cirilito Sobejana confirmed with reporters that the Chinese militia were still in the Julian Felipe Reef as of Monday.
"Nandoon pa at binibilang naming mabuti, at mamaya-maya we will share with you our take on their presence (The Chinese militia are still there, and later, we will share with you our take on their presence)," Sobejana said.
Meanwhile, AFP spokesperson Major General Edgard Arevalo said that the military is already in the process of drafting the results of the assessment of aircrafts in the area.
"Meron na pero dina-draft 'yung report for submission to the chief of staff. Ginagawa pa lang kasi nag-land 'yung eroplano before 12 noon," he said.
(We already have the findings, but we're currently drafting the report for submission to the chief of staff. We're currently doing it because the airplane had just landed before 12 noon.)
Why this matters
The swarming of Julian Felipe Reef, a boomerang-shaped shallow coral reef, located northeast of Pagkakaisa Banks and Reefs (Union Reefs), is similar to China's tactic of swarming of vessels near Pag-asa Island in the West Philippine Sea.
Experts have pointed out that the presence of large numbers of Chinese fishing vessels – or militias – in the West Philippine Sea could be an asymmetric warfare strategy that in effect wields China's control over Philippine waters.
Julian Felipe reef is about 175 nautical miles west of Bataraza, Palawan, also putting it within the exclusive economic zone of the Philippines, where Filipinos enjoy sovereign rights over resources.
Since 2020, Locsin had doubled down on the Philippines' position in the West Philippine Sea, as he and President Rodrigo Duterte cited the historic 2016 Hague ruling as a "nonnegotiable" and filed several protest against Beijing's aggressive behavior in the West Philippine Sea, unimpeded by the pandemic. – with reports from Jairo Bolledo/Rappler.com