The Chinese research ships were spotted near Panatag (Scarborough) Shoal and Palawan
In August alone, at least three Chinese research vessels were seen lingering in the West Philippine Sea, according to a United States-based maritime expert.
Ryan Martinson, an expert from the China Maritime Studies Institute and US Naval War College, shared in a series of tweets the locations of Chinese ships in Philippine waters.
On August 11, Martinson said a Chinese research vessel named Hai Da Hao was seen operating 65 nautical miles east of Panatag Shoal (Scarborough) in the West Philippine Sea. According to the expert, the ship is being operated by the Ocean University of China (OUC).
The OUC is a state-run university specializing in oceanography and fisheries science. Around 70% of China's Doctor of Philosophy students in oceanography and fisheries graduated from the OUC.
In a statement released on Friday, August 13, the Department of National Defense (DND) said the Armed Forces of the Philippines (AFP) Northern Luzon Command, which oversees the Panatag area, reported that no Chinese vessel was spotted in their area of jurisdiction.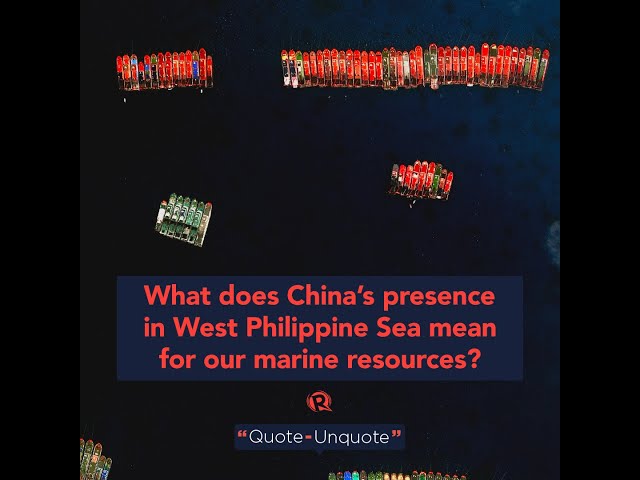 "Based on the verification of the one-year historical track of CRV Hai Da Hao, the vessel did not pass through nor did it enter the area of responsibility of Naval Forces Northern Luzon. In addition, CRV Hai Da Hao is currently monitored at 30 nautical miles south of Huidong Xian, Huizhou Shi, China," the defense department said.
Other Chinese ships
In another tweet, Martinson said the Hai Da Hao vessel already departed from the country's exclusive economic zone (EEZ) as of August 12.
Martinson added that aside from the Hai Da Hao vessel, two other Chinese ships were also spotted inside the country's EEZ. 
Chinese research ship Jia Geng was spotted near the Palawan area. Meanwhile, Chinese research vessel Dong Fang Hong 3 was seen along the Panatag area.
The defense department and the West Philippine Sea task force have yet to issue a statement regarding the newly-spotted Chinese vessels.
Aside from Chinese ships inside the Philippine EEZ, Martinson said Chinese ship Xiang Yang Hong 10 has also been operating in the EEZs of Brunei and Malaysia since early July. 
US-based think tank Simularity reported in June that more than 200 Chinese ships were spotted in different maritime features in Philippine waters from May to June.
The latest data released by the government on the Chinese presence in the West Philippine Sea dates back to May 9, when the West Philippine Sea task force said that 287 Chinese ships were scattered across the Philippine waters.
Only 10 months left before President Rodrigo Duterte passes on the country's highest post, the commander-in-chief, who has strong ties with China, has yet to enforce the 2016 Hague ruling.
The ruling reinforced the 1982 United Nations Convention on the Law of the Sea principle, which states that all features located within a country's EEZ rightfully belong to that country. – Rappler.com