This is AI generated summarization, which may have errors. For context, always refer to the full article.
The former police station commander, Lieutenant Colonel Robert Domingo, reiterates that detainees declared they were not maltreated
Human Rights Commissioner Karen Gomez-Dumpit slammed on Thursday, April 29, the Ombudsman's dismissal of their secret cell complaint, saying that bad faith is "immaterial" and the very existence of the hidden cell is "more than enough" for a case.
"This should be enough to at least find probable cause to file the criminal charges. More than enough for an administrative case," Dumpit said in a message on Thursday.
Deputy Ombudsman Cyril Ramos dismissed the torture, arbitrary detention and misconduct complaints against local policemen of Manila, saying "there is no showing of bad faith" in the police station's act of keeping detainees in a secret, "cramped, dingy and fetid" cell hidden behind a bookshelf inside their office.
Ramos' resolution gave weight to the police's justification that the regular cells were already over capacity, and tight budget restraints forced them to keep newly-arrested detainees in the secret cell. The policemen claimed it wasn't secret as there was a separate entrance.
"A good question to ask is why the police placed them behind the book shelf. If there was indeed no other space to hold them, why did the police not just place them outside with police officers guarding them. They also tried to stop our team from moving the bookcase. Their names were not logged in the registry. If there was another entrance, they could have directed us to that entry point," said Dumpit.
Republic Act No. 9745 or the Anti-Torture Act expressly prohibits "confinement in solitary cells or secret detention places." This should have been enough probable cause, said Dumpit, adding that the standard of proof beyond reasonable doubt is something for the courts to judge.
"The fact that they were inside the cramped, dark space, without ventilation, lighting, no proper facility to relieve themselves and that the police officers placed them co-mingled (male – female) there while under custodial investigation already amounts to a violation of the law," said Dumpit.
Dumpit added that the dismissal of the complaint after 4 years in the Ombudsman "contributes to the prevailing culture of impunity in the country."
"This case is supposed to send a strong message that the prohibition against secret detention cells in the Constitution is alive, and that we should not condone torture," Dumpit said.
"It also illustrates how the justice system slowly grinds in the country and could be regarded as an indication of the absence or grave lack of access to effective remedies for human rights violations," said Dumpit.
Dumpit said she has issued a directive to ask about the status of the detainees. "1 person died due to poor health, a number have moved residence and we could no longer contact. There were about 2 persons still in custody based on the status last year when I was part of a forum on the documentary 'ASWANG'," said Dumpit.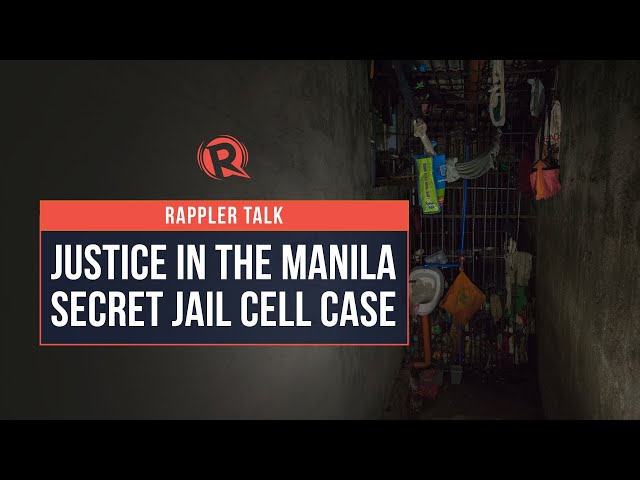 No maltreatment
The CHR filed a motion for reconsideration on February 1.
In his comment to the appeal, former station commander Police Lieutenant Colonel Robert Domingo said that CHR has not addressed their evidence, such as "handwritten declarations" of detainees denying they were maltreated or extorted for money.
"The suspects in the holding room were neither subjected to torture, forced, inflicted violence, threatened or were vitiated of free will," Domingo said in his comment.
"The foregoing facts remain undisputed. Instead of presenting credible arguments and evidence in their Motion for Reconsideration, the CHR merely reiterated their baseless, unsubstantiated allegations, not supported by even an iota of proof," Domingo added.
When busted by the CHR on April 27, 2017, the detainees begged journalists to stay with them and showed CHR investigators as well as reporters bruises. They claimed they had been there for days. One woman who said she was asked for money would later retract to a television reporter. Another would deny maltreatment in a conversation with then police chief Senator Ronald "Bato" Dela Rosa with news cameras rolling.
Dumpit said it's important to consider the initial statements of the detainees when discovered by CHR.
"The video would show the reaction of the detainees, they were relieved that they were brought out of that squalid space, their recollection was unrehearsed and raw," said Dumpit, adding that they submitted psychological reports.
Dumpit reiterated that the very existence of a secret cell is a violation in itself, saying there's "more than enough" reason to charge the policemen of at least administrative offenses.
"The Ombudsman should have accorded great weight and respect to the findings of the CHR, which is another constitutional body," said Dumpit.
Domingo, a controversial police officer whom vigilantes claimed gave out kill orders in Manila from 2016 to 2017, said the House of Representatives committee report supporting the CHR's findings is merely "minutes of a legislative investigation."
"There is no reason to disturb the finding of this Honorable Office. Obviously, the evidence on record had been carefully examined so as to prevent material damage to a potential accused's constitutuonal right to liberty, the guarantees of freedom and fair play, and to protect the State from the burden of unnecessary expenses in prosecuting alleged offenses and holding trials arising from false, fraudulent or groundless charges," Domingo said. – Rappler.com