Congress would have BFP buy guns for more than 2,000 firemen, yet an audit shows P4.1 billion worth of fire equipment and structures remain undelivered and incomplete
The Commission on Human Rights (CHR) urged the Philippine government to rethink a proposed law that would arm firefighters, saying it would cause more harm than good.
"In extremely tense situations, such as fire in communities, bearing arms might cause more harm than good," said CHR spokesperson Jacqueline De Guia in a statement on Friday, August 13.
The 18th Congress has ratified the amended bicameral conference committee report of the Bureau of Fire Protection (BFP) modernization bill, which has language that bill sponsor Senator Ronald "Bato" Dela Rosa himself said would arm around 2,282 firefighters.
De Guia expressed concern about a scenario of armed firemen in a middle of panic and commotion during a fire. When it comes to security of the firemen, De Guia said the fire code already allows the BFP to request assistance.
Guns will not put out fires, said De Guia, adding that budget for guns should be spent on buying more firetrucks instead, hiring more staff and building more stations.
P4 billion worth of undelivered equipment
The 2020 audit report of the BFP showed that P4.1 billion worth of supplies, materials, equipment, and infrastructure projects were not delivered at yearend, "thus depriving the agency of its immediate use which are crucial in the operation of the agency."
These include the construction of fire stations, buying firetrucks, as well as the purchase of communications equipment.
BFP transfered P4.1 billion to government agencies, Department of Budget and Management Procurement Service (DBM-PS) and the Philippine International Trading Corporation (PITC), where they procured the items.
The audit report also showed that P763 million worth of firetrucks and other firefighting equipment procured through the DBM-PS have been undelivered for the past three to eight years.
"BFP could have maximized the utilization of funds had they procured much needed firefighters trucks, equipment, supplies, gears and even consturction of fire stations from eligible and qualified suppliers instead of transferring funds to DBM-PS and PITC without certainty of period of delivery, thus making funds idle in the custody of these two government agencies and depriving BFP of immediate use of items which are crucial in the agency's operation," said the BFP.
CHR's De Guia said modernizing the BFP should always be towards improving their capacity.
"To this end, we urge the government to look deeper into the challenges of upholding this duty to find better match solutions to problems," said De Guia.
Wording of the bill
Section 4(d) of the bicameral report establishes a Security and Protection Unit (SPU), whose task is to protect the firefighters on the field, while investigating and in other performance of their duties. The provision says the "SPU shall be provided with appropriate equipment."
This clause was inserted at the bicam level, which the Senate initially rejected, but Dela Rosa said the House of Representatives was insistent on keeping the clause.
The compromise was to reduce the number of firefighters that can carry guns, which is now at 2,282 people who will make up the SPUs of each region and city.
"Whenever there is a fire, we really pity the firemen without security because there are a lot of people who are unruly, especially in the – I don' t know how to properly call this – squatters' area where houses are close together and people want the water from the firehose to be doused on their homes even if they're not a priority yet," Dela Rosa had said in Filipino.
President Rodrigo Duterte earlier said in one of his speeches that he would want to arm citizens to help law enforcement, but this idea was dissented to by none other than Justice Secretary Menardo Guevarra.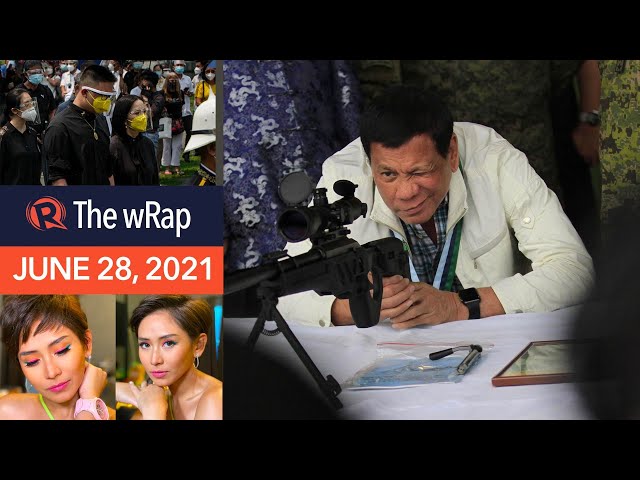 – Rappler.com