(1st UPDATE) Presidential Spokesperson Harry Roque says the President's position is already 'policy,' while Cabinet Secretary Karlo Nograles says it still has to be finalized by the IATF
The ruckus on face shield use has revealed gaps and contradictions in policy-making and messaging by the Duterte government, confusing the public on rules aimed at curbing the COVID-19 pandemic.
Adding to the furor is President Rodrigo Duterte's take that face shield use should be limited to hospitals, a stance contrary to that of the Department of Health (DOH) and pandemic task force.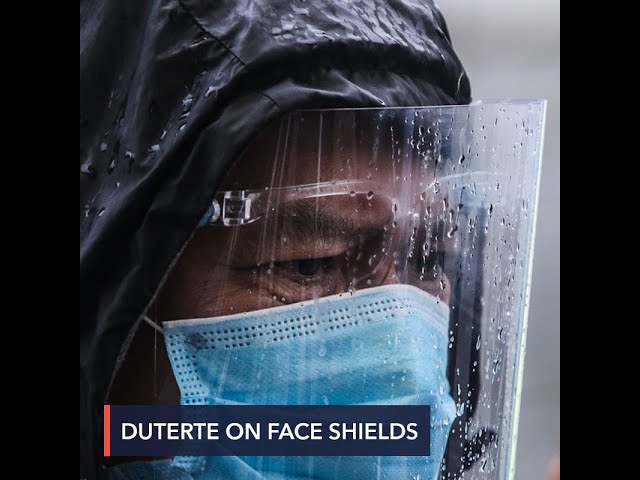 Malacañang, on Thursday, June 17, confirmed that the President had told lawmakers that face shields should only be worn in hospitals. The President's stance was bared not by any Palace spokesperson or communication channel but by Senate President Vicente Sotto III in a tweet.
But what Presidential Spokesperson Harry Roque could not clarify is if the new policy is now enforceable, meaning that shield-less people who aren't in hospitals will not get arrested.
All he said was that it is now "presidential policy" which the Inter-Agency Task Force on Emerging Infectious Diseases (IATF) could "appeal."
"IATF is recommendatory, and when the President has decided, then that's policy. This is without prejudice to IATF appealing, possibly," said Roque.
Later on Thursday, Roque finally clarified that, despite the President's most recent remarks, there will be no change in the face shield rule until after the Chief Executive decides on a recommendation of the IATF.
"While waiting for the President's decision on the matter, the existing policy on the use of face shields remains in effect," said the spokesperson on Thursday evening.
The task force will be recommending to Duterte that face shields be required in "enclosed or indoor spaces in hospitals, schools, workplaces, commercial establishments, public transport and terminals, and places of worship." Commercial establishments covered include food establishments, malls, and public markets.
They reached this decision during an IATF meeting Thursday afternoon.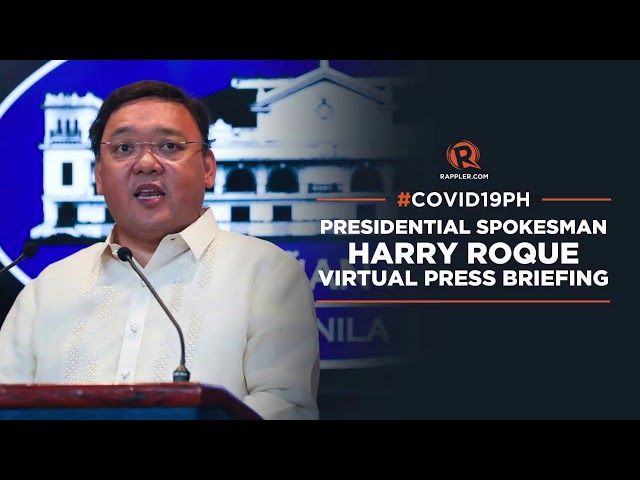 Meanwhile, molecular biologist Fr. Nicanor Austriaco, a scientist often invited by Roque to speak on pandemic matters during his press conferences, said face shields provide only an additional "9%" protection against COVID-19.
"Government has to decide if that 9% is worth the sacrifice that the Filipino people would have to undertake," he said, adding that he would probably still recommend its use in high-risk areas and settings like crowded indoor spaces.
Cabinet Secretary Karlo Nograles, in a CNN Philippines interview before Roque's press conference, had already said the IATF would discuss possible changes to the face shield rule first before Duterte's remarks would become enforceable policy.
Not on the same page
The government face shield policy has been characterized by vagueness and contradictions.
A face shield policy was introduced sometime in June 2020 as Metro Manila was downgraded to general community quarantine for the first time. The government made it mandatory in workplaces and public transportation. Two months later, commercial establishments like malls were added to the places where face shields would be required.
Then in December 2020, the task force issued a blanket policy that people had to wear face shields "whenever they go out of their residences."
But a month later, the Department of Health issued guidelines clarifying that face shields would only be mandatory in enclosed public spaces, schools, workplaces, commercial establishments, public transport and terminals, places of worship, and crowded public spaces.
But as late as June 10 or five months after the DOH clarification, Roque himself appeared to be unaware of it.
Asked by Rappler that day if cops would arrest people who were not wearing face shields while exercising outdoors, Roque said law enforcers could rely just on "common sense" to conclude that the activity is not a violation of the face shield rule.
"I think law enforcement will also use common sense…. I don't think law enforcement will hold it against you if you are running or bicycling without a shield given that you're engaged in a non-contact sport anyway," said the spokesperson.
Asked if this would be formalized in an IATF resolution to clarify the policy, Roque said the national government was "relying on the ordinances passed by the local government units."
He made no mention of the DOH guidelines.
The vague face shield policy is now being publicly debated after Manila Mayor Isko Moreno questioned the rule. The cause was also taken up by Senate President Vicente Sotto III, who had discussed it with Duterte on Wednesday, June 16.
By Thursday, anticipating questions on the President's face shield remark, Roque made sure to mention the DOH's January guidelines, calling it the department's stance on the debate. – Rappler.com