This is AI generated summarization, which may have errors. For context, always refer to the full article.
(UPDATED) No bail is recommended for Police Senior Master Sergeant Jonel Nuezca after he shot dead a mother and son in Tarlac
Prosecutors on Monday, December 21, filed in Tarlac two counts of murder against Police Senior Master Sergeant Jonel Nuezca over the shooting of a mother and son in Paniqui, Tarlac.
No bail was recommended for Nuezca in the two charge sheets signed by Tarlac Assistant Provincial Prosecutor Manuel Pascua Jr on Monday. The charges were filed at the Paniqui, Tarlac Regional Trial Court Branch 67.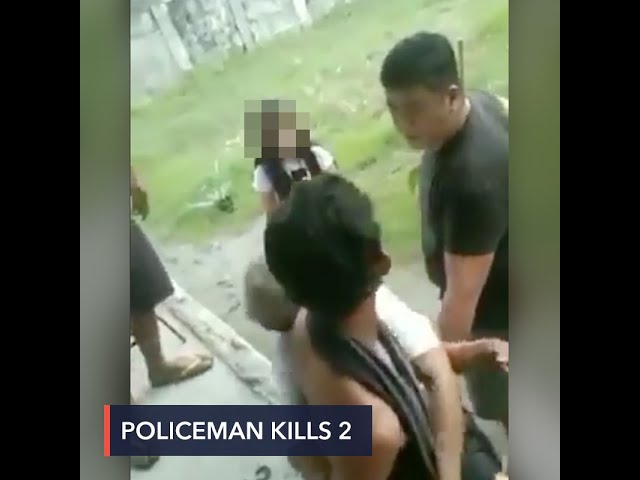 Nuezca however refused to undergo a paraffin test, writing in his affidavit, "I have a right to refuse."
Nuezca surrendered to the Rosales police station in Pangasinan province an hour after shooting dead Sonya Gregorio, 52, and her son Frank, 25, late afternoon on Sunday, December 20. The shooting was caught on video, which later went viral.
The video showed the cop shooting Sonya, then Frank, before finishing them off while they were on the ground.
The charge sheet said Nuezca shot the 52-year-old Sonya twice at the back of her head. The first shot was made "while the victim was embracing her son and the second was made when she already fell on the ground."
The charge sheet added Nuezca shot Frank "at his head, while defenseless as he was then being embraced by his mother.
"Upon determination of the validity of respondent's arrest, the inquest proceeding ensued based on the affidavits and supporting documents and evidence submitted, there is probable cause to charge the respondent for two counts of murder," Prosecutor Pascua said in a short resolution signed Monday.
Justice Secretary Menardo Guevarra said the Department of Justice (DOJ) will "closely monitor developments in this case and ensure that justice is done."
"I am disturbed that altercations like that in the subject incident could suddenly lead to deaths of persons," Guevarra said on Monday.
According to the Tarlac Provincial Police Office, Nuezca had gone to the Gregorios to investigate who was shooting boga, an improvised canon usually made of bamboo, used to make noise during New Year celebrations.
Initial investigation revealed Nuezca and the Gregorios have long had disputes over right of way issues.
Nuezca is a policeman assigned in Parañaque City's crime laboratory. He was off-duty at the time of the killing on Sunday.
Tarlac police chief Police Colonel Renante Cabico said President Rodrigo Duterte had a directive to allow cops to carry arms even while off-duty, to ensure they can still properly respond to crimes and offenses that happen on their time off.
National Union of Peoples' Lawyers (NUPL) president Edre Olalia said the violent behavior of policemen are "created monsters" by those in power who "goad and inspire" them, and guarantee impunity.
"Because of guarantees of impunity and even a pat on the back, you create monsters in our midst ready to go berserk anytime, anywhere for a variety of reasons and circumstances," said Olalia. – Rappler.com
Editor's Note: The earlier title of this article, "Cop in Tarlac shooting charged with double murder" was changed to the correct one: "Cop in Tarlac shooting charged with 2 counts of murder."