Cebu City and Mandaue City attribute the drop in cases to an aggressive 'test, trace, and isolate' strategy
On Monday, March 29, active COVID-19 cases in Cebu City dropped to 1,771 from a peak of over 2,500 around February 23.
Cebu City marked its first 4 days of newly-reported cases in the double digits from March 26 to March 29, after a nearly 3-month long surge with new cases reported in the triple digits nearly every day.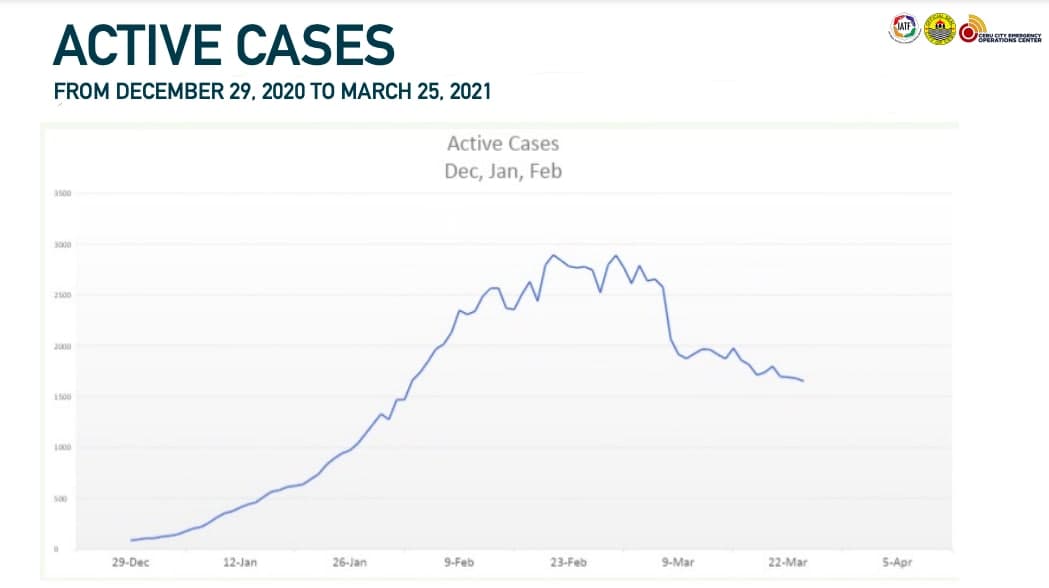 "Our Emergency Operations Center said yesterday that the COVID-19 situation in Cebu City is improving," Cebu City Edgar Labella said in a statement on Tuesday, March 30.

According to the Emergency Operations Center, the occupancy rate at the city's local hospitals is currently at about 35%, below the 70% "danger zone" health authorities use to measure if a hospital or healthcare system is close to getting overwhelmed.
Cebu City Councilor Joel Garganera, the head of the emergency operations center, noted that quickly reactivating barangay isolation centers and setting up more accredited isolation facilities – including hotels that could accommodate mild and asymptomatic cases – helped keep hospital bed occupancy low.
Another gauge of how well the pandemic is controlled is the positivity rate, the percentage of individuals testing positive out of the total number of tests run during a day or other period of time.
As of March 25, the latest day the positivity rate was released to the public, Cebu City's is currently at 9.83%.
At the height of the latest surge in Cebu, the positivity rate reached 18%. The World Health Organization pegs the positivity at 5% to state if a locality has a contagion under control.
"Sa akong pakigmeeting nila, gi-emphasize gayod nato ang massive and relentless contact tracing down to the second generation dinhi sa atong dakbayan," Labella said.
(During my meetings with them, we emphasized massive and relentless contact tracing down to the second generation here in our city.)
While the COVID-19 cases have barely begun to drop, the mayor encourages the public to cooperate with the local government's measures to stop transmissions so the city will not get placed under enhanced community quarantine (ECQ), the government's strictest quarantine.
The mayor was referring to any possibility that Cebu might follow the footsteps of the National Capital Region (NCR) and surrounding provinces which were placed under ECQ by President Rodrigo Duterte on Monday, March 29, due to a surge of cases in those areas.
"If the measures implemented by the city health authorities and the EOC, combined with the adherence of the people to health protocols, there is a big chance that we will be able to stop the rise in cases," Labella said.
"I am confident there will be no need for IATF to upgrade our quarantine status," Labella said. From September to December 2020, the city was able to keep its COVID-19 numbers to a minimum despite being under modified general community quarantine (MGCQ).
At the beginning of the surge, the spike was attributed to increased movement of residents. But as the numbers continued to climb through November and March, health officials suspected that the presence of more transmissible variants may have contributed to the spread.
"Mao nga padayon gihapon ta og buhat aning trace, treat, and isolate. We never stop contact tracing (That's why we will continue with this trace, treat and isolate)," Labella said.
Cebu City also swab tests close contacts, even if they are asymptomatic. All Cebu City residents can also get tested for coronavirus for free.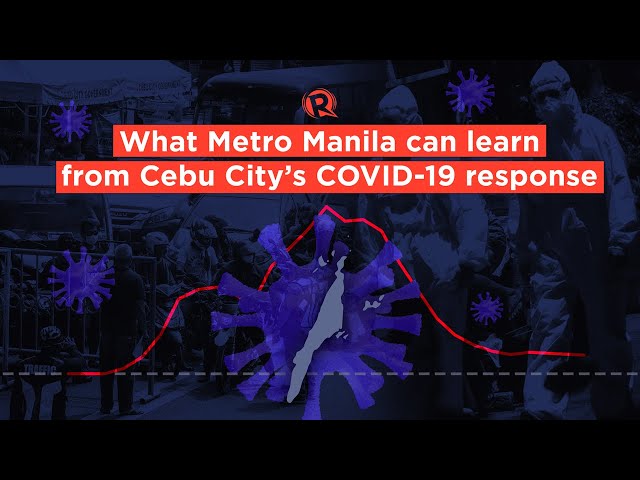 Cases dropping in Mandaue, Lapu-Lapu too
Mandaue and Lapu-Lapu City, which had low COVID-19 cases in the last quarter of 2020, were not spared by the latest surge.
After Mandaue managed to mark an entire week in December of zero new COVID-19 cases, the city saw new daily cases in the triple digits in late January.
As of March 29, Mandaue City's overall occupancy rate – in both public and private hospitals – is at 43.1%, which means hospital occupancies in the city are at safe levels.
Keeping the COVID-19 cases down in Mandaue City is especially challenging due to it being the most densely populated city outside of NCR, according to 2017 data from the Philippine Statistics Authority.
Mandaue City's Emergency Operations Center (EOC) chief Lizer Malate also said, however, that the city's COVID-19 situation is improved, as the city's response team now has more experience and there is better cooperation with the public.
"More than overregulation [by the city], I think individual cooperation of all stakeholders is the key. As they say 'we have to live with COVID', therefore, we have to learn to adapt by putting in mind the unique situation of every person," he said.
Malate said the EOC remained consistent with its policy of "test, trace, and isolate." They also said they were aggressive in streamlining their data reconciliation on new cases and recoveries to make sure data released to the public is accurate.
As of March 29, Mandaue City recorded 44 new active cases. The city has a total of 948 active cases, 4,469 recoveries, and 200 deaths.
Meanwhile in Lapu-Lapu City, Mayor Ahong Chan said in a phone interview with Rappler that local government officials go to the community to educate residents about the coronavirus and preventive measures.
"We also have our nightly pulong-pulong (get-togethers) in every
subdivision and the sitios to educate the community," he said.
Lapu-Lapu also says it is aggressive in its contact tracing efforts, but instead of placing every COVID-19 positive person in an isolation center, they "lockdown" the positive persons in their homes.

As of March 29, Lapu-Lapu was down 24 new cases, with 1,137 active cases.
While new COVID-19 variants threaten the local governments efforts to bring the numbers back down to a minimum, Cebu City, Mandaue and Lapu-Lapu City have already begun rolling out vaccines to its health workers.
They hope to rollout the vaccines to the next priority group, senior citizens, by early April. – Rappler.com
Follow the latest COVID-19 developments in Metro Cebu on our developing stories page here.