The Department of Health also reports a positivity rate of 21.9% which means that 1 in 5 tests positive for the virus
The Department of Health (DOH) on Wednesday, August 11, recorded 12,021 new confirmed COVID-19 cases, the most since April 10 and the fifth highest one-day tally since the pandemic began.
The previous high of 12,674 infections tallied in April 2021 was at height of the second COVID-19 surge and when virus epicenter Metro Manila and nearby areas were clamped with a second round of rigid lockdown.
That surge, which was driven by more infectious variants and easing of mobility restrictions, crippled the Philippine healthcare system. Doctors said getting admitted in hospitals felt like a "lottery because a patient gets a bed because someone has died."
Wednesday's uptick raised the country's total COVID-19 caseload to 1,688,040. Of these, 4.8% or 81,399 cases are active or currently sick. This number of active cases was also the highest since April 24, when 89,485 were reported.
The DOH also recorded 154 deaths. The total death toll due to COVID-19 in the country increased at 29,374.
Meanwhile, recoveries were up by 9,591 for a total of 1,577,267.
The DOH reported a positivity rate of 21.9% out of 38,478 tests in its bulletin. These positive cases were added to the tally of confirmed cases only after further validation. This process helped ensure cases would not be recorded in duplicate, and that all test results had been submitted, explained the department.
A positivity rate of 21% meant that 1 in 5 tested was positive for the virus.
The DOH said all testing hubs were operational on Monday, August 9, while three laboratories were not able to submit their data on time. The cases reflected in the bulletin were based on tests conducted two days ago.
"Based on data in the last 14 days, the 3 non-reporting labs contribute, on average, 2.0% of samples tested and 1.2% of positive individuals," the DOH said.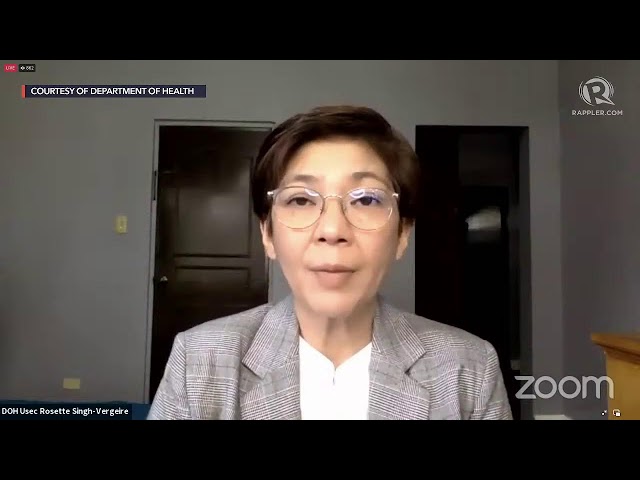 On Wednesday morning, the DOH said that 41 areas in the country have been placed under alert level 4 or the highest COVID-19 alert classification in terms of severity of COVID-19 incidence. Eleven local government units (LGUs) in Metro Manila are under alert level 4:
Las Piñas
Muntinlupa
Pateros
Quezon City
Taguig
Malabon
Makati
San Juan
Valenzuela
Marikina
Navotas
As Metro Manila, along with several provinces and cities, hunker down for another round of lockdown, hospitals across the country are reporting a rise in cases possibly fueled by the more contagious Delta variant of COVID-19.
In an interview on Wednesday morning, Health Undersecretary Leopoldo Vega said that Metro Manila's healthcare utilization was at nearly 60% or "moderate risk." This, after a number of hospitals in the capital region declared that their COVID-19 wards and intensive care units have reached full capacity. (READ: Philippine hospitals already feeling the rise of the Delta variant cases)
– Rappler.com