The Southeast Asian country is now close to surpassing Italy in the global tally of cases
On Thursday, October 1, the Philippines entered the list of 20 countries with the most number of coronavirus cases worldwide.
This is after the Department of Health (DOH) reported 2,415 new cases, bringing the country's total to 314,079. The list can be seen in the Worldometers site and the Johns Hopkins University Coronavirus Resource Center.
With the addition, the Philippines beat out Pakistan, which at the 21st spot, has 312,806 coronavirus cases. The Philippines is now just one slot below Italy which has 314,861 cases. It's possible for the Southeast Asian country to surpass it in a few days, if not hours.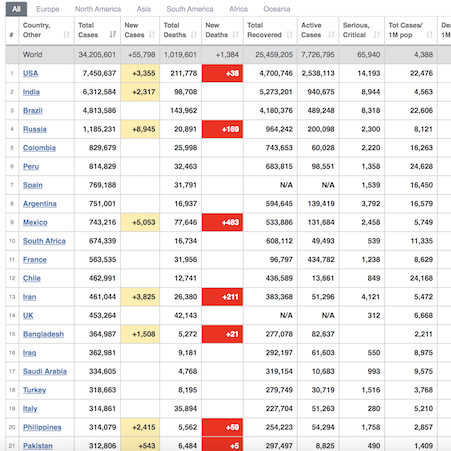 The Philippines already has the most COVID-19 cases in Southeast Asia.
Globally, the United States is still the most coronavirus-hit nation, reporting 7.5 million cases, followed by India with 6.3 million cases, Brazil with 4.8 million cases, and Russia in 4th place with 1.2 million cases.
New figures
On Thursday, the Philippines' death toll also grew with 59 new fatalities. It is now at 5,562.
Metro Manila continues to be the source of most of the new cases, with 930 reported Thursday. This was followed by Cavite (238 cases), Rizal (128 cases), Laguna (123 cases), and Negros Occidental (103 cases).
Despite the high tally, the government highlighted that out of the over 314,000 cases, only 17% or 54,294 are active cases.
More people continue to recover from the disease. On Thursday, 771 new recoveries were reported, bringing the total to 254,223.
While COVID-19 cases continue to rise, the Duterte administration has pointed to promising trends in the pandemic in the country.
Researches from the Octa Group have said the reproduction number, or number of people one positive case can infect, has stayed below 1 for some weeks in Metro Manila.
"On August 14, we reached more or less 4,000 new cases in NCR (National Capital Region). Now, our new cases in NCR have lowered to 1,200. The other day, we were so happy because the new cases in NCR were only 502. The R0 (R naught) and positive [rate] also went down," said National Action Plan vs COVID-19 chief implementer Carlito Galvez Jr on Thursday.
Despite the promising recent figures, the Octa Group has cautioned against complacency, saying that the trend still must be sustained for longer for the country to say it has reined in the outbreak.
Continued observance of mask-wearing, physical distancing, restrictions on gatherings, and the like are still necessary until an effective vaccine is given to a significant portion of the population. – Rappler.com