Places like Batangas, Quezon, Bohol, and Cebu can reopen their playgrounds, karaoke bars, clubs, and theaters under alert level 2
The national government has placed 14 provinces and five cities under the alert level system from October 20 to 31, after observing a decrease in the number of new daily cases and rising vaccination rates.
Presidential Spokesman Harry Roque announced, on Tuesday, October 19, the following alert levels for these provinces and cities:
Alert Level 4 – Negros Oriental, Davao Occidental
Alert Level 3 – Cavite, Laguna, Rizal, Siquijor, Davao City, Davao del Norte
Alert Level 2 – Batangas, Quezon province, Lucena City, Bohol, Cebu City, Lapu-Lapu City, Mandaue City, Cebu province, Davao de Oro, Davao del Sur, Davao Oriental
These provinces and cities join Metro Manila under the alert level system. The capital region had been under the system since September 16. From weeks under alert level 4, Metro Manila entered alert level 3 on October 16.
"The decrease in cases and the improvement of the health care utilization rate has something do with the alert level system being expanded," said Roque in Filipino.
What's allowed under alert levels
The spokesman flashed graphics to show what are allowed and not allowed in the various alert levels, based on the Department of Trade and Industry Advisory No. 21-20, dated October 16.
Under the strictest level, 4, all establishments are allowed to operate at a limited capacity except for cinemas, kids amusement parks and playgrounds, and live voice or wind-pipe performances, theaters, karaoke bars, and contact sports establishments which are all prohibited.
Under alert level 3, the capacity allowed for all permitted establishments increases and cinemas and theaters can resume operations. Under alert level 2, more establishments can open their doors – karaoke bars, theaters, contact sports gyms, and kiddie playrooms and playgrounds. Under alert level 1, all types of establishments are permitted at full capacity.
Below is a summary of what's allowed per alert level. They are graphics flashed by Roque during his October 19 press conference.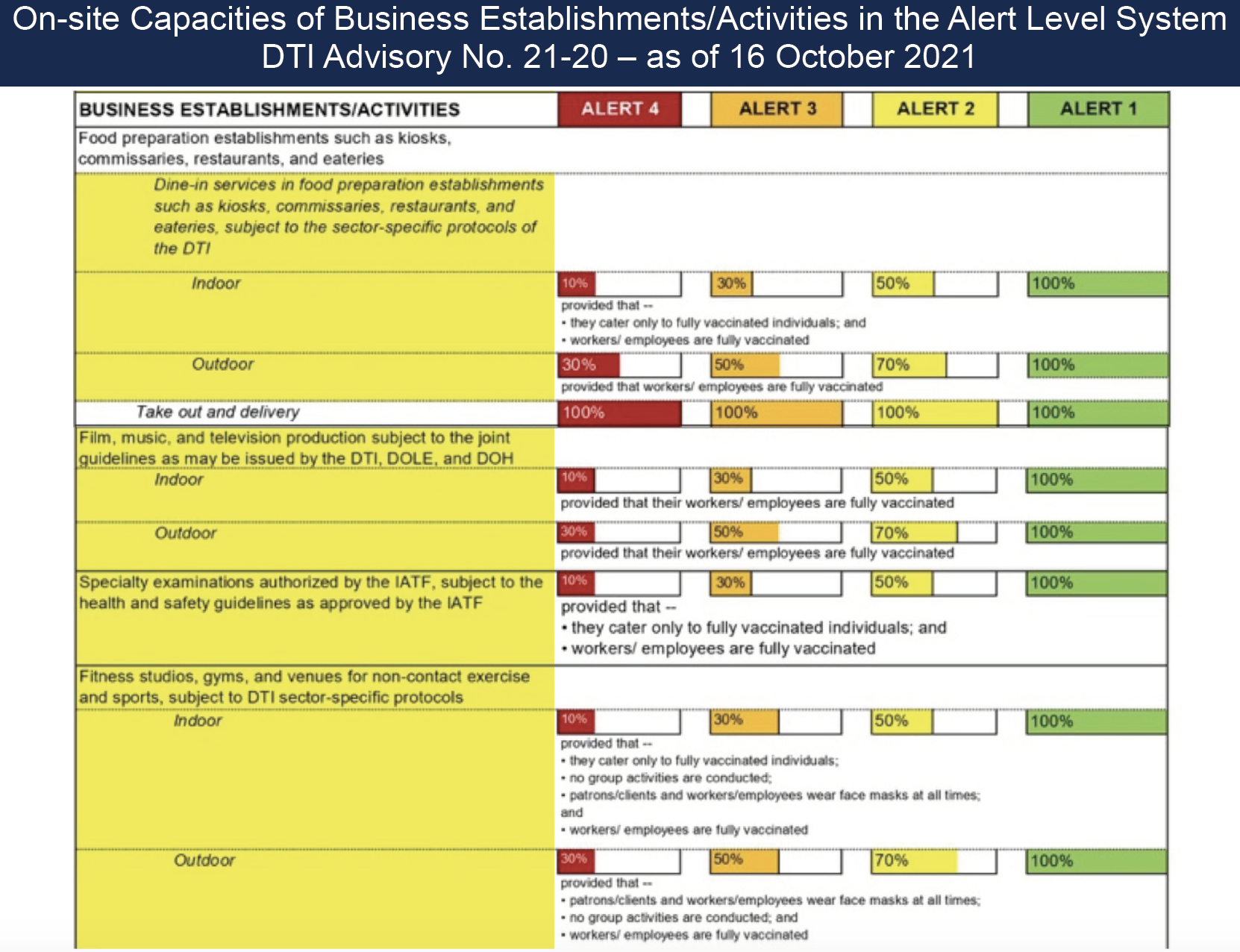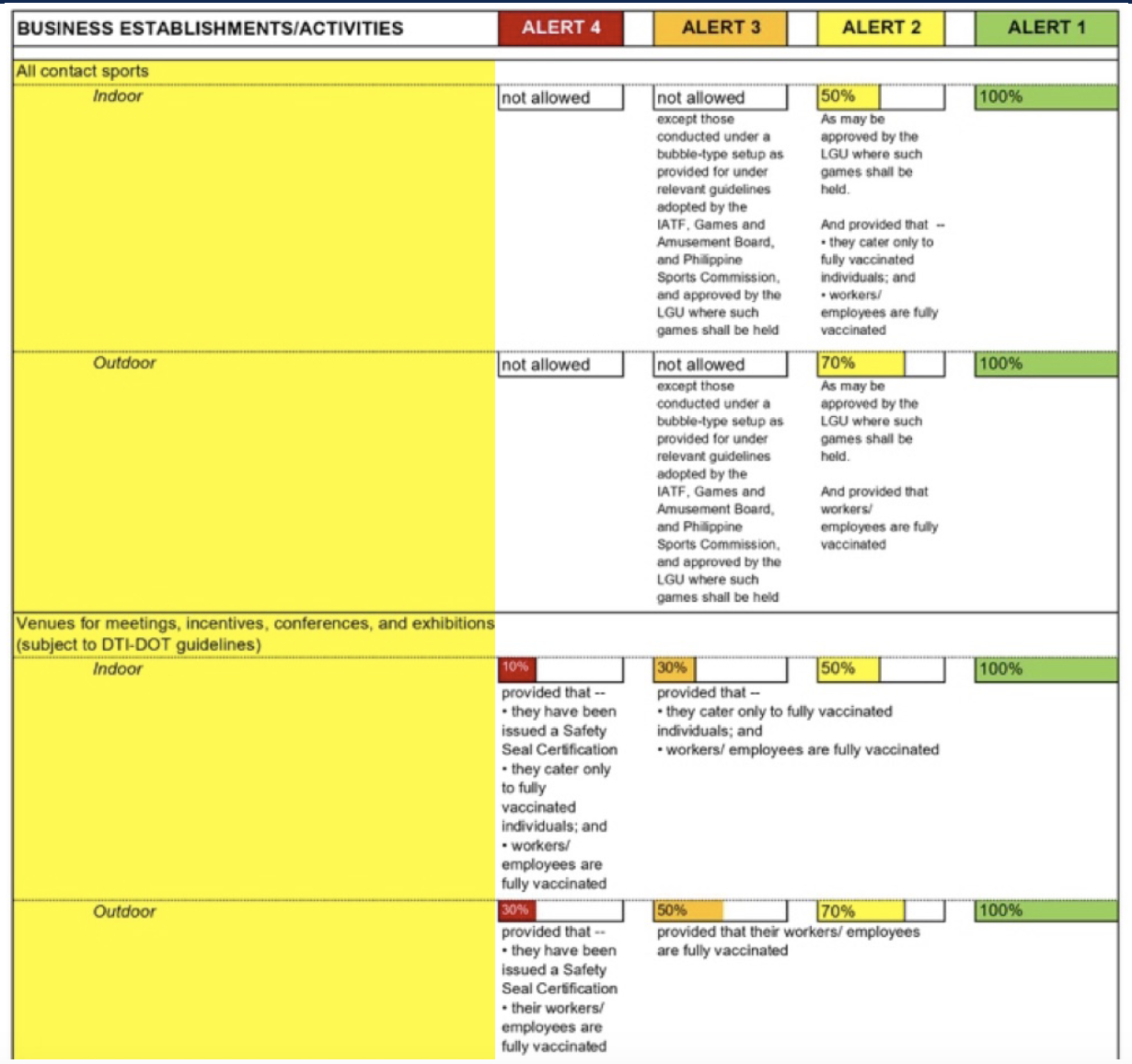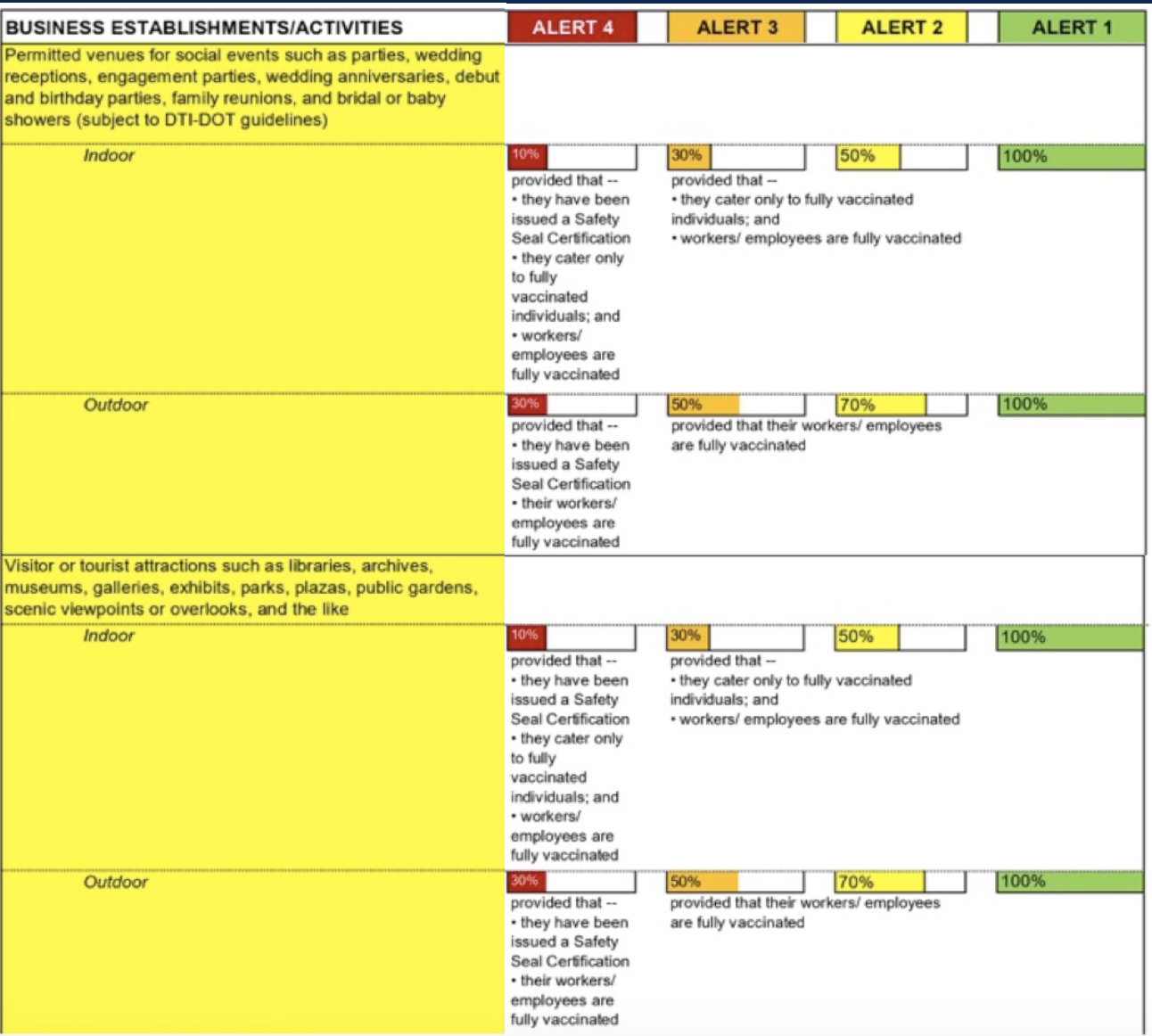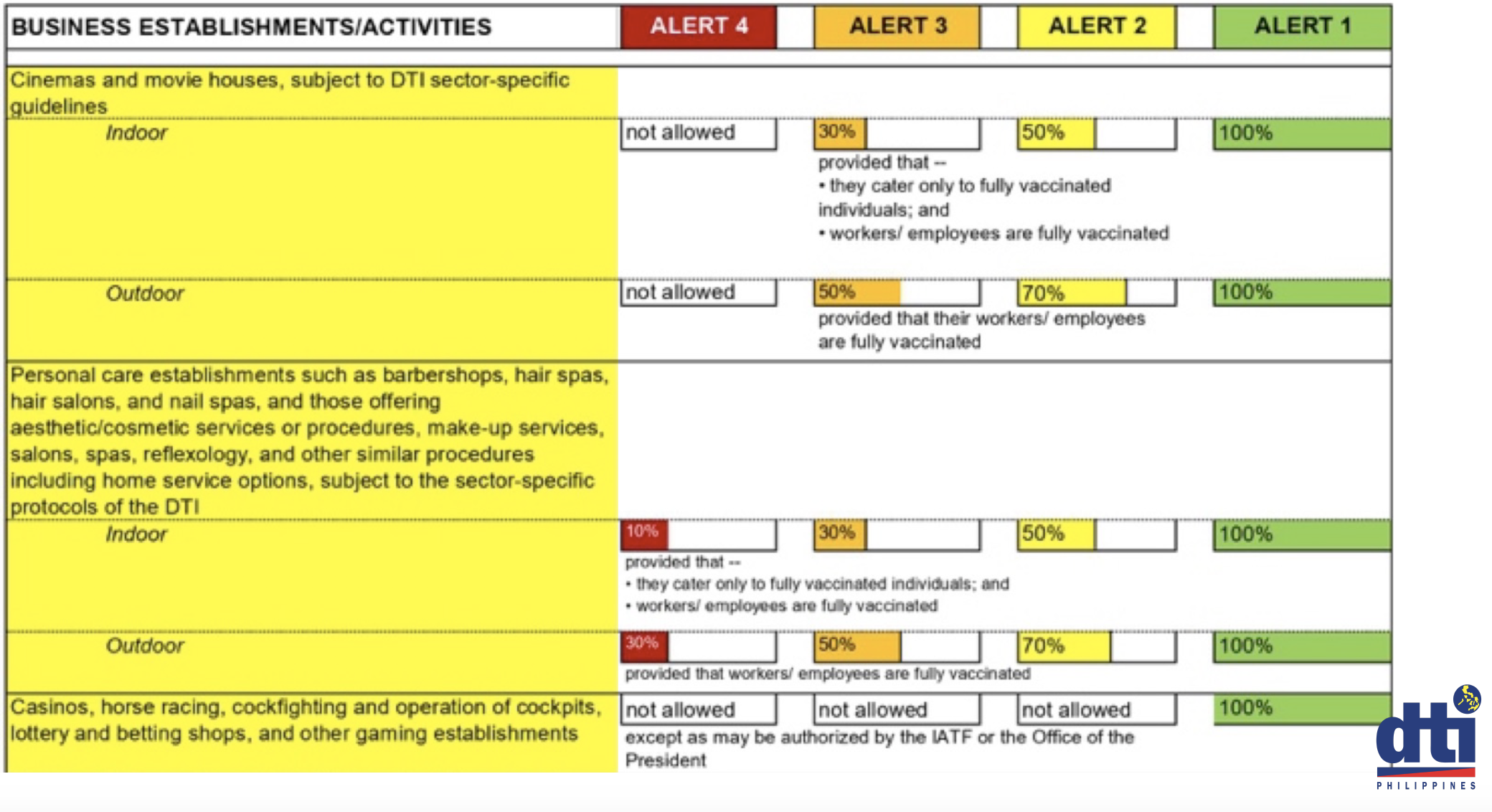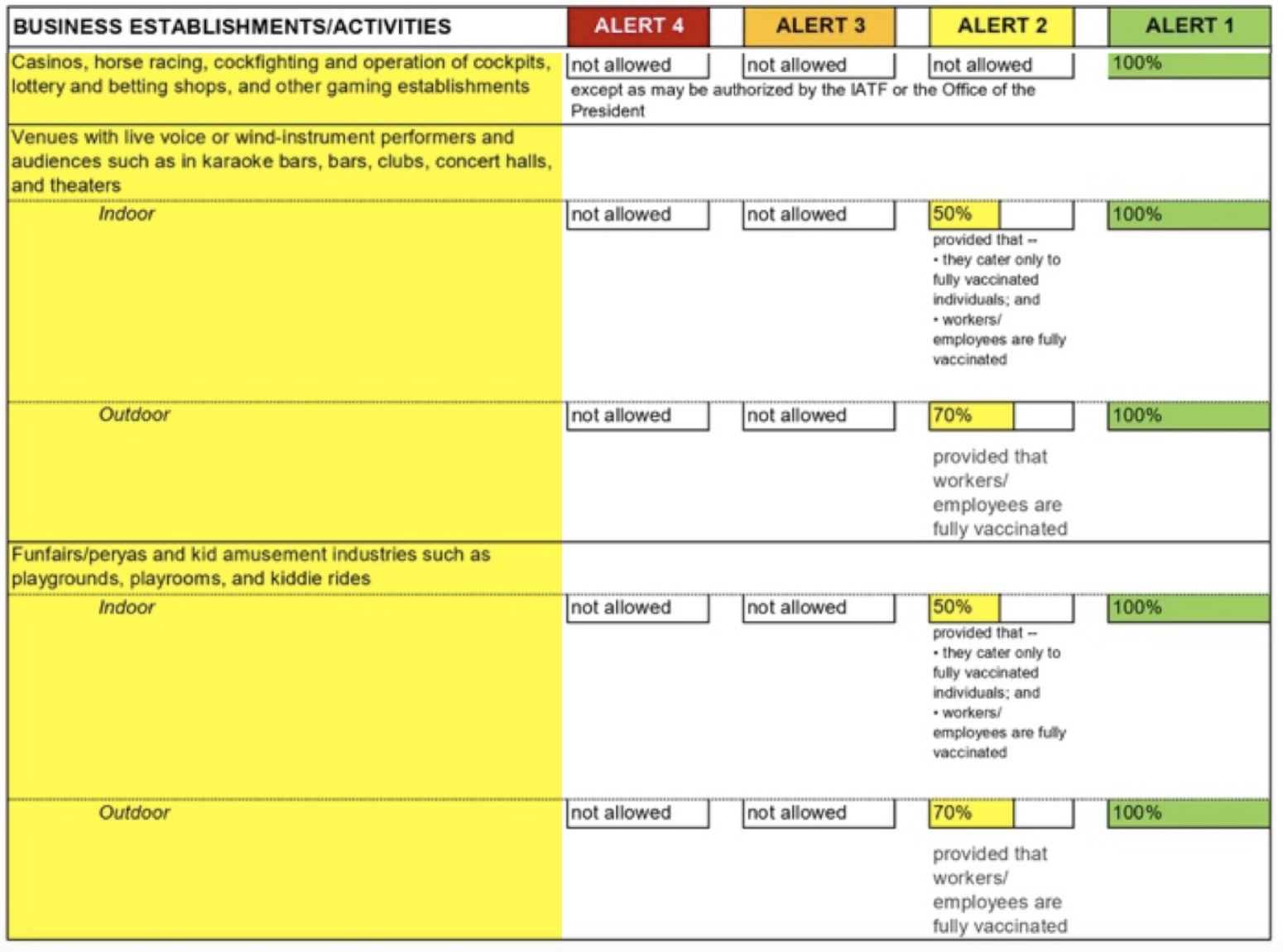 – Rappler.com