Batanes Governor Marilou Cayco says they have enough test kits and protective personal equipment
New COVID-19 cases in Batanes province soared to three-digit levels in less than a week since the first local transmission cases were recorded on September 16.
The province on September 20 reported 100 new cases on its Facebook page and 34 more on September 21. The Department of Health's figures gathered by Rappler are much lower – 26 new cases on September 20 and 17 more on September 21.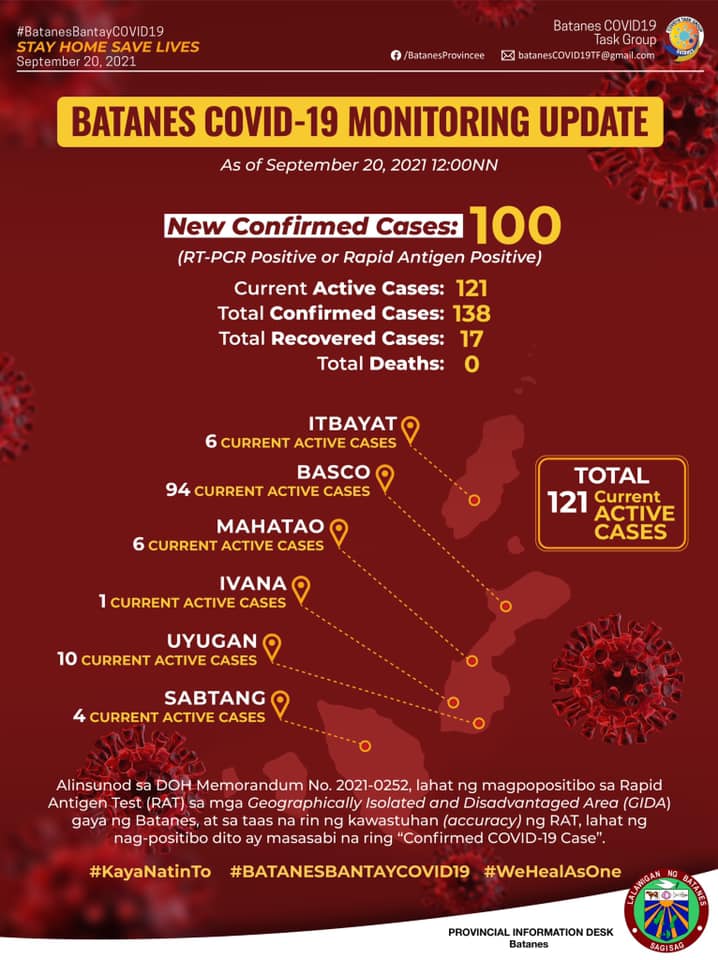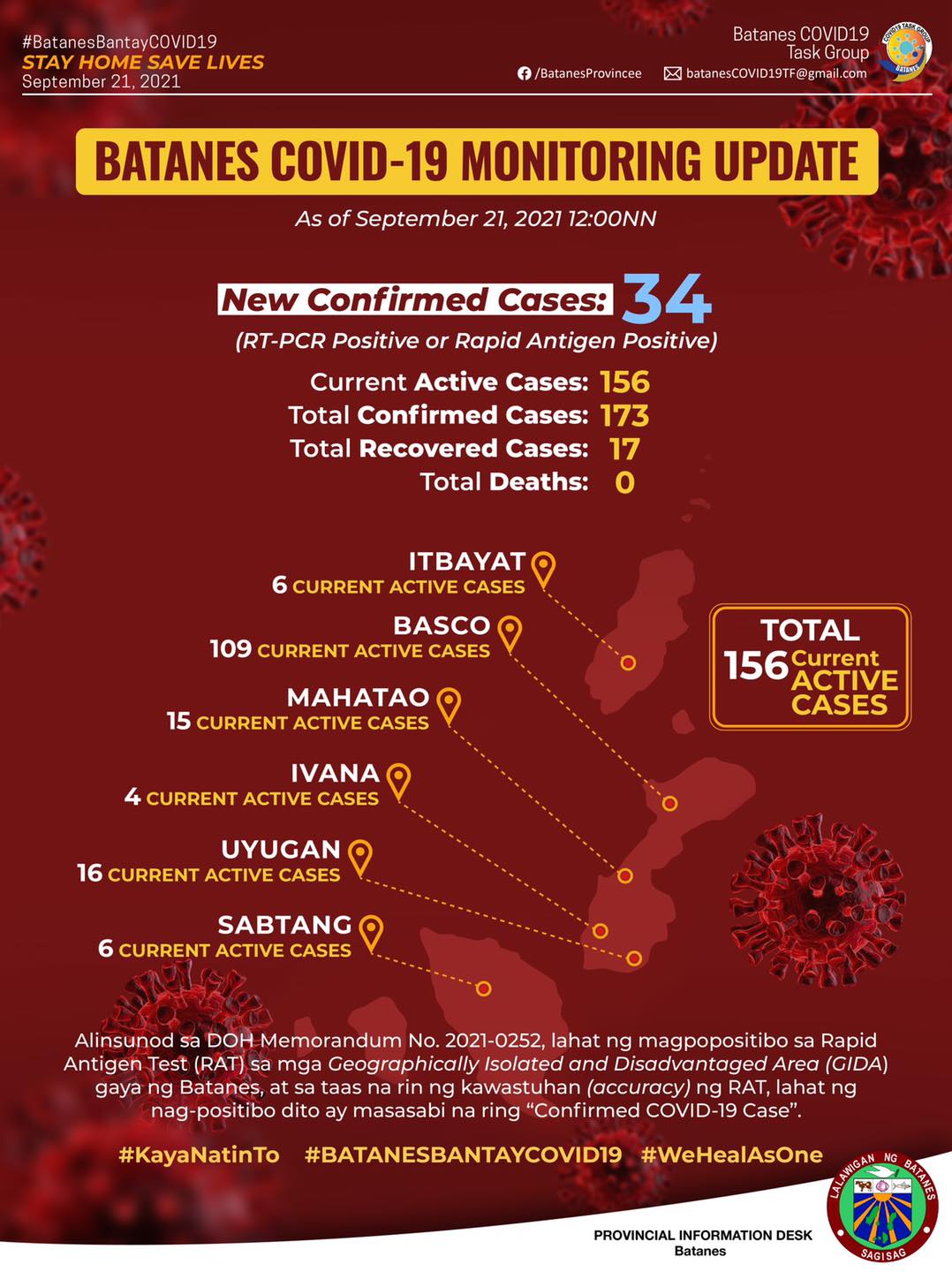 The DOH only includes results from reverse transcription polymerase chain reaction (RT-PCR) tests in its official COVID-19 tracker. Batanes' counts were based on positive results from both RT-PCR tests and rapid antigen tests (RAT).
Batanes Governor Marilou Cayco told Rappler the province followed DOH guidelines in including RAT results in its case figures.
"All RAT positives are already tagged as confirmed cases, especially for our province being categorized as Geographically Isolated and Disadvantaged Areas or GIDA, plus the high accuracy of the RAT," she said.
In the early months of the pandemic, the DOH discouraged the use of antigen tests, citing the RT-PCR as the gold standard. But in October 2020 it allowed RATs for diagnostic testing of close contacts in communities, and closed or semi-closed institutions, with confirmed outbreaks. It also authorized RATs use in remote settings where RT-PCR was not immediately available.
In March this year, the DOH also allowed RAT use in communities that reported outbreaks within the National Capital Region plus the provinces of Rizal, Cavite, Laguna, and Bulacan.
ECQ
The October 2020 DOH document said the RAT could be used as a confirmatory test for symptomatic close contacts. Asymptomatic close contacts, however, have to take an RT-PCR confirmatory test or another RAT within 48 hours.
Cayco, however, told Rappler the province still sent samples of those who tested positive with the RAT for RT-PCR confirmatory tests in Tuguegarao, Cagayan province.
"It usually depends on the availability of flights going to Tuguegarao. On a regular basis, results of RT PCR are released the next day," Cayco said.
The province, which has a population of just over 18,000, has cancelled all incoming commercial flights under its enhanced community quarantine.
SkyPasada and NorthSky continued to operate cargo flights and carry outbound passengers. Emergency and humanitarian flights were also allowed "subject to prior consultation".
Quarantine and isolation facilities, and the Batanes General Hospital, had all reached maximum capacity, the provincial government said.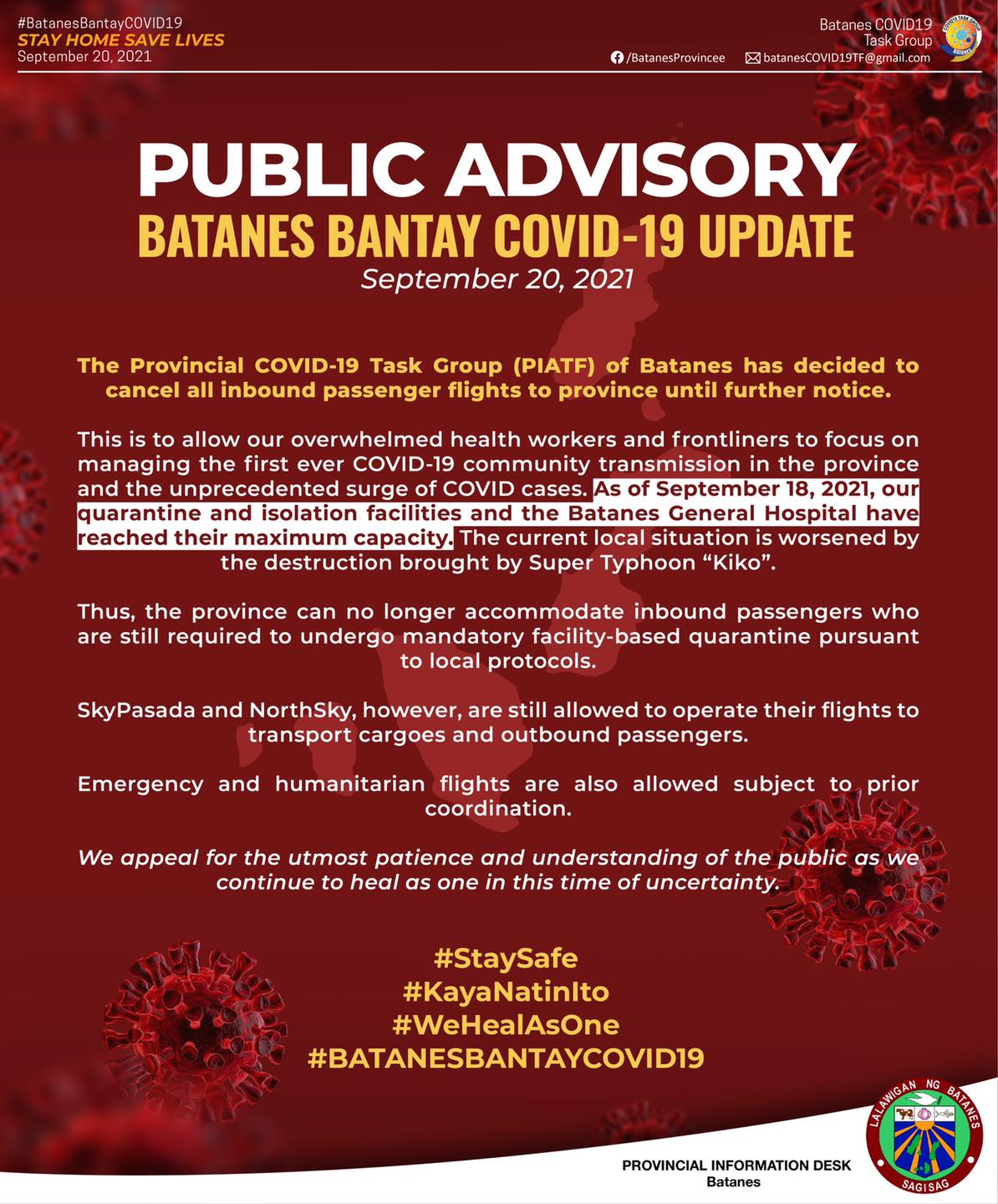 Typhoon Kiko
Cayco said the BGH has administered "hundreds" of rapid antigen tests since September 16.
The country's northernmost province, which is also the smallest in population and land area, announced its first four confirmed local transmission cases on September 16. It said there were 30 other suspect or probable cases.
This was just a few days after Typhoon Kiko forced hundreds of families to flee into eight evacuation centers. It also damaged or destroyed P359-million worth of residential properties and government infrastructure, affecting 70% to 80% of the province's population.
When Typhoon Kiko struck on September 11, the province only had one active COVID-19 case.
"Perhaps it was because of the aftermath of the typhoon, a lot of people suddenly disregarded health standards such as wearing masks because everybody was busy repairing their damaged houses," the governor told Rappler. "A lot of people were fetching water since our power and water sources were totally damaged."
Typhoon Kiko was almost at super typhoon level, with maximum sustained winds of 215 kilometers per hour after its 8:30 am landfall on the town of Ivana.
Cayco appealed for food aid on September 16, saying rice stocks would last only for a week.
A day before that, she donned a level-4 PPE to meet with Office of Civil Defense Region Region 2 Regional Director Harold Cabreros.
The governor asked for fully-vaccinated relief workers, adding that they should also get RT-PCR tests before heading to the devastated province.
Cayco said the province has enough test kits, prepositioned in all health units.
"DOH has been very generous in regularly delivering supplies to us," she said, adding that provincial and regional health units, the province and health units have enough personal protective equipment to augment the BGH, which gets supplies from Manila.
The governor said the province has partnered with other hotels and schools for our additional facilities.
"We just finished repairing all our devastated government facilities. DOH Batanes is also helping us to find other alternative quarantine facilities,' she said. – Rappler.com