Experts at Negros Occidental's largest COVID-19 hospital say the surge isn't going down anytime soon 
When the Corazon Locsin Montelibano Memorial Regional Hospital (CLMMRH) in Bacolod City closed the doors of its emergency center on September 25 to all but the most severe COVID-19 cases, that decision was based on forecasts by its own team of analysts and researchers.
"We knew we would need as many beds as possible soon. We were already bracing for a flood of severely-hit patients," CLMMRH head Dr. Julius Drilon told Rappler in an interview right after the announcement.
Exactly a week after the hospital issued the notice, a flood of critical cases swarmed in.
"Karambola ang ER namon subong. Daw gathering sang mga intubated!" Drilon informed Rappler Saturday night, October 2. "Eleven cases have just come in and they all need intubation."
These cases end up in the intensive care unit (ICU) if medical staff manage to stabilize them in the emergency room. The city's seven hospitals have a total of 33 ICU beds, City Administrator Em Ang told Rappler.
Hospitals overflowing
The Saturday crunch came a day after the city's new cases hit 231 on October 1, Ang said, more than a hundred higher than September's average of 119 new cases . The province's new cases on the same day were at 393.
The CLMMRH on October 2 warned that data analysis showed that more than 30% of the specimens collected by Bacolod City Epidemiological Surveillance Unit (BCESU) had turned out to be positive for COVID-19.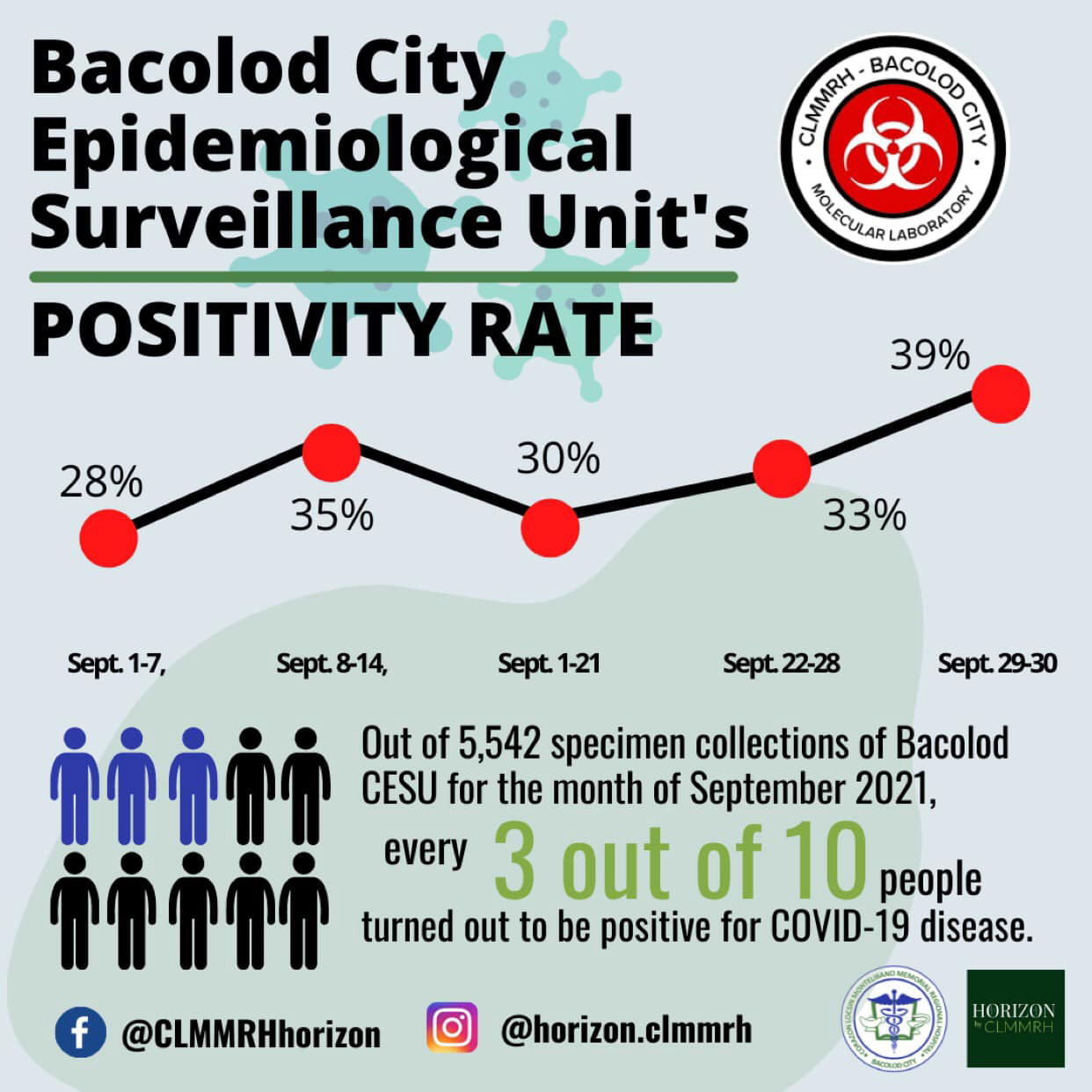 "There has been an increasing trend on the positivity rate observed in the past four weeks of monitoring of the disease," the hospital said. "The high positivity rate from BCESU samples indicates inadequate testing from the population. This can imply that there are individuals roaming around the city that are asymptomatic, or do not show any symptoms for COVID-19."
Eleven critical cases in a city with only 33 Covid-ICU beds is a third of all ICU cases. These do not include those already being treated at CLMMRH, where recovery of patients proceeds at a very slow pace.
These patients are largely unvaccinated and with existing co-morbidities, Drilon said. The CLMMRH invested recently in increasing intubation capacity and oxygen supplies, but even 300 large tanks daily may not be enough if the surge continues, the hospital's head said.
Negros Occidental Provincial Administrator Rayfrando Diaz described events in the last week of September as "a strong storm." He said the province's COVID-19 referral centers were overflowing with mostly unvaccinated patients already suffering from various other ailments. The Valladolid District Hospital had an utilization rate of 102% and the Cadiz District Hospital with 94%.
The province adjusted by designating the Valeriano Gatuslao Memorial District Hospital a dedicated COVID-19 facility, transferring all other patients to a provincial hospital in Kabankalan City.
The city government, meanwhile, transformed the 64-bed Midway Referral Facility in Barangay Alijis into a step-up, step-down facility for infected residents, to allow Bacolod's seven hospitals to focus on the most serious cases.
The facility's doctors, technicians and medical technologists will handle COVID-19 patients awaiting hospital admission, as well as those who are discharged from the hospital but still need to recuperate. When patients need cardiopulmonary resuscitation, the DRRMO (Disaster Risk Reduction & Management Office) will deploy emergency technicians and ambulances for immediate transfer to hospital ICUs," Ang said.
"This will hopefully lower our death rate, which in September hit triple the number of August deaths," she told Rappler.
Deaths in September were at 158, up from 57 in August and double the old record of 79 in the same month last year.
'Massive testing the only solution'
Drilon wasn't optimistic. The CLMMRH on October 1 said COVID-19 metrics for the city and province were still rising.
While the two-week growth rates for Bacolod had gone down to 15% from 63% on September 15, the province registered 53%, down from 84%, the CLMMRH's analysts noted the greater danger signals.
Bacolod's Average Daily Attack Rate (ADAR), the accumulation of the total cases in the identified two-week period per 100,000 population, was 20.50, almost thrice the Department of Health's critical threshold of 7. It was also six points higher than the 14.58 registered on September 15.
The province's ADAR was at 9.8, double the 4.8 recorded on September 15.
The ADAR and positivity rate can increase even while the two-week growth rate is going down because their computations do not involve a comparison of the previous two weeks. It only computes the "Recent" past two weeks of data, the CLMMRH said. Drilon said city and province growth rate and ADAR combined all point to critical levels of COVID-29. – Rappler.com