WHAT YOU NEED TO KNOW
How many people have tested positive for COVID-19 in the Philippines? How many have recovered, and how many have died? What is President Rodrigo Duterte doing about it? What should the public expect in terms of the economy and vaccine development?
Bookmark and refresh this page for the latest news updates, opinion articles, and analysis pieces about the COVID-19 pandemic in the Philippines.
LATEST UPDATES
DOH bulletin: COVID-19 cases as of February 24, 2021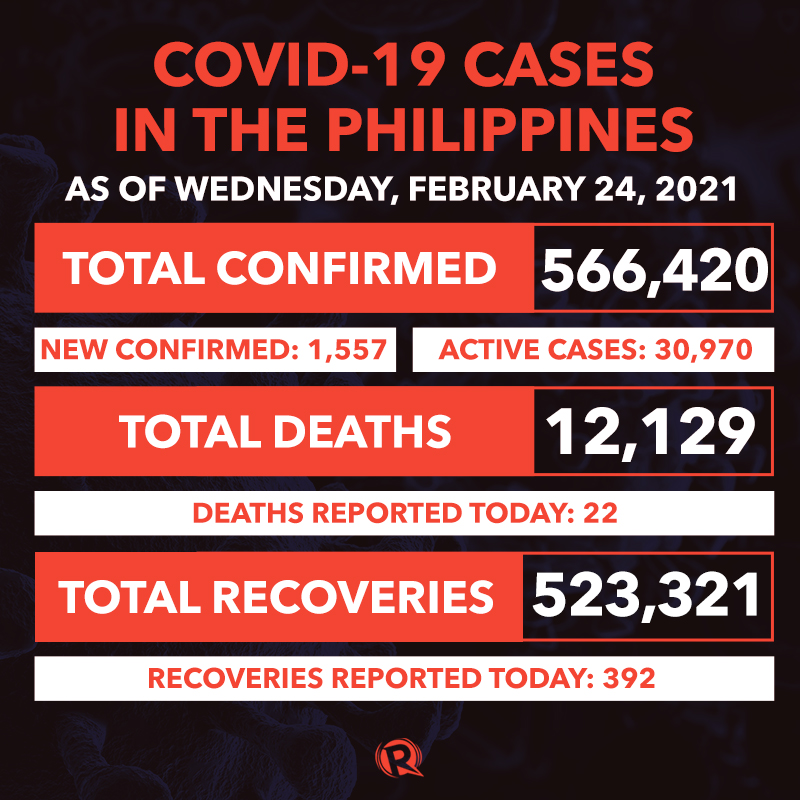 Which vaccine would Locsin prefer?
Foreign Secretary Teodoro Locsin Jr said his preferred COVID-19 vaccine is that of Russia's Gamaleya Research Institute, Sputnik V, shown to have a 91.6% efficacy rate against symptomatic COVID-19 based on clinical trials.
Locsin stated his preference in response to a tweet that asked Twitter users which COVID-19 vaccine they would want to receive for free, if given the choice.
President Rodrigo Duterte earlier said he would prefer to get injected with the vaccine made by China's Sinopharm, while Presidential Spokesperson Harry Roque pointed to any Chinese vaccine.
Subic Freeport seeks partnerships to get COVID-19 vaccines
ZAMBALES, Philippines – The Subic Bay Metropolitan Authority (SBMA) said on Wednesday, February 24, it was coordinating with the Department of Health (DOH) on how the free port management could procure COVID-19 vaccines and distribute them immediately to their community.
"Since the SBMA is not a local government unit (LGU), we are looking at various ways to gain access to vaccines, including a partnership with the Philippine Red Cross or even private companies," said SBMA Chairman and Administrator Wilma Eisma.
Should the vaccines finally arrive, she said, the SBMA can field a vaccination team that would consist of 5 doctors, 20 nurses, and 2 medical technologists. Eisma said the agency would be prioritizing frontline health workers for the vaccination, along with senior citizens, indigent population, and law enforcement personnel.
Health officials were recently at the free port to observe the simulation of vaccine administration. During that February 18 exercise, the SBMA Public Health and Safety Department demonstrated the 5 steps in the administration of the vaccine: registration; pre-vaccination counselling and final consent; screening; vaccination; and post-vaccination monitoring, surveillance, and recording. – Rappler.com
MMDA buys AstraZeneca vaccine for employees
Metropolitan Manila Development Authority (MMDA) Chairman Benhur Abalos said Wednesday, February 24, that the agency has given a 20% downpayment for 8,000 doses of AstraZeneca's COVID-19 vaccine.
In the Kapihan sa Manila Bay forum, Abalos also said the MMDA will share its doses with the municipality of Pateros.
Abalos did not expound on the deal, citing the non-disclosure agreement they signed.
Arrangements for the deal, done in coordination with the state-run Philippine International Trading Corporation, started in 2020 during the time of the late MMDA chairman Danilo Lim.
Abalos said at least half of the agency's 8,000-strong workforce are willing to get vaccinated.
Red Cross to open drive-thru COVID-19 saliva testing hubs in Pangasinan malls
The Philippine Red Cross (PRC)-Pangasinan Chapter announced plans to open drive-thru COVID-19 saliva testing hubs in malls by March.
Krismar Glen Brillantes, officer-in-charge of the Pangasinan Chapter, said they have already discussed the plan to establish the drive-thru hubs with mall administrators in central Pangasinan.
To get tested, people would have to first book an appointment and pay online. Then they can go to the drive-thru hubs, submit their saliva sample, and drive out.
"Madali lang po 'yon, hindi na po kailangang bumaba sa sasakyan 'yung tao (That won't take time, the person won't even have to leave the car)," Brillantes said.
Test results would be sent to individuals over email. The PRC's COVID-19 saliva test costs P2,000. 
Brillantes noted that in the province, only the PRC branches in Dagupan and Urdaneta City are currently open for saliva testing. The PRC-Pangasinan Chapter has tested over 200 people using saliva samples. 
Those who would like to get tested may contact 0998-739-9130 or send an email to pangasinansalivatest@gmail.com.
They may also inquire at the PRC branches in Dagupan and Urdaneta City. Specimens are collected every Mondays, Wednesdays, and Fridays, from 8 am to 12 noon. 
DOH bulletin: COVID-19 cases as of February 23, 2021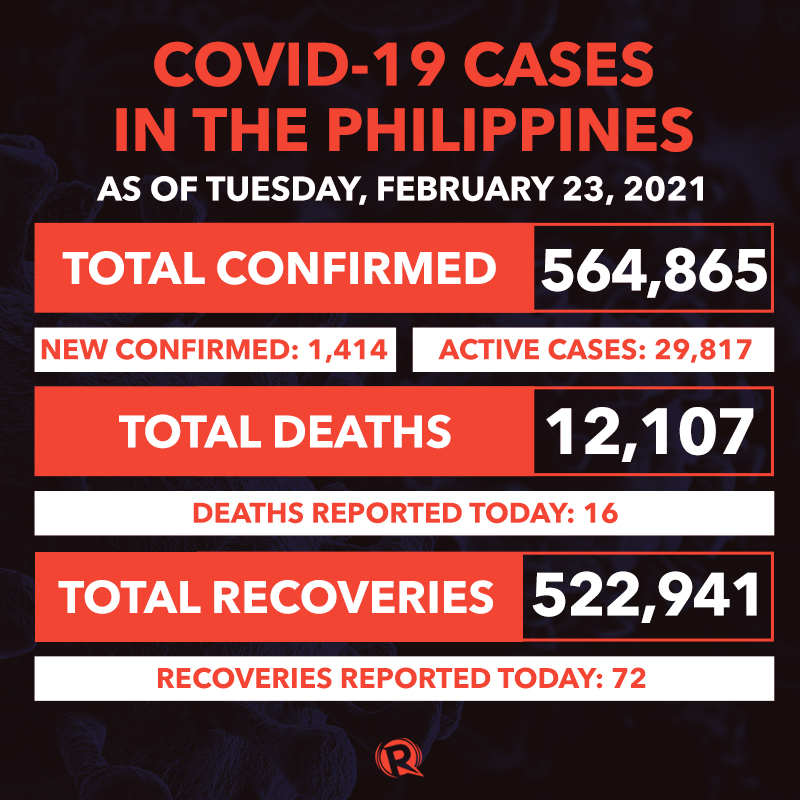 DOH bulletin: COVID-19 cases as of February 22, 2021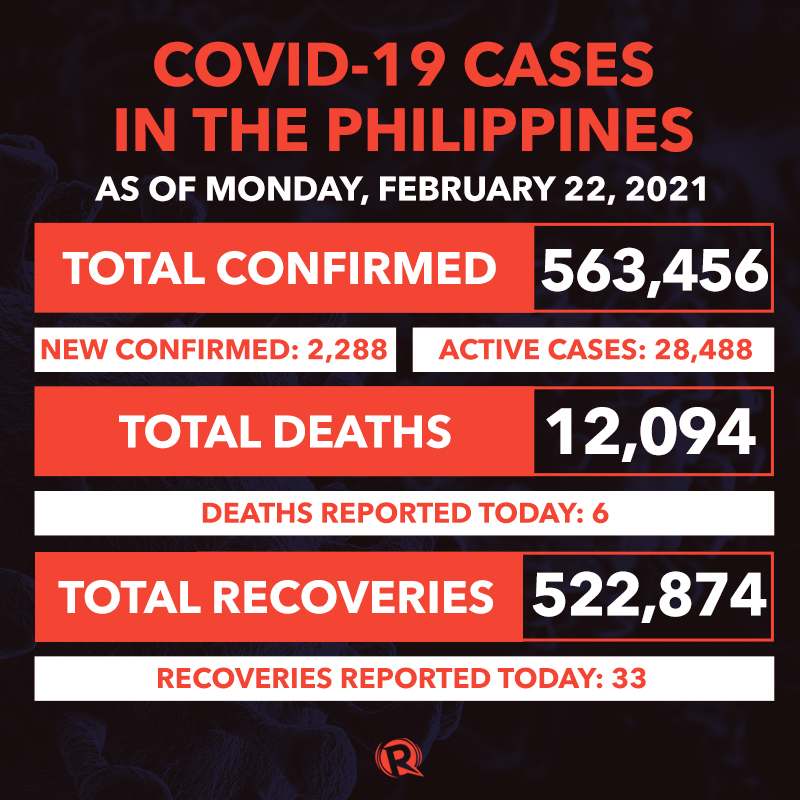 Upward trend in COVID-19 cases in Metro Manila as PH tally tops 561,000
The National Capital Region (NCR) is seeing an upward trend in new COVID-19 cases, said the Octa Research Group in its latest report on Sunday, February 21.