(UPDATED) Environment Undersecretary Benny Antiporda eventually apologizes for calling UP experts 'bayaran'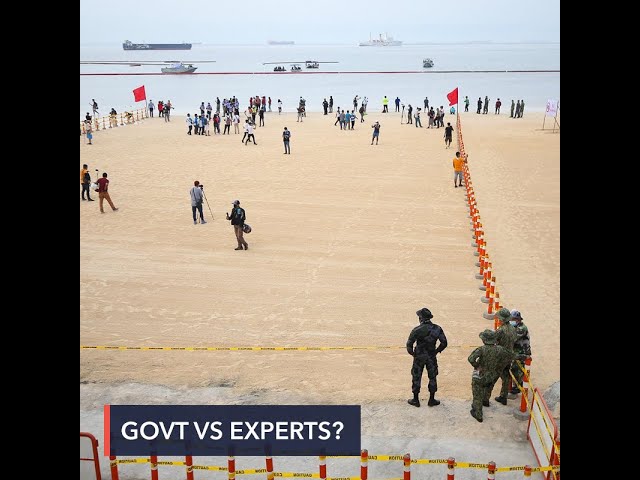 A Department of Environment and Natural Resources (DENR) official on Wednesday, October 14, slammed experts from the University of the Philippines (UP) for criticizing the controversial Manila Bay white sand project and offering to help the government rehabilitate the area.
In a Laging Handa press briefing on Wednesday, Environment Undersecretary Benny Antiporda claimed that the experts' offer to create a more science-based rehabilitation program for Manila Bay will cost the government more money. (READ: Fast facts: What is dolomite sand, and how will it affect Manila Bay?)
Antiporda defended the project from scientists, saying they have no right to criticize.
"Hindi 'nyo karapatang batikusin ito dahil bayaran kayo. 'Yun lang po ang masasabi ko sa UP. Uulit-ulitin ko: Bayaran kayo." (You have no right to criticize this project because you were paid. That's all I can say to UP. I will repeat: You were paid.)
Drawing flak for this statement, Antiporda apologized through an interview with ANC's Headstart on Thursday, October 15. UP Marine Science Institute (MSI) director Laura David, also a guest on Headstart, accepted Antiporda's apology.
"I would like to start my statement with an apology to the UP as a whole. It is not intended to destroy the good name of the university itself but this is just to send the message to UP MSI that we're partners here," Antiporda said Thursday on Headstart.
Antiporda said he was carried away by his emotions because the UP experts' criticism was "painful."
When asked by anchor Karen Davila if she accepts Antiporda's apology, David responded in a mix of English and Filipino: "Definitely, there's no bad blood between DENR and UP. From the very start I knew this was just a misunderstanding and miscommunication."
The tension between the DENR and UP experts has simmered for weeks.
On October 5, the UP Institute of Biology released a statement critical of the project. The state biologists suggested "nature-based solutions" that take into account short-term and long-term effects on species and ecosystem. Rehabilitating mangroves, for example, is a more cost-effective solution than dumping dolomite, they said.
Earlier, the UP MSI also outlined the major problems in Manila Bay, as well as the steps forward to properly rehabilitate the area. 
Where funds go
For Antiporda, experts from the state university should not be paid for research work in coordination with government projects.
"Bakit kayo naniningil sa gobyerno? Matapos kayong pag-aralin ng taumbayan, matapos kayong maging Iskolar ng Bayan, sisipsipin 'nyo ang dugo ng taumbayan sa dami ng kinuha 'nyong pondo? Tapos ngayon gumagawa kami ng maganda, kailangang magbayad kami sa inyo?" he said.
(Why are you charging the government? After your education was funded by taxpayers' money, after you became state scholars, you want to suck the blood of the people with all the funds that you got? Now that we are doing something good, we have to pay to have consultations with you?)
Aside from their criticism on the dolomite, Antiporda's remarks against the UP experts also stemmed from the "half a billion pesos" that the DENR had supposedly paid the experts over various consultations since 2016.
"Kalahating bilyon ang binayaran sa kanila simula 2016 hanggang taong ito. Kalahating bilyon na puro lang po konsultasyon. Wala pong infrastructure, wala lahat. Ang UP, sa buong pagkaalam po natin, e libre dapat 'yan," he said.
(They had been paid half a billion pesos from 2016 until this year. Half a billion, and that's only for consultations. No infrastructure. UP, from what I know, should offer its services for free.)
Laura David, director of the UP MSI, clarified that the DENR did not spend P500 million in their projects with the institute.
"The correct amount po is P364,073,909.40," David said in response to Antiporda's comments.
The said budget was used for 10 projects conducted over the past 10 years in collaboration with the DENR, including a cosponsorship support for a symposium. David welcomed any government audit on the UP MSI's projects.
Some of these projects include research on coral reef restoration, giant clam restocking, expeditions, Benham Rise, and the West Philippine Sea. (READ: Filipinos conquer new territory: Benham Rise)
David clarified that the institute does not have access to funds for additional research, and most of their funds actually come from clients.
When the UP MSI does projects with government agencies such as the DENR, David said the funds are used to support "scientific research and investigation, from the use of laboratories and research equipment and facilities, to field work, to support for research assistants."
Meanwhile, UP Institute of Biology director Ian Fontanilla explained that one of their proposed solutions, mangrove rehabilitation, is actually intended for the whole Manila Bay, not just for the area where the dolomite was dumped.
Fontanilla also clarified that their collaborations with the DENR for the last 10 years amounted to at least P53.7 million, on projects that "focused on the Philippine Eagle, wildlife forensics, and the ongoing project of setting up the Protected Area Gallery at the DENR compound."
Fontanilla also stated that their projects are always open to an audit. – Rappler.com