'The procurement transaction was put on hold pending the result of further market study and prevailing market price for these laptops,' says Health Undersecretary Leopoldo Vega
After receiving backlash, the Department of Health (DOH) put on hold the purchase of four high-end laptops amounting to P700,000.
In a press briefing on Monday, August 16, Health Undersecretary Leopoldo Vega said that the DOH has plans of purchasing the high-end laptops for the "use of knowledge management and information technology."
"However, to date, the procurement transaction was put on hold pending the result of further market study and prevailing market price for these laptops," he added.
The DOH was widely criticized last week when its public document for a laptop worth P175,000.000 went viral online. The bidding document shows that the health department was looking to spend P700,000 for four laptops.
However, a quick search on the market prices of the 2-in-1 laptops that the DOH wants showed the price would only range from about P45,000 to around P70,000.
Two-in-one laptops, also called convertible laptops, are devices that have a design that allows them to shift between traditional laptop functions and tablet functions.
The DOH's requirements for the laptop – Intel Core i5, 8GB RAM, no discrete GPU – are fairly low to midrange specs, as shown below: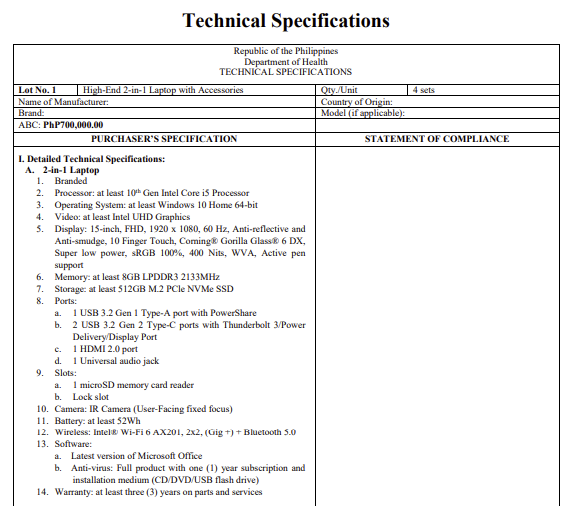 Commercial laptops that cost P175,000 already carry near top-of-the-line specs, and are usually marketed to wealthy gamers. They are also used for tasks that demand high processing power such as multimedia production, video editing, data processing, and programming to name some.
DOH's requirements also included Bluetooth computer mouse, laptop bags, cables, and stereo headsets.
This development comes as the DOH has been under public scrutiny after the Commission on Audit flagged its unused and misused P67 billion worth of COVID-19 funds.
Of the P67.3 billion, millions were used in "excessive and unnecessary expenditures," such as purchases for information and communications technology (ICT) services and devices. Among those is a contract for the procurement of "video conference equipment and video conference desktop with video conference license" amounting to P11.89 million.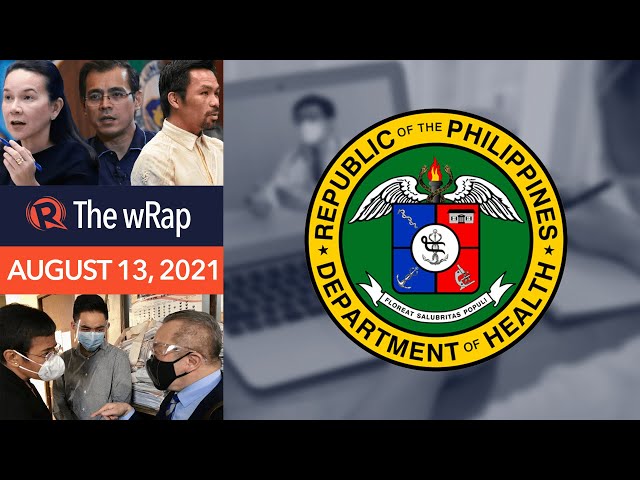 Health Secretary Francisco Duque III, however, said the funds had been "fully accounted for," having been spent on the procurement of test kits, personal protective equipment, payment of health care workers' benefits, salaries of human resources for health, among others.
Duque said the DOH is open and ready to show the public how the funds were used.
More than a year into the pandemic, the Philippines is still struggling to contain the deadly virus that has so far infected 1.6 million and killed over 29,000 of its population. The government has been criticized for its slow response to the health crisis.
Lawmakers, both in the House and Senate, have called for the resignation of Duque. The health secretary, however, still enjoys the trust of President Rodrigo Duterte. – With a report from Gelo Gonzales/Rappler.com