The Department of Education has deferred the submission of documentary requirements for public and private schools until December 31, 2021
The Department of Education (DepEd) on Wednesday, August 25, appealed to students and their parents to register early ahead of the school opening on September 13.
"As we continuously prepare for a smooth opening of classes, we are urging parents and learners to communicate with their respective schools for the enrollment procedures. I also call those who did not enroll last school year to register now," Education Secretary Leonor Briones said in a statement.
The DepEd said that early registration aims to "identify and register out of school youth and children who may be identified as living with disabilities."
"The early registration campaign ensures the right of all school-aged learners to enroll and be equally provided with quality, accessible, relevant, and liberating basic education," it also said in a statement in March, when it started its early registration program.
As of August 25, only 8,557,205 public and private school students have registered so far. This is far below the over 25 million enrolled students from the previous school year.
However, the DepEd said that students can still enroll until September 13 or even on the first few days of classes.
For school year 2020-2021, some four million were not able to enroll during the initial deadline for enrollment, but they were able to register during the school opening on October 5.
"To optimize the process and ensure the protection of health and safety of our education stakeholders, schools may facilitate dropbox enrollment through setting up booths and kiosk in front of the school, barangay hall, and other visible locations that are accessible to parents and guardians, subject to health and safety standards imposed by the IATF," Briones said.
The DepEd said that for incoming Grades 1-6, 8-10, and 12 students, schools will contact their parents through their previous class advisers.
""Parents of incoming kindergarten, Grades 7, andd 11 learners shall communicate/re-affirm their intent to enroll their children to a school of their choice via digital and/or physical enrollment platforms established by schools which is similar to procedures in early registration," it added.
Meanwhile, for transferees, returning students, and alternative learning system enrollees, they must directly contact their preferred school through its published enrollment contact details.
The DepEd has deferred the submission of documentary requirements for public and private schools until December 31, 2021.
"Schools shall not compel learners and their parents or guardians to take responsibility for the transmission of school records," it added.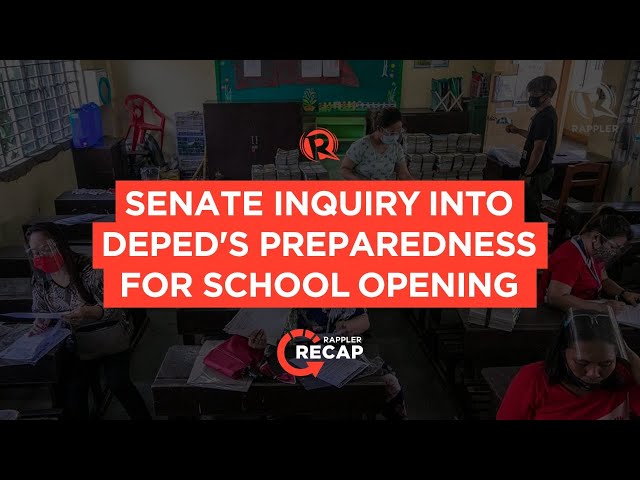 Classes for school year 2021-2022 will start on September 13 while some private schools have already started classes earlier this month. Due to the continuing threat of the pandemic, schools in the country will again use the distance learning system – a mix of online classes and printed learning modules – following the President's directive to suspend face-to-face classes until a COVID-19 vaccine becomes widely available. – Rappler.com