Initially, 100 public schools are nominated for the holding of limited in-person classes but Education Secretary Leonor Briones asks 20 private schools to join the pilot run
At least 120 schools in areas deemed "low risk" for COVID-19 would start the pilot run of limited face-to-face classes in the country, should President Rodrigo Duterte give his approval.
This was confirmed to Rappler by Education Undersecretary Nepomuceno Malaluan in a text message on Thursday, September 2.
Initially, only 100 public schools were nominated for the conduct of limited face-to-face classes but Education Secretary Leonor Briones requested 20 private schools to join the pilot run.
"The Department of Health (DOH) agreed [for] the additional 20," Malaluan said, adding the private schools to be identified will also follow the standards adopted for public schools.
At a House hearing on the DOH's 2022 budget deliberations on Thursday, Health Undersecretary Maria Rosario Vergeire said the DOH and the Department of Education (DepEd) were "finalizing the joint issuance" for the conduct of limited face-to-face classes.
Vergeire said that the joint guidelines will be presented by the DepEd in the Cabinet meeting next week. School year 2021-2022 will begin on September 13. It remains unclear if the pilot run will start on the first day of classes should Duterte allow it.
The President has repeatedly rejected proposals for limited face-to-face classes due to the threat of the coronavirus. But in a fresh bid to get the President's nod, Malaluan told senators on August 25 that a joint circular crafted by DepEd and DOH has already been approved by the government's coronavirus taskforce.
The joint circular contains the requirements and parameters for the safe reopening of schools, such as the transmission rate, availability of facilities, and ample space to hold classes while allowing social distancing.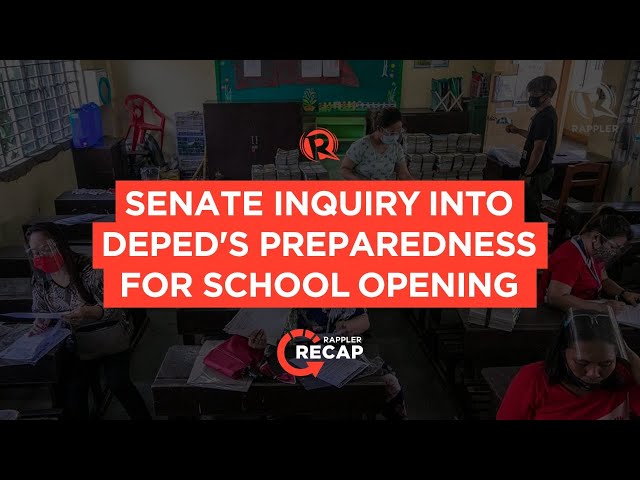 In Viber message to reporters on Thursday, Malaluan said that they will disclose the process of the limited in-person classes upon the approval of the President.
Philippine schools have paused face-to-face classes for over a year due to the COVID-19 pandemic. Classes have been done via remote learning, and this distance education strategy will be implemented again next school year.
The United Nations International Children's Emergency Fund (Unicef) said millions of Filipino children will continue to miss education opportunities during another year of remote learning. It said the Philippines was among the five countries whose schools remain closed since the pandemic began in March 2020.
Other countries that have yet to decide to reopen schools are Bangladesh, Kuwait, Saudi Arabia and Venezuela, UNICEF said. – Rappler.com