One regional director expresses concern over ensuring the sustained availability of face masks, alcohol, soap, and other essentials
Education Secretary Leonor Briones has assured schools that her department would augment their budgets should there be an extension and expansion of the pilot run of face-to-face classes.
Briones gave the assurance after at least two regional representatives of the Department of Education (DepEd) described concerns about ensuring sustainable provision of health resources for implementing face-to-face classes.
In a press briefing on Tuesday, November 16, DepEd Northern Mindanao regional director Arturo Bayocot said that some challenges they foresee in their implementation of limited face-to-face classes is the sustainability of providing face masks, alcohol, soap, and other essentials.
Bayocot also said there was concern over the availability of potable water and water for handwashing in at least one school participating in the pilot run.
Meanwhile, DepEd Central Visayas regional director Salustiano Jimenez said that, for the two months of the pilot run, they are confident of their resources. But should the time period of the pilot run extend, or more schools are added to participate, ensuring continued resources may not be as certain.
"In Region 7, in the whole period of limited face-to-face classes, we have enough essentials, but our challenge will be if there will be an extension or expansion of other schools," said Jimenez.
Briones addressed the concerns, saying: "The pilot will take two months, and if there will be any extensions, then we will do everything to accommodate the additional expenses in our own budgets. So we'll be making adjustments, and this is where also local governments are very supportive."
Briones said that apart from schools' existing budgets, other stakeholders like parent-teacher associations and local leaders contribute to the schools' needs.
The Philippines finally began allowing limited face-to-face classes for 100 public schools in selected areas on Monday, November 15. It became the last country in the world to do so.
Initial support
The 100 public schools participating in the pilot run are entitled to P100,000 as initial funding support.
"If the pilot run is expanded, Undersecretary Annalyn Sevilla has committed the additional fund for the expansion program," said Assistant Secretary Malcolm Garma.
Garma said that school expenditures have always been a part of the department's policy formulation for the limited in-person classes.
"We are looking at how many will be added to the expansion. If ever we will be implementing expansion phase, by early next year, these expenditures will be institutionalized," Garma said in a mix of English and Filipino.
Briones called the first day of classes "very successful" even if three schools were unable to proceed after some teachers tested positive for COVID-19.
"All our planning….and preparations paid off," she said.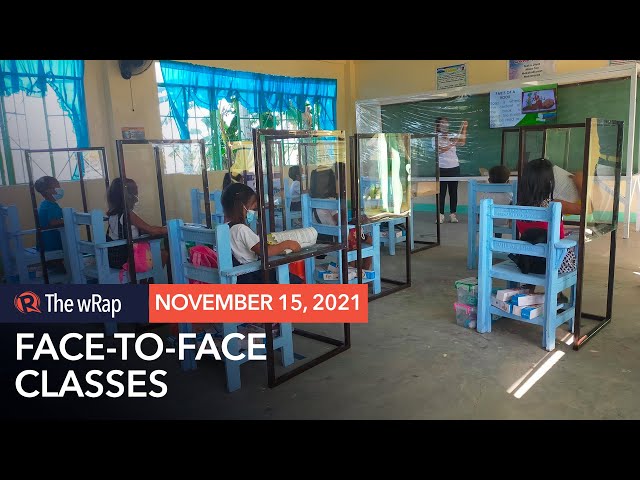 Garma said the teachers who tested positive in their antigen COVID-19 tests were subjected to a confirmatory test, and were found to be negative. The schools are set to begin their classes sometime in the following week.
On November 22, selected private schools will begin their pilot run as well. – Rappler.com