For now, the educational programs will air on IBC-13 and Solar Learning, but 'there are a lot of volunteer media channels as well up for consideration'
Ahead of the school opening on August 24, the Department of Education (DepEd) on Tuesday, August 11, started the test broadcast of educational programs to be used for distance learning.
DepEd Public Affairs Service Director June Arvin Gudoy said that IBC-13 and Solar Learning are the national stations that would air the educational shows for now.
Gudoy, however, noted that "there are a lot of volunteer media channels as well up for consideration."
He also said that regional and division offices of DepEd partnered with local radio and TV stations to air the educational shows.
On July 27, the Philippines' largest broadcaster ABS-CBN offered government free use of its transmission network nationwide for the broadcast of educational programs. The offer came after President Rodrigo Duterte attacked the network in his 2020 State of the Nation Address.
The network went-off air early May following a government order to stop using their frequencies because of the expiration of their previous franchise. (READ: House committee rejects franchise for ABS-CBN)
ABS-CBN has the widest transmission network in the country, with 35 regional television stations, 16 FM stations, and 3 AM stations.
The educational programs would only supplement other modes of distance learning such as modular and online classes. (READ: FAST FACTS: DepEd's distance learning)
The test broadcast will run from August 11 to 21.
Below is the episode guide of the educational programs provided by DepEd: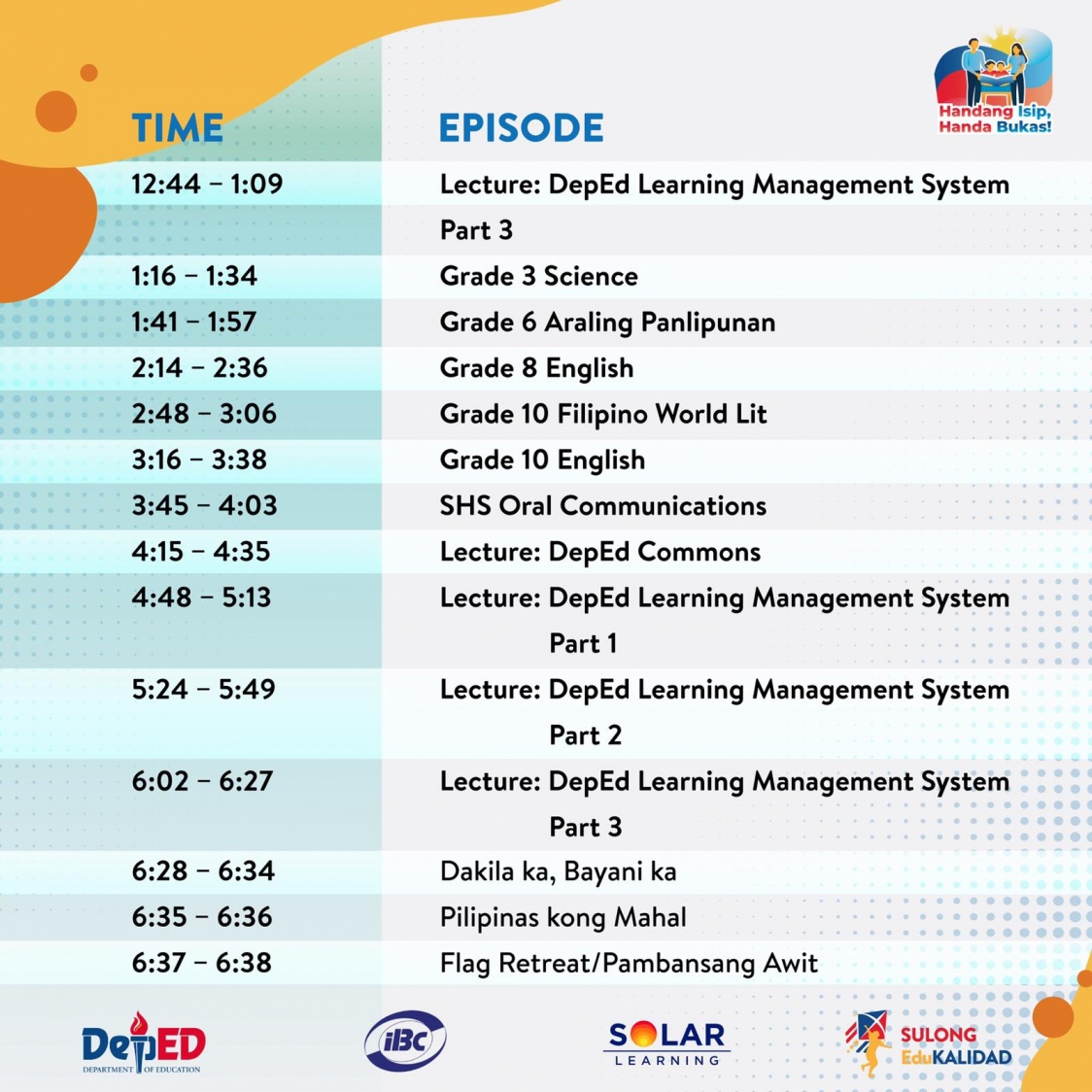 The DepEd decided to shift to distance learning for the coming school year to comply with the President's order that schools postpone face-to-face classes until a coronavirus vaccine becomes available.
But many have criticized the DepEd's decision to open classes in the middle of a health crisis. (READ: No student left behind? During pandemic, education 'only for those who can afford')
Teachers themselves have been asking the DepEd to delay classes to a later date to give them more time to prepare for the digital shift. (READ: 3 weeks into school opening, teachers say they still don't have copies of learning modules)
Despite the calls to delay classes, Education Secretary Leonor Briones said classes will begin on August 24 in "whatever form." (WATCH: Handa na bang magbukas ng klase sa Agosto 24 ang Pilipinas?)
Ironically, the DepEd launch of the "school readiness program" on Monday morning, August 10, was marred by technical glitches. (READ: Technical problems force DepEd to postpone launch of school 'readiness' program)
As of Tuesday, a total of 23,053,197 public and private schools students have signed up for the school opening, much lower than last year's 27.7 million enrollees. – Rappler.com