This is AI generated summarization, which may have errors. For context, always refer to the full article.
(1st UPDATE) Carlos is the PNP's current 4th in command. He is a former PNP spokesperson under then-chief Ronald Dela Rosa.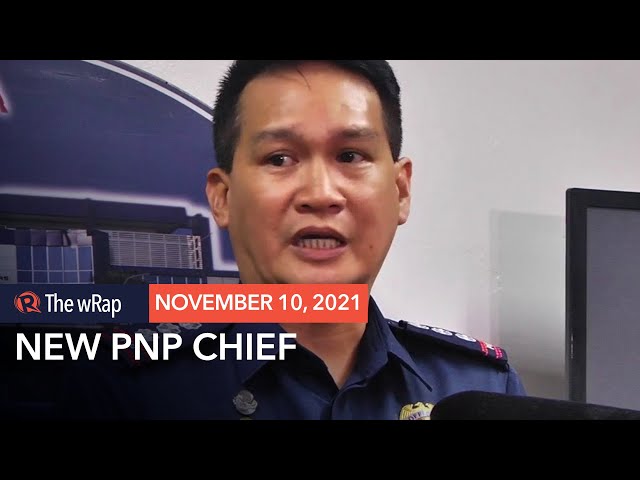 Lieutenant General Dionardo Carlos, the current chief of the Philippine National Police (PNP) Directorial Staff, was named as the next PNP chief on Wednesday, November 10.
Carlos' appointment was confirmed by Malacañang on Wednesday. The PNP's current 4th in command will formally replace outgoing General Guillermo Eleazar during the Change of Command Ceremony this week.
Eleazar had served as the PNP chief for six months – from his appointment in May until he reached his mandatory retirement age of 56 this month. Carlos is the 27th PNP chief and the seventh under President Rodrigo Duterte.
Carlos served as PNP spokesperson under then-PNP chief Ronald "Bato" Dela Rosa. He served as the spokesperson from August 2016 until January 2018. He was later assigned to head the PNP Aviation Security Group.
Later on, Carlos was appointed as the director for Integrated Police Operations (DIPO) Visayas. Upon Eleazar's appointment last May, he ordered a revamp in the PNP's hierarchy.
Carlos was then appointed as the PNP's fourth in command as Chief Directorial Staff.
Presidential spokesperson Harry Roque, said in a statement that Malacañang was confident with Carlos as the new chief of the 220,000-strong police.
"We are confident that Gen. Carlos will continue making the PNP a professional, capable and reform-oriented organization that we envision it to be," Roque said.
According to Interior Secretary Eduardo Año, who oversees the police, President Rodrigo Duterte's decision to appoint Carlos was guided by "cautious consideration."
"The President's decision placing PLtGen Carlos at the helm of the PNP is guided, as always, by cautious consideration of a candidate's seniority, merit, track record, and service reputation," Año said. "We expect the new PNP Chief to hit the ground running and intensify efforts to counter illegal drugs, fight criminality, and end the communist armed conflict in the country."
In a statement, outgoing PNP chief Eleazar said Carlos is qualified as the next PNP chief.
"General Carlos possesses all qualifications for the position, and President Duterte found him tailor-fit for the criteria he wants for the Chief PNP," Eleazar said.
"General Carlos has this position cut out for him based on his seniority, track record and professional competence," the outgoing PNP chief added.
The new PNP chief belongs to the Philippine Military Academy Maringal Class of 1988. With his appointment, the Maringal is now the ruling class in the military and the police.
His classmates include, Armed Forces of the Philippines chief of staff General Jose Faustino Jr., Army chief Lieutenant General Andres Centino, Air Force chief Lieutenant General Allen Paredes, and Navy chief Vice Admiral Adeluis Bordado.
Carlos will serve until his retirement on May 8, 2022. – Rappler.com