(UPDATED) This will give President Rodrigo Duterte an opening to appoint a new chief justice, one year before he steps down from office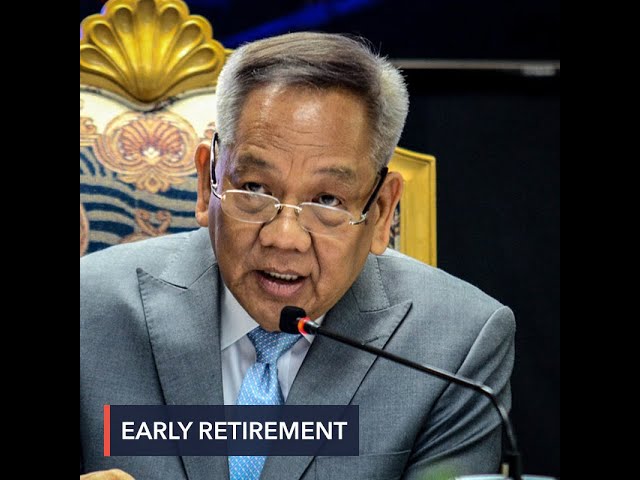 Chief Justice Diosdado Peralta will retire on March 27, 2021, a year ahead of his mandatory retirement on the same day in 2022, Rappler's sources have confirmed.
At least two sources who are privy to the information said that Peralta notified Supreme Court justices during their en banc session on Tuesday, December 1, that he has "decided to retire optionally effective on March 27, 2021, my birthday."
No reason was provided for the early retirement.
Supreme Court Spokesperson Brian Keith Hosaka confirmed this, and told reporters: "The Chief Justice did not elaborate further but said that he will make a formal announcement in due time."
President Rodrigo Duterte appointed Peralta as chief justice in October 2019, meaning he would have only served as top magistrate for one year and 5 months.
Even if Peralta had chosen to stay until his mandatory retirement on March 27, 2022, President Rodrigo Duterte would still get to appoint his replacement because there is no midnight appointments ban in the High Court.
But the early retirement gives Duterte a wide opening, or more time, to appoint a new chief justice – his 4th in the course of his presidency. Duterte has opened a revolving door in the Supreme Court for chief justices and associate justices alike.
During Duterte's term, 3 of his chief justices – including Peralta (when he steps down in March 2021) – would have retired. Five of his appointed associate justices have also already retired.
There is currently a vacancy in the 15-person bench, after the unexpected retirement of Associate Justice Priscilla Baltazar Padilla in November due to physical disability.
Vacancy
Peralta's retirement would also open up a vacancy by March 2021.
The spots would have started opening up only by 2022, beginning with Associate Justice Rosmari Carandang in January, Senior Associate Justice Estela Perlas-Bernabe in May, and Associate Justice Edgardo delos Santos on June 12 of that year. All of these fall into a tiny window where Duterte could still appoint their replacements.
In the hierarchy, Bernabe is the 2nd most senior next to Peralta, followed by Bernabe's fellow Aquino appointees – Associate Justices Marvic Leonen and Benjamin Caguioa, respectively.
Leonen is currently under threat of quo warranto from the Office of the Solicitor General (OSG) over his Statements of Assets, Liabilities and Net Worth (SALN), and is facing a sustained press assault in back-to-back controversial leaks to the Manila Times.
The next most senior – currently at Number 5 – is Duterte appointee Associate Justice Alexander Gesmundo, who will serve until November 6, 2026.
By 2022, when Duterte steps down, Leonen and Caguioa will be the only non-Duterte appointees in the High Court.
Duterte has packed the Supreme Court with young appointees – the latest on that trend is the most junior Justice Ricardo Rosario, appointed only in October and expected to serve until October 2028. – Rappler.com