Displaced families from Barangay Maynonong in Tiwi and Barangay San Roque in Malilipot have been living in evacuation sites for months
In Maynonong village in Tiwi, Albay,  a young girl laid out salvaged textbooks on the ground, hoping they would get dry enough for use. She is 10-year-old Angel Pontalba, a grade 5 student at the Maynonong Elementary School.
Angel's wish is to see her school rebuilt. It was among the structures in Tiwi that were badly damaged by Super Typhoon Rolly last year.
Angel, who lived 300 meters from the school, frequently visited the school to salvage whatever instructional materials she could find.  When asked why she kept on returning to her school, Angel said that she missed the time when the school was intact and classes were done face to face. She said if she had enough money, she would have the school rebuilt. 
Angel is attending modular classes, for now.
Angel's father, Christian, is among the residents who have been moving huge stones out of the classrooms of her daughter's school. The rocks were brought there by storm surges during Rolly. Maynonong Elementary School is built along the shoreline and is in a landslide zone area.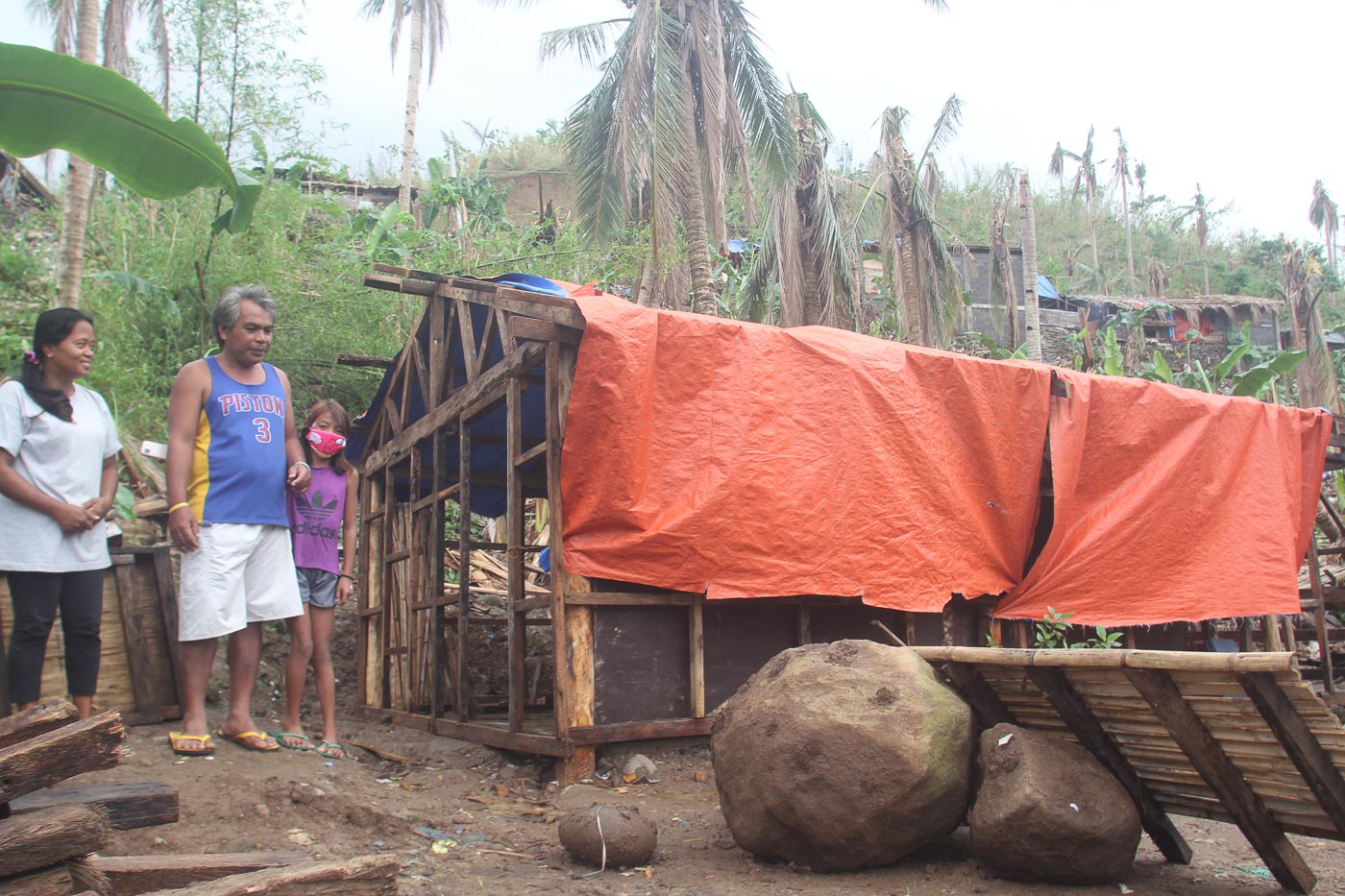 Christian, his wife Analyn, and their children had taken shelter at the Maynonong Elementary School for 3 weeks along with other homeless villagers while their homes were being repaired.
Christian works in a rice farm whenever he gets hired. If not, he goes out to sea to fend for his family. 
The Pontalbas are no stangers to disasters. They survived a landslide triggered by Tropical Depression Usman in December 2018. Their home in Barangay Maynonong was partly buried while the exposed part was set on fire by a kerosene lamp that got toppled during the landslide.
"Half of our home was buried while the other side was on fire. We were able to flee our home with my 6 children," recalled Analyn.
Her husband was not at home as he was part of a rescue effort to save the lives of their relatives who had been buried alive by the landslide back in 2018. Only her cousin survived, while her cousin's husband and two children died.
According to the Department of Education in Bicol, a total of 2,454 total schools were damaged in the region because of the series of typhoons late last year. Of these, 2,599 are totally damaged, 5,781 suffered major damage, while and 6,078 classrooms sustained minor damage.
DepEd is conducting an inventory of schools located in hazardous areas so these would also not be used as evacuation sites. 
The education department will not also allow the construction of new school without the Mines and Geoscience Bureau certification that the place is safe from hazard zone.
Longing for home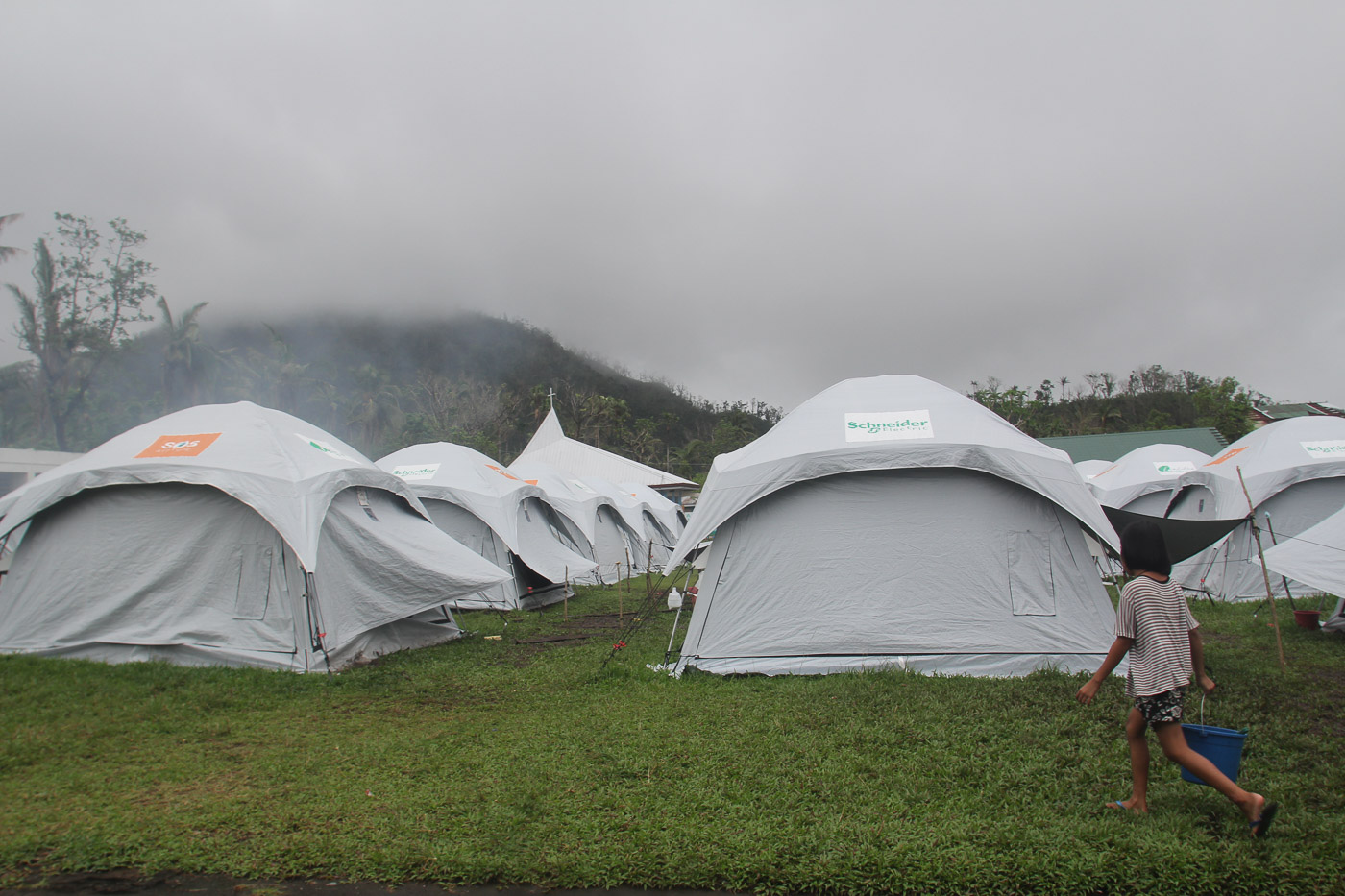 Meanwhile, in Malilipot town, displaced families continue to live in temporary shelters in evacuation sites months after they were displaced by typhoons that worsened the soil erosion in their area.
A total of 102 families are staying at the San Roque Elementary School in San Roque village. They had to be moved from their homes which were located within 50 meters of a road that has been caving in due to soil erosion.
Milagros Buates, the 52-year-old mother of 8 previously featured by Rappler, is among those living with her family at the temporary shelter. (READ: Mudflow, soil erosion threaten Albay's Malilipot town)
Her former home is situated in front of the provincial road, where a fissure of more than 100 feet deep formed. endangering families across Purok 1 and Purok 5. The fissure has become even bigger because of intermittent flooding from December 2020 to February this year.
Cedric Daep, chief of Albay Public Safety and Emergency Management Office (APSEMO), said the wall of the cliff in San Roque is a mixture of sand and soil that could easily loosen and cave in should there be more flooding.
Buates put up a small sari-sari store in the evacuation site as her source of income.
"We are longing to go back home. Unfortunately the place where we have been residing for over 50 years was declared as no man's land by the  government because of the fissure. We don't know until when we will be staying here," she said in Filipino.
Malilipot Mayor Roli Volante said that his office is still negotiating with land owners for the purchase of a resettlement site for the displaced families. – Rappler.com