This is AI generated summarization, which may have errors. For context, always refer to the full article.
From employment, education, and access to healthcare, blind and visually impaired Filipinos grapple with the inequalities heightened by the pandemic
Persons with disabilities have been disproportionately impacted by the COVID-19 pandemic, according to the United Nations.
From employment, education, and access to healthcare, blind and visually impaired Filipinos grapple with the inequalities heightened by the coronavirus outbreak.
Department of Health data from 2017 estimated that 332,150 Filipinos were bilaterally blind, and 2,179,733 had low vision, with cataracts still the leading cause of blindness.
Employment
Every six in the morning, 72-year-old Lolita Espinosa tunes in to her portable radio to listen to the Mass. It is a habit she has cultivated over the past 19 months since the COVID-19 restrictions rendered her jobless.
"If there was no pandemic, we would not be attending the Mass every day," Lolita said as she sat on a dining chair in her home in Antipolo City. 
Before the coronavirus outbreak, Lolita would only hear Masses outside a parish in Makati City where she and her partner, Florentino Amaki, 70, performed rondalla in between Sunday Masses from 6 am until 8 pm, along with other blind musicians. Lolita led the vocals as she made rattling sounds with a maracas or tambourine, while Florentino played the bass.
On weekdays, Lolita also worked as a massage therapist in various malls in Metro Manila, but the changing policies on who can go out and which industries are allowed to operate have made it nearly impossible for Lolita to return to work.
"Where will a blind go when one has no more rice to cook?" she asked. "It's difficult to just rely on help."
Both Lolita and Florentino lost their sight in their early teens after seeking eye treatment from folk healers. Lolita suffered from glaucoma while Florentino became blind after contracting measles at 15.
With limited options at hand, Lolita and Florentino decided to resort to singing Christmas carols. As early as September, the couple could be seen roaming nearby villages, knocking from one house to another, occasionally skipping seemingly empty houses with tall gates.
They come in a group, joined by sighted guides and other blind massage therapists who have lost their livelihood.
"Good afternoon. The blind are here to sing Christmas carols!" Judith, one of their guides, would exclaim, followed by Florentino plucking the strings of his guitar and the rest of the group singing different hymns in both Filipino and English. Among all the songs that they perform, Lolita's favorite is "I'll Be Home For Christmas."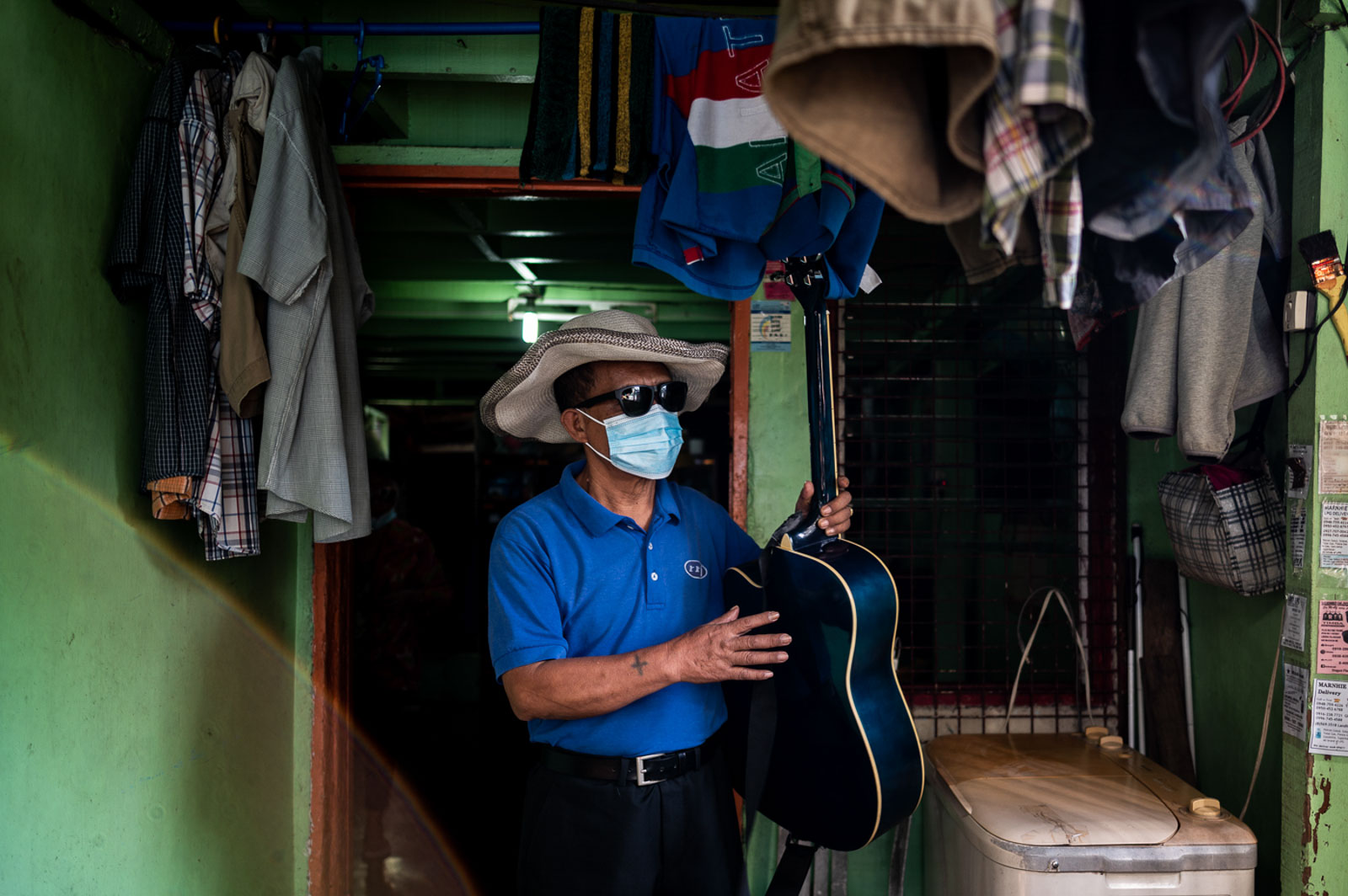 In most instances, people would open their gates and gladly give them whatever amount they were willing to spare – P5, P20, P50, sometimes, P100. Others would even dance to their carols and request more songs.
"Some people get delighted. There are also those who say hurtful words. But we're used to it," Lolita said. She used to be ashamed of performing Christmas carols especially when everyone is impacted by the pandemic, but she has no other choice. It's better than stealing, she tells herself. 
Felisa Magallanes, a massage therapist for more than two decades, joined Lolita and Florentino in their afternoon carols on September 21. They went home that night with P328 each.
"It's already a big sum of money, rather than merely staying at home," Felisa said.
The three of them live in a housing project established in 1989 in Antipolo City by the Ephpheta Foundation for the Blind Inc. and the National Housing Authority. At least 107 houses were originally built for blind homeowners.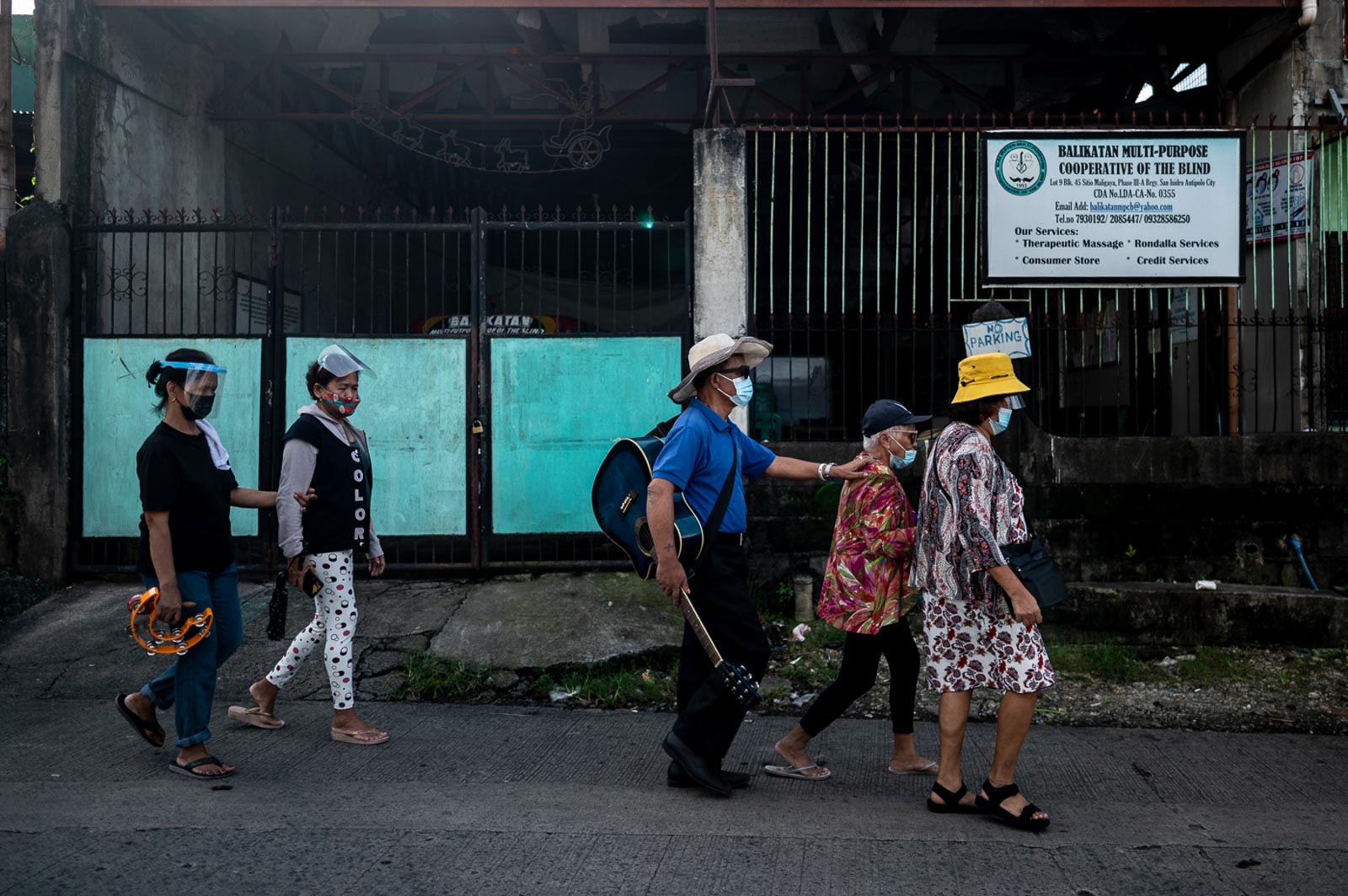 "Caroling kaladkad," as they would call it, has been one of the few sources of income of blind massage therapists and musicians who have lost jobs amid changing lockdown restrictions. Contrary to their traditional Christmas carols wherein they would first secure permission by sending solicitation letters, they would randomly show up in caroling kaladkad.
Persons with disabilities (PWDs), especially women, are less likely to be employed than the general population, according to the United Nations (UN) 2018 Disability and Development Report. They are also more likely to be self-employed or working in the informal sector, hence, lower wages and less protection at work. This "employment gap" can be observed globally, especially in developing countries.
The UN report also noted that low employment rates are not solely attributed to lower education levels. Other factors include "discrimination, stigma, negative attitudes, lack of accessible transportation to get to work, and inaccessible workplaces with limited availability of accommodations for persons with disabilities."
While employment opportunities have improved over the past decades with the increase of available computer skill training and call center jobs, massage remains the most common livelihood for the visually impaired, according to the Philippine Blind Union.
The pandemic, however, has left many blind and visually impaired Filipinos struggling to make ends meet.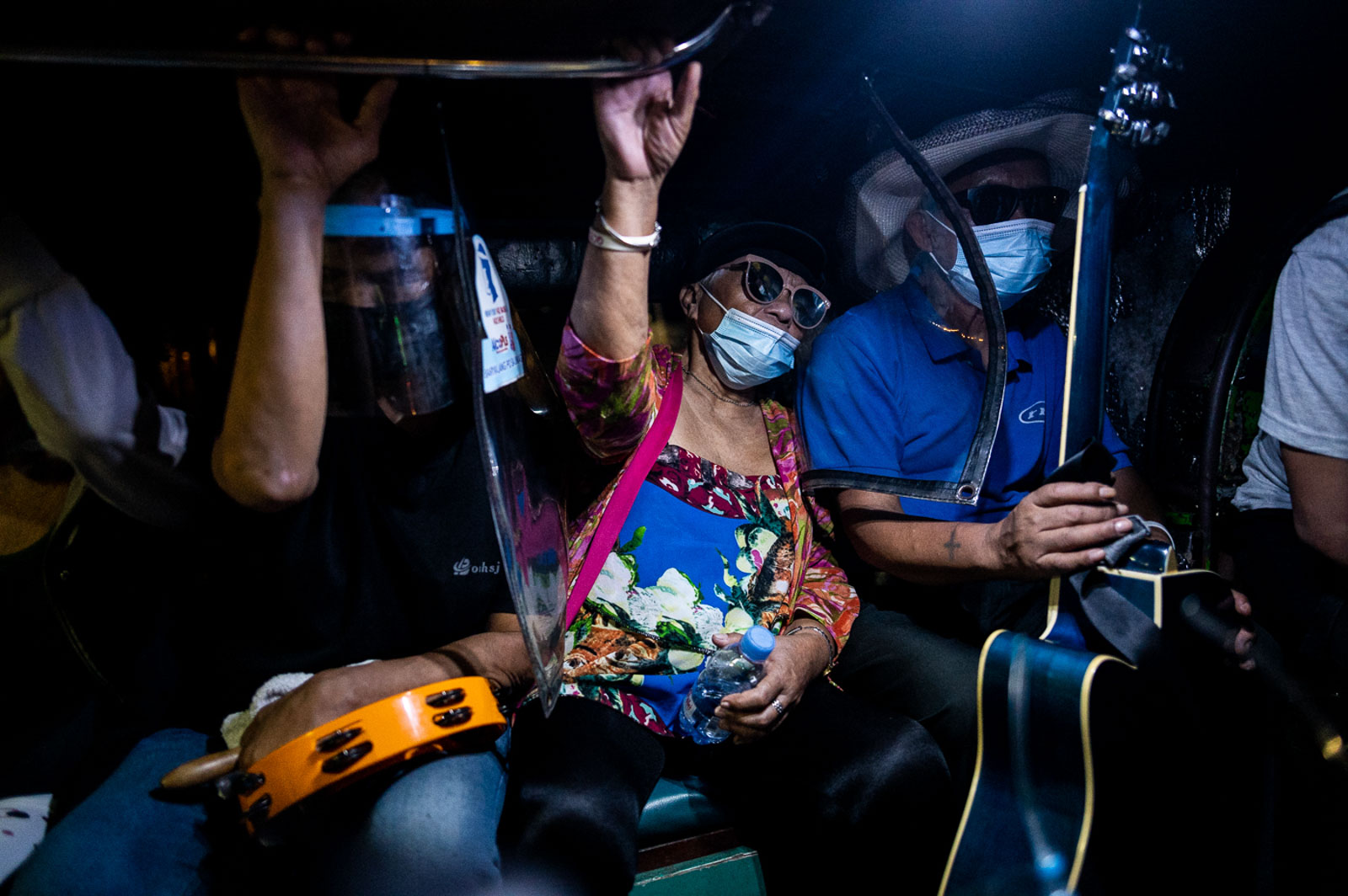 "Before the pandemic, we weren't like this. We worked as massage therapists. We had jobs. We played music in malls," Lolita said.
"If only we were rich, we would not be doing this."
Education
A survey conducted by UNICEF Philippines on the situation of children with disabilities in the context of COVID-19 found that access to education services and learning resources tops the major concerns during the pandemic. 
For Evangeline Marbella, school closures meant another challenge for blind and visually impaired learners – including her 15-year-old daughter Alisa Escober. Alisa is a Grade 1 student at the Philippine National School for the Blind (PNSB). She was born with ankyloblepharon or fused eyelids.
"When classes shifted online, we experienced a bit of difficulty because we didn't have a gadget unlike [when classes were held] face-to-face. We were forced to buy a cellphone that she can use during online classes," Evangeline said, adding that she was only able to purchase the device after applying for a loan.  
She has since dedicated her time to assisting Alisa in her education after leaving her office job in June 2020. The two of them get up as early as six in the morning to prepare Alisa's learning materials, which include embossed modules and a braille typewriter.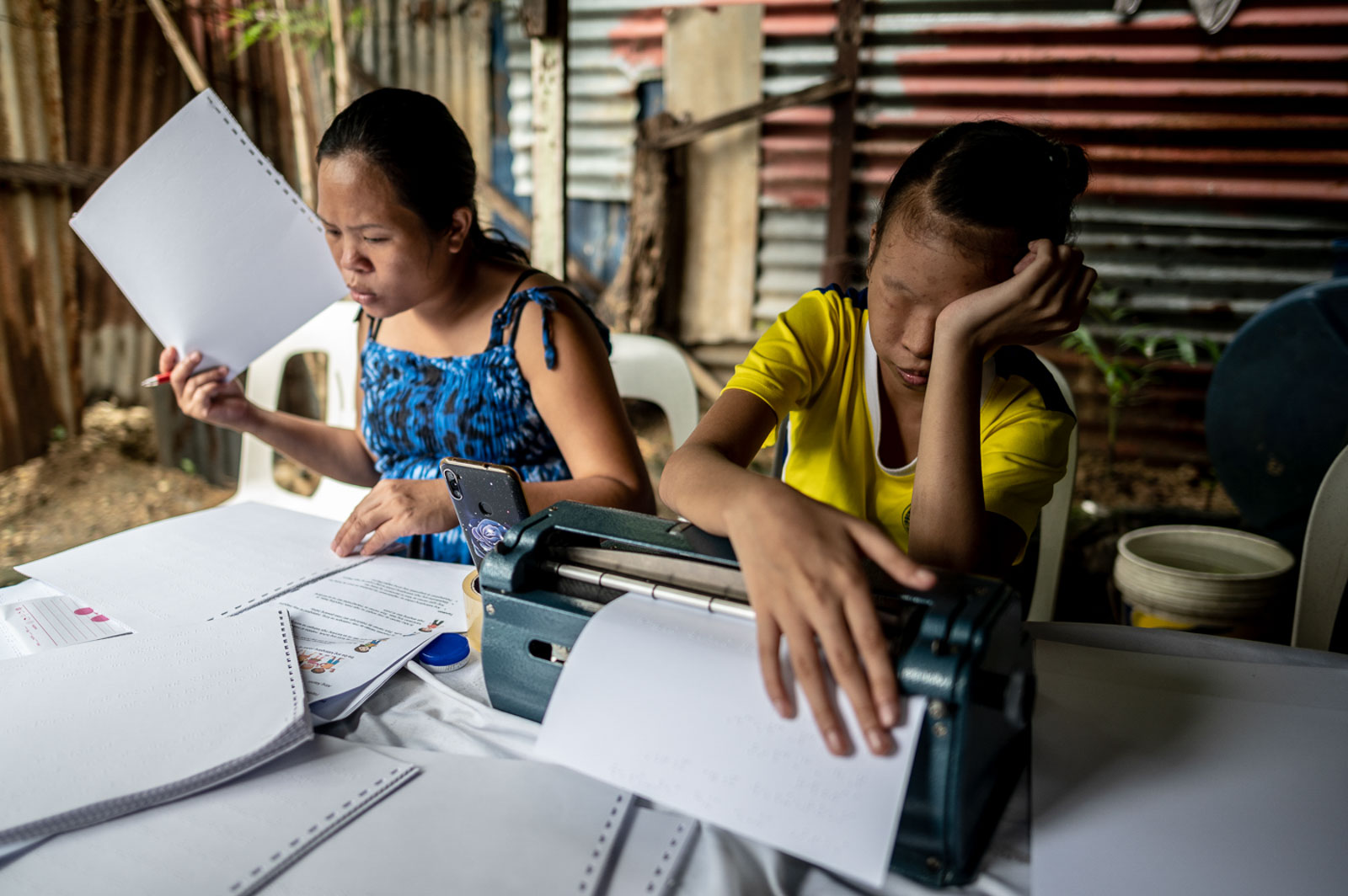 From 7 am until 1:30 pm, Evangeline and Alisa attend regular and remedial classes outside their house in Antipolo City. They turn off their front camera to minimize their mobile data consumption and limit their monthly expenses to P400. Occasionally, teachers from PNSB provide mobile load just for them to be able to join classes.
Evangeline said she is grateful that with the current technology, even blind and visually impaired students can attend classes. The "voice-to-voice" setup, however, is not easy and has its limits. It prevented Alisa from taking piano lessons – something she is very passionate about. 
Evangeline also had to force herself to learn how to read and write braille so she could better help Alisa improve on reading. After school hours, the two of them spend the rest of the day practicing braille and completing other school requirements.
"That's the good thing: we were able to bond more," she said. Evangeline is hoping that Alisa will be able to finish school and learn to be independent.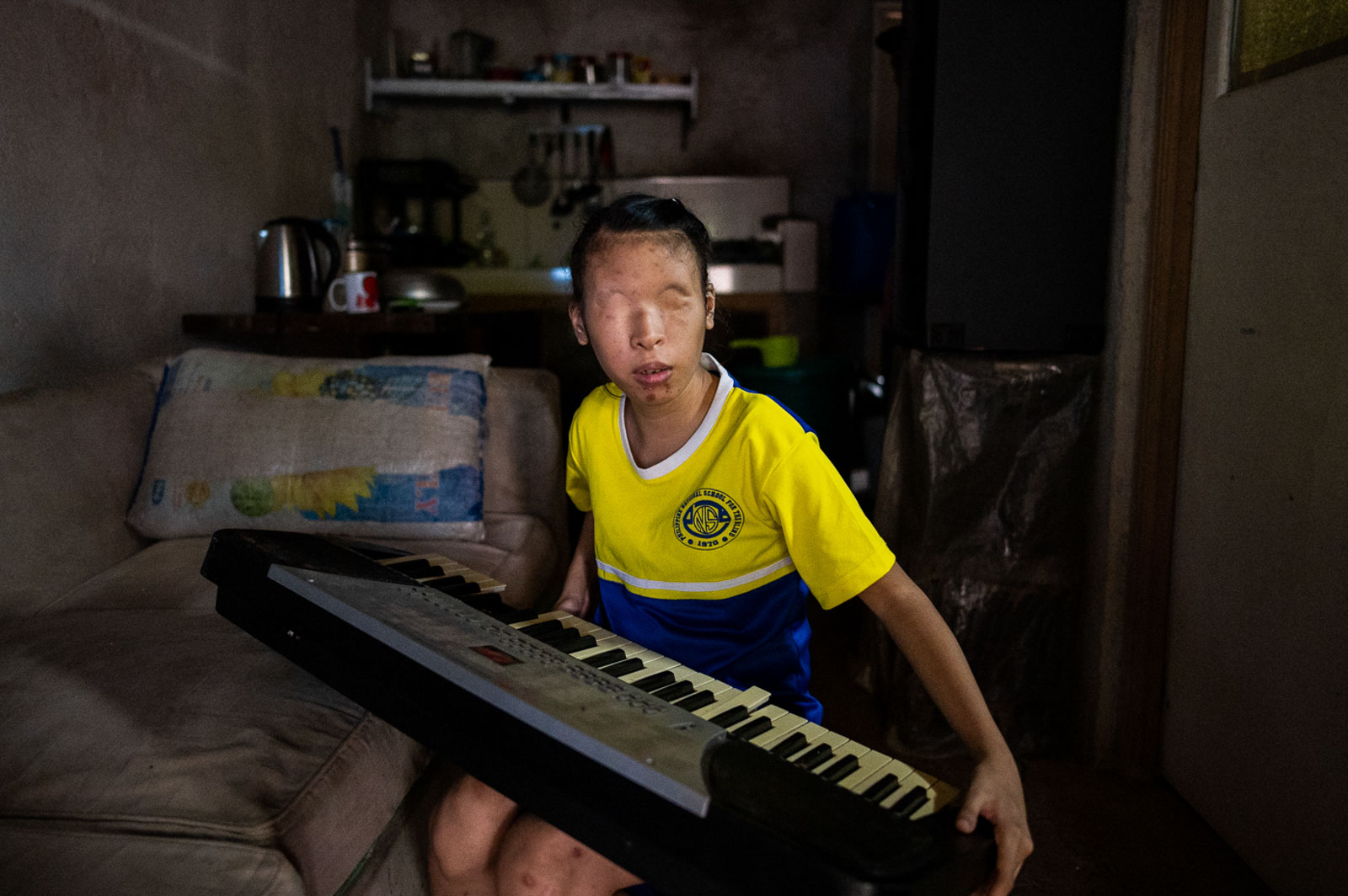 This is not the case for other students who cannot afford to join online classes. Ronald Manguiat, a visually impaired English teacher at PNSB, observed that about half of the students in his class were not attending his classes last academic year. He cited the lack of assistive technology and access to internet as the reasons why many blind and visually impaired students were missing classes despite the free tuition offered in PNSB and other public schools.  
"The 2020-2021 academic year was a very challenging one. It was extra challenging compared to the rest of the years, especially to the students," Manguiat said.
"For the blind to survive distance learning or open distance learning and blended learning, they really have to be provided with devices that they can use plus the training on the use of their devices. We had to rush, that is why a lot of students really had a hard time coping up with the system. In fact, if I had 14 students, only 7 of them could attend regular online classes. The other 7 have modules but the problem is they have no way to send the modules back to the school," he said.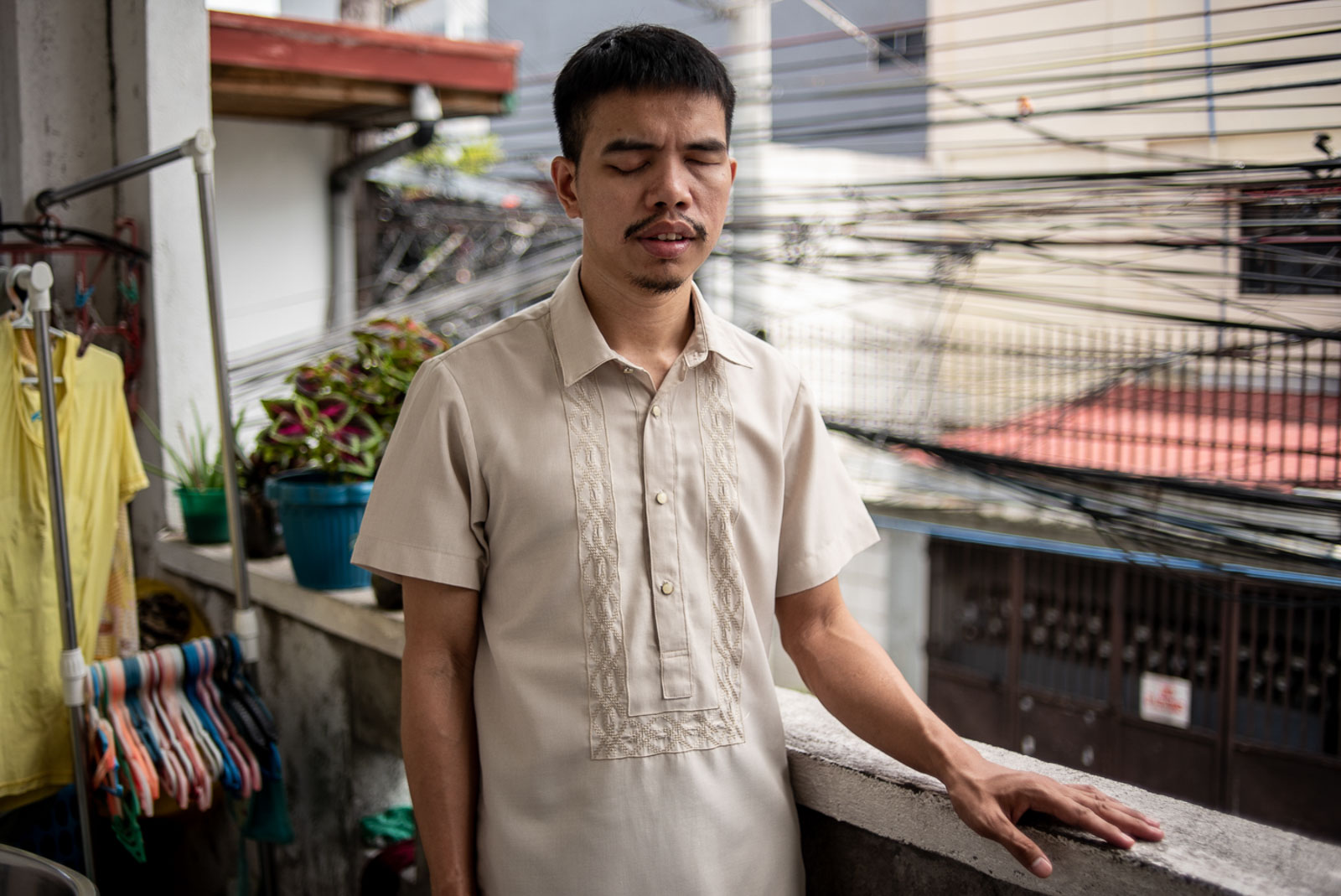 Corazon Salvador, principal of PNSB, also noted that despite the surprising rise in enrollment rate last academic year, there were students who did not enroll due to lack of parental support and financial difficulties.
"Most parents of the blind are also blind and have not completed school," she said. "Some of the parents also have more than three offspring who are blind, that's why they are having difficulty to assist all and they just choose who to enroll. But until now, we are still trying to encourage them."
Other senior high school students with training to perform vocational tasks such as massage also quit school and sought jobs because they needed to support their families. As of September 28, 151 students have enrolled in PNSB.
Ronald hopes that students will be allowed to hold in-person classes in PNSB, a residential school, through a bubble approach. Before the pandemic, PNSB provided free lodging and meals for 95 of the 154 blind and visually impaired students enrolled.
The school conducts counseling sessions, remedial classes, one-on-one phone discussions, and house visits when necessary. Still, there are students who are difficult to reach, Manguiat said.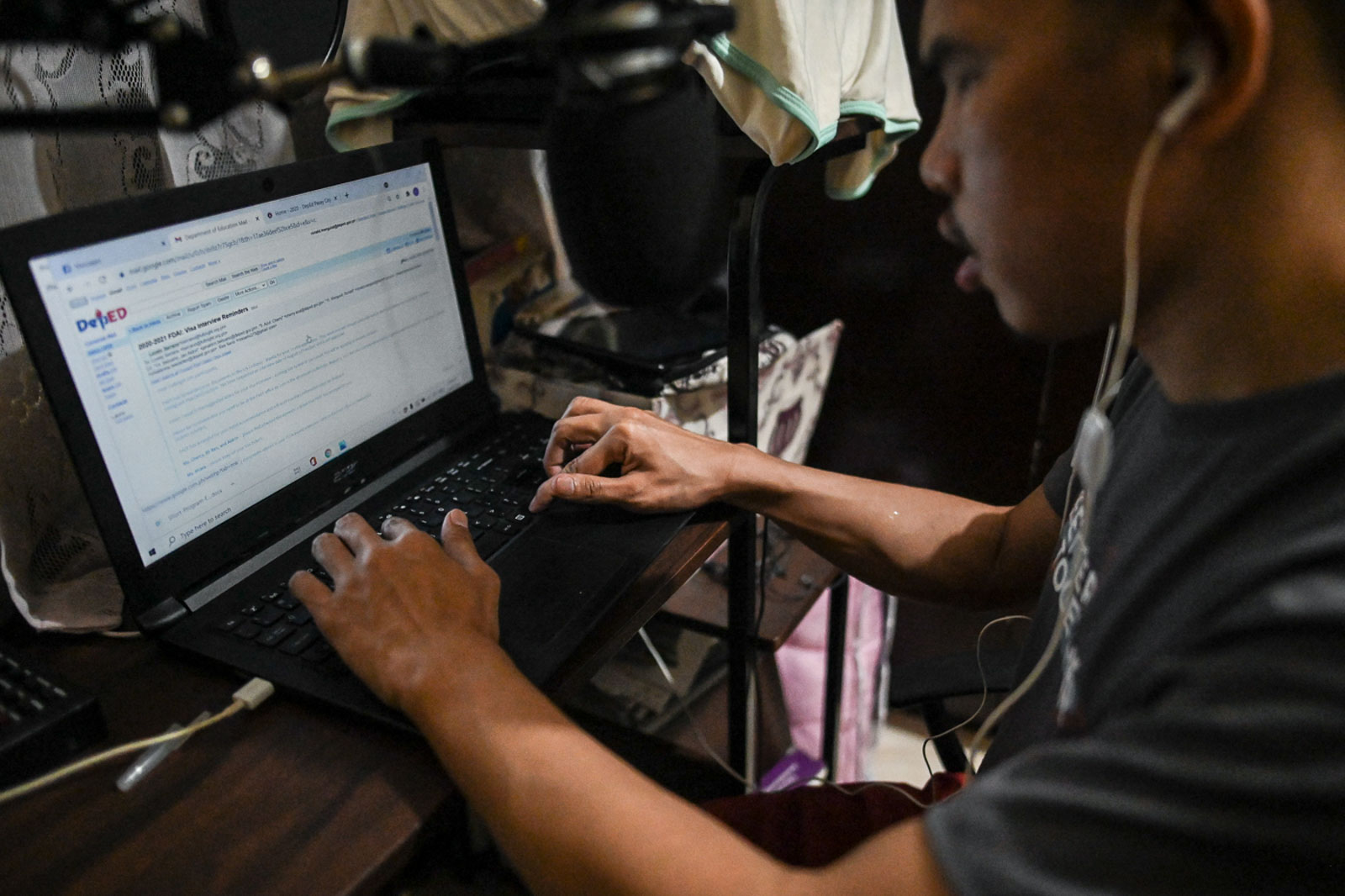 Department of Education (DepEd) data from 2017 identified 19,535 visually impaired learners enrolled in over 648 SPED and regular schools nationwide. About 52.6% of children with disabilities from poor households cannot afford to go to school, according to a 2018 UNICEF Philippines study.
"Until now, accessibility remains a far-fetched idea. It's just written down," Manguiat said.
Health care
The pandemic has also limited the delivery of eye services, leaving many blind and visually impaired individuals at a standstill.
Shayra Erum, 17, is a student-athlete with low vision. She was born with a cataract in her right eye. She has been considering getting cataract surgery for years, but COVID-19 restrictions along with financial difficulties brought by the pandemic further pushed back the much-needed operation.
"I was planning to undergo a surgery before moving up to Grade 11, but there was a lockdown," Shayra, a former student at PNSB and now a Grade 11 student at a different school, said. "Now that I have left PNSB, I want to have normal [vision]."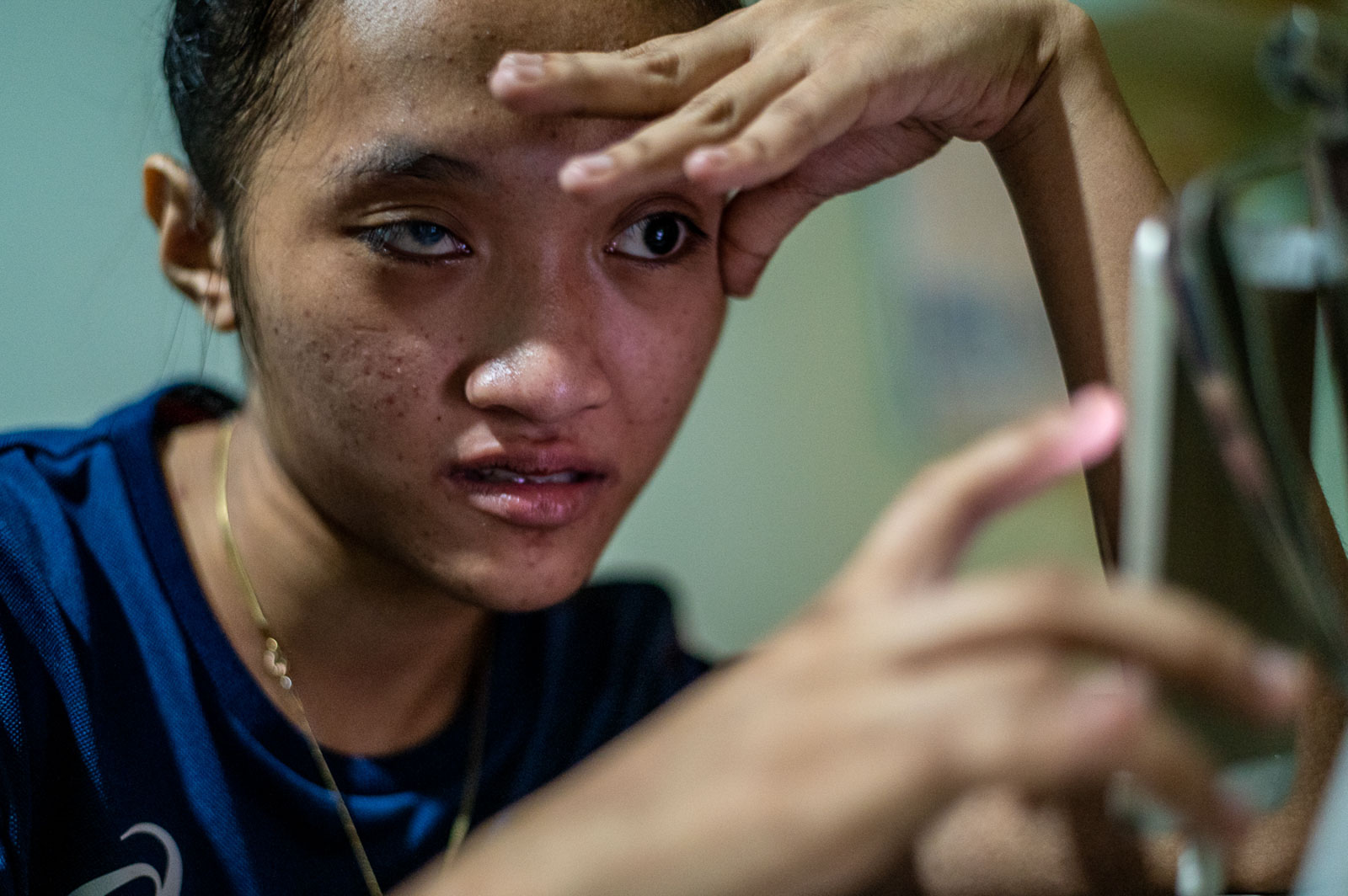 With training and classes held online, there are instances when too much screen time hurts her eyes especially when she answers quizzes and other school requirements at night.
"I am still looking for a sponsor. I am still looking for someone to help fund [the cataract surgery] because I really can't afford it," she said. In the meantime, Shayra will continue playing for the national goalball team.
A previous cost estimate for Shayra's surgery amounted to P70,000. PhilHealth covers P16,000 of the hospital and professional fees for cataract operations.
Philippine Eye Research Institute of the National Institute (PERI) director Dr. Leo Cubillan said during the Sight Saving Month press briefing that the 2021 PERI Eye Health Survey found that 44% of persons with visual impairments in urban areas cannot afford the fees entailed in seeking medical treatment.   
Dr. Noel Chua, chairperson of the National Committee for Sight Preservation, said in the same press briefing that the pandemic has made this period a "very difficult time" for eye service providers since most government hospitals have been utilized as COVID-19 hospitals. 
Many patients requiring frequent follow ups and surgeries are afraid of holding in-person consultations, even delaying their operations. Chua also said that they "expect a deluge of patients that will need surgeries" for cataract and glaucoma once the pandemic is over.
Ephpheta Foundation for the Blind Inc. executive director Manny Olivera echoed the same factors halting medical missions and cataract operations: health protocols, high cost of COVID-19 tests, limited operating capacities, and changing restrictions. The organization has 125 beneficiaries in Antipolo City and 225 more in Quezon City and neighboring areas.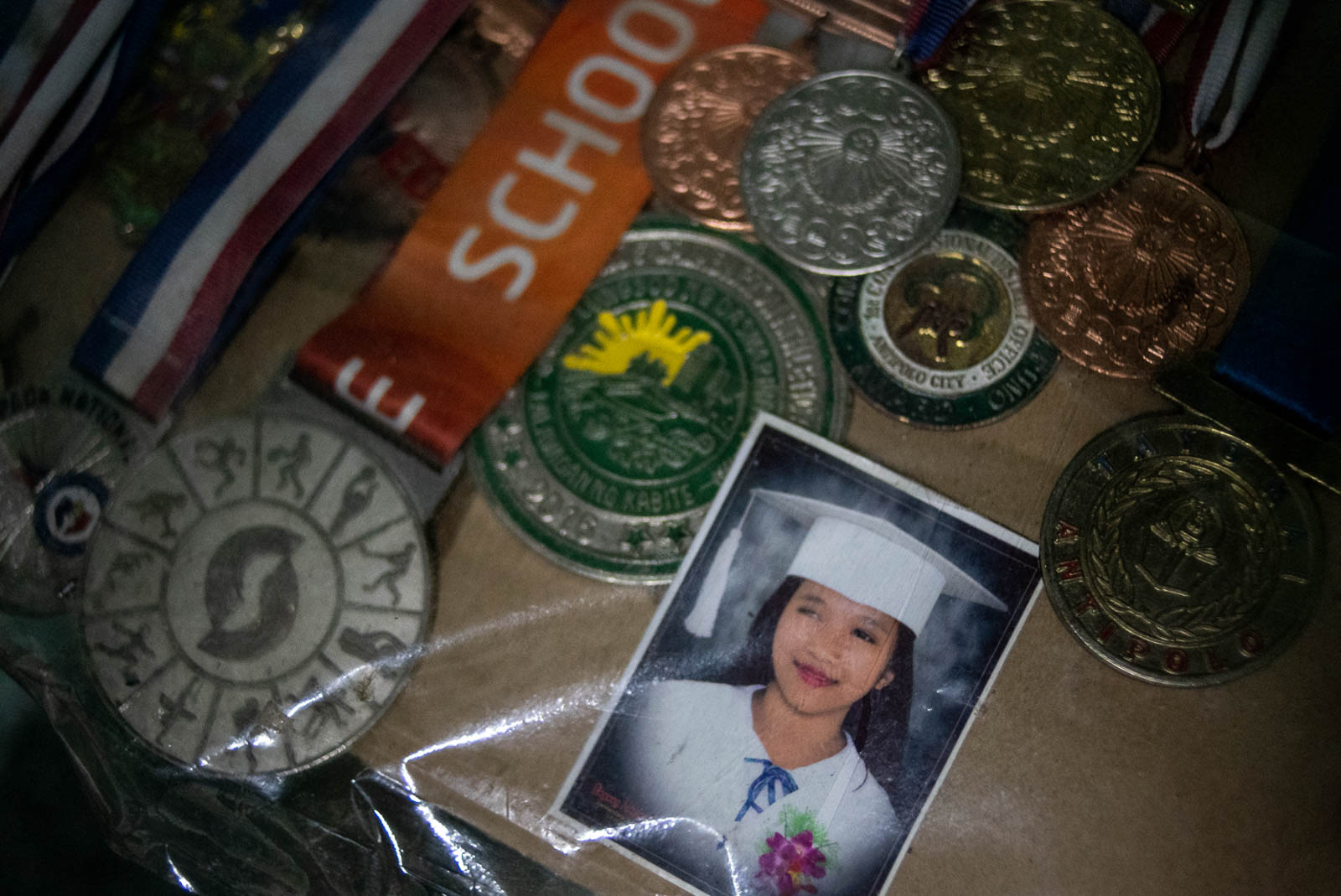 Aside from government cash aid and food packages mostly from nonprofit organizations, there is little support for persons with disabilities, said Riza Mae dela Cruz, who takes care of her 73-year-old blind and bedridden father, Simproso Cambel. 
Simproso also lamented that even before the pandemic, he had barely received assistance. The lack of social services available for PWDs pushed him to strive on his own. 
"If you do not work hard, you will not get anything. But then I suffered from a stroke," he said.
Simproso has been blind since he was 2 months old. He suffered from a stroke in 2001, which resulted in his inability to walk and perform his job as a massage therapist. At present, he spends most of his time lying in his bed listening to the radio. 
Not owning a wheelchair has greatly limited his mobility. "If only I had a wheelchair, I could go to relief goods distribution," Simproso said. 
Riza has been the sole person assisting Simproso since 2013. Even with a wheelchair, it is not easy for her to take care of her father. "I cannot push him [on a wheelchair] because I recently had a surgery. We still have to look for someone to help us," she said. 
It has also been a challenge for Riza to lift his father whenever he falls on the ground following attempts to stand near his bed. She is hoping that assistive devices and other basic needs will be provided for persons with disabilities like his father.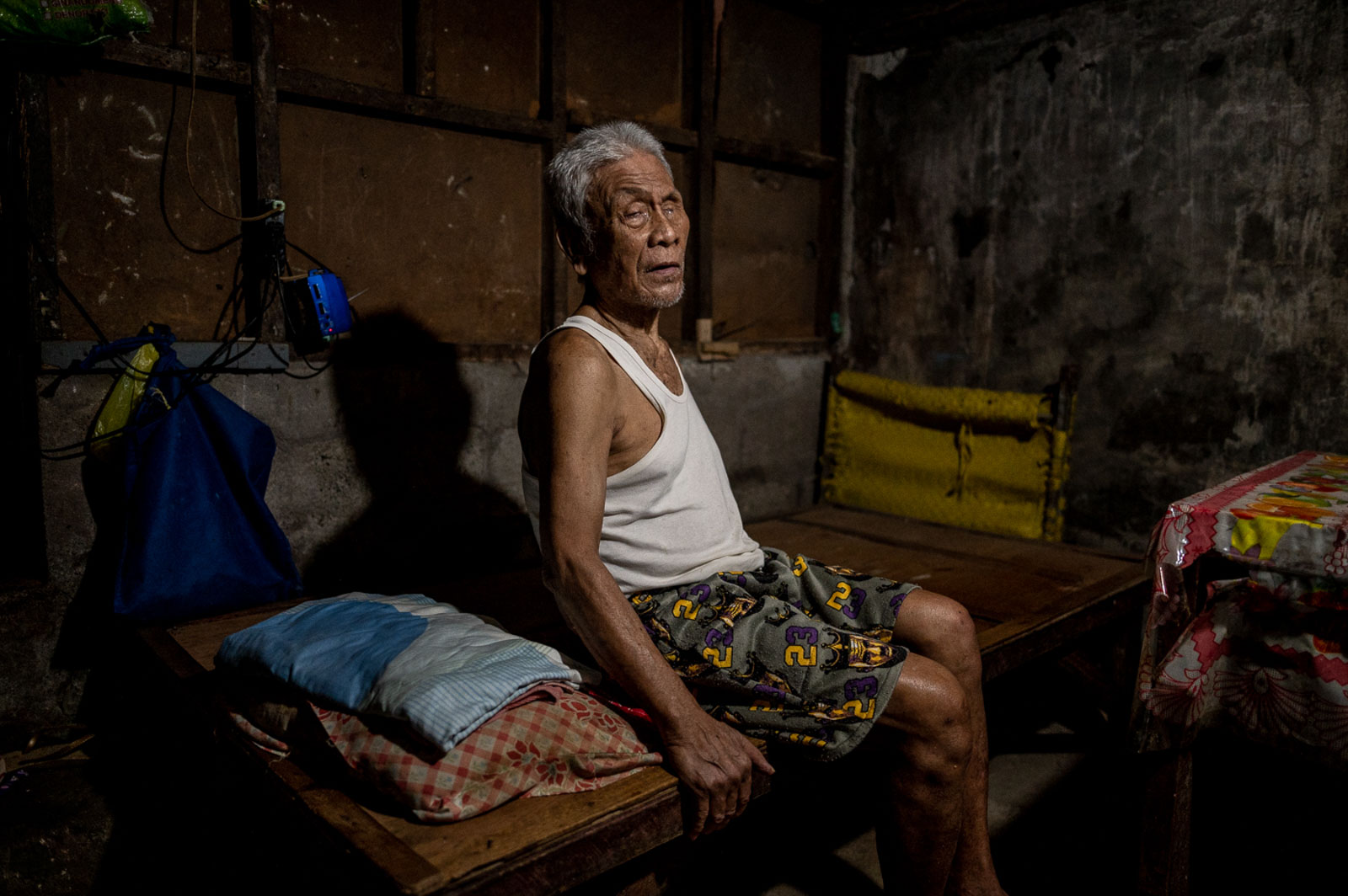 "We are seeing one to two persons who are not able to work because they are taking care of a blind person," Cubillan said during a press conference, citing the results of the 2021 PERI Eye Health Survey. 
Persons with disabilities have been disproportionately impacted by the COVID-19 pandemic, according to the UN. The World Health Organization and World Bank estimated that over 1 billion people or about 15% of the world's population have a disability. The 2010 Census of Population and Housing in the Philippines recorded 1.44 million PWDs.
In 2017, the Department of Health estimated that 332,150 Filipinos were bilaterally blind, and 2,179,733 had low vision, with cataracts still the leading cause of blindness. The DOH had also said in a statement that vision impairment and blindness, with a prevalence rate of 1.98%, were "among the major concerns in the country," citing the 2018 Philippine National Blindness Survey and Eye Disease Study conducted by the PERI.
The prevalence rate has decreased over the years, but visual impairments remain rampant in developing countries.
The Philippines ranked the worst in the COVID-19 Resilience Ranking by Bloomberg and the lowest in the COVID-19 Recovery Index by Nikkei Asia in September. While the pandemic disrupted the lives of everyone, persons with disabilities grapple with the disproportionate impact of the pandemic on employment, education, and healthcare.
With economic recovery and return to normalcy still far from reach, Lolita and Florentino will continue to sing carols; Alisa and Evangeline will endure distance learning together; Shayra will try to get by as she waits to undergo cataract surgery; and Simproso will continue to hope that better assistance will be provided for persons with disabilities. – Rappler.com
Lisa Marie David is a freelance photojournalist based in the Philippines. Her work is supported by the National Geographic Society's COVID-19 Emergency Fund for Journalists.