This is AI generated summarization, which may have errors. For context, always refer to the full article.
Doctor Allan Landrito has stopped distributing the pills, but tells legislators he dispensed them when patients were 'begging me to treat them'
A doctor advocating for the use of anti-parasitic drug Ivermectin as preventive treatment of COVID-19 claimed to have sold to at least 8,000 patients the drug that he made on his own, even without a permit.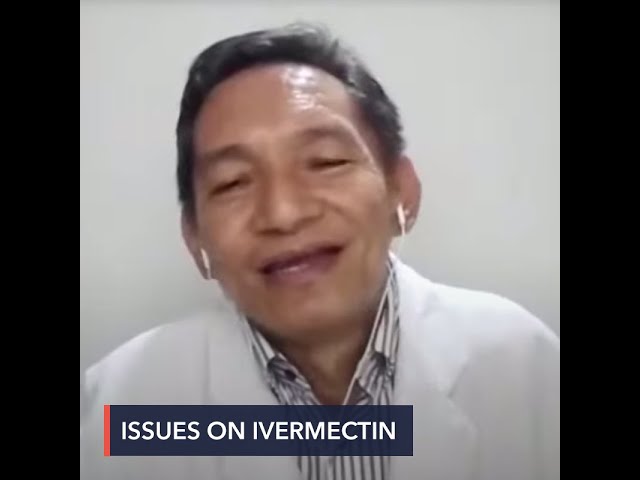 Speaking before the House health panel on Tuesday, March 30, doctor Allan Landrito – the most popular proponent for Ivermectin as COVID-19 treatment in the Philippines – said he made Ivermectin pills on his own before selling thousands of bottles across the country.
Ivermectin is not yet approved by the Food and Drug Administration (FDA) in the Philippines.
"I was able to give more than 25,000 bottles, so divided by maybe 2 or 3, maybe 3, for a patient, 8,000 patients is [a] very conservative number," Landrito said.
"Where did you get these Ivermectin?" asked House health panel chair Quezon 4th District Representative Angelina Tan.
Landrito responded: "I compounded it myself. I had bought pure Ivermectin from an importer and compounded it myself and gave it to my patients."
Landrito said he compounded the pills with "an inert ingredient," one of which included dextrose, which is a type of sugar that comes from corn.
It was unclear how Landrito was able to import thousands of grams of Ivermectin into the country. He said none of the people he sold them to had experienced severe side effects.
'Patients begging' for treatment
Tan then asked if Landrito had the permit to compound drugs. He said he did not. Landrito also did not have the permit to distribute the drugs he made on his own.
He said he was still applying to be a distributor of Ivermectin, but the FDA had allegedly "delayed" acting on his application, according to a GMA News report.
"We are in the middle of the pandemic. I cannot have the scope of time to apply [for] any of those permits. My patients are begging me to treat them. I am just giving prophylaxis to patients, early treatment," he said.
Tan pointed out that he had to follow the laws. Landrito replied by saying that he only helped his patients.
"If they want to put me behind bars for this, it doesn't matter," Landrito said.
Landrito stopped distributing his self-made pills after the FDA and the Department of Health advised against the illegal distribution of Ivermectin earlier in March.
The FDA in the same hearing said that there is no registered anti-parasitic drug Ivermectin for human use in the country.
FDA Director General Eric Domingo said that what's commercially available in the country is topical cream, which means that these Ivermectin products can only be applied on human skin. The topical cream, however, is used "for the treatment of external parasites, such as head lice and skin conditions such as rosacea."
Rappler sought Domingo's comment on whether Landrito can be penalized, but he has not replied as of this posting.
On Tuesday morning, two local pharmaceutical companies – Lloyd Laboratories Inc. and Pascual Laboratories Inc. – reportedly told the FDA in a meeting that they were "willing to apply for registration…to produce Ivermectin for human use," the state-run Philippine News Agency reported.
In a televised briefing days before the House hearing, the FDA chief said doctors and hospitals may apply for compassionate use of Ivermectin against COVID-19, but that they would "have to take responsibility for the product." – Rappler.com